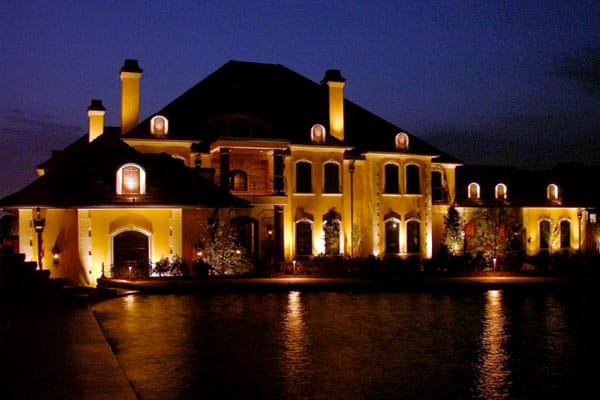 Landscape Lighting Company Serving Highland Park, TX
Highland Park is a beautiful area of Dallas, Texas, and having a home there means you'll want to keep it looking great. Your yard is a big part of that. One of the ways to keep your yard beautiful is to have it landscaped, but when you want it to look good at night, too, you'll need some outdoor lighting.
Low voltage LED outdoor lighting is popular as landscape lighting because it's easy on your electric bill. It also stays cool to the touch. That means you can have landscape lighting in your flower beds and close to plants without worrying there will be too much heat or that they might become damaged from being right near or against the lighting.
Highland Park Landscape Lighting Professionals
By hiring a professional landscape company to design and install landscape lighting for your yard, you create outdoor spaces to enjoy day or night. Having a plan for the landscape lighting is important because you want to make sure you know where all the lights should go before they're installed. Moving them later isn't much fun, and it's much easier to map them out, have them installed, and then enjoy their beauty for years to come. LED bulbs can give you thousands of hours of use before they need to be replacing. Rather than focus on maintenance issues, you can enjoy your Highland Park yard with family and friends.
Contact us for landscape lighting options in Highland Park, TX. We're always happy to help you enrich the beauty of your yard.
Creative Nightscapes Outdoor Lighting Services in Highland Park, Texas
---
---
Exploring Highland Park, TX
Highland Park, TX is among the most exclusive Dallas neighborhoods. Because it's such a great place to call home, there are plenty of things to do there. You can enjoy shopping and restaurants throughout the day and into the evening, and then visit a bar or nightclub if you want to stay out and have fun a little longer.
The eating options you'll have in Highland Part are amazing, with many different types of cuisine to choose from. Whether you like Italian food, Thai cuisine, seafood, or something else, there are both upscale and casual dining options. Sandwiches to 5-star eateries are all available to you.
There's more to the area than food, though. The parks and green spaces are beautiful places to relax or get some exercise, and the shopping options are large. There are tennis courts, walking paths, and ponds with swans in them, along with fountains and the beauty of Lakeside Park and its collection of granite teddy bear statues.
With a central location that's convenient to everything, major retailers like Ralph Lauren and Gucci have shops in Highland Park. If you're looking for a high-quality shopping experience, head to Highland Park Village, which is America's oldest outdoor mall. At the end of the day, you can head home to your lovely home, and enjoy the landscaped and well-lit beauty of your yard, as well.
Creative Nightscapes proudly serves the people of Highland Park, Texas and the surrounding cities, including University Park and Dallas. Contact Creative Nightscapes for a free quote on transforming your yard with immaculate landscape lighting from our incredible design and installation team.

Local Reviews
for Highland Park, TX
---