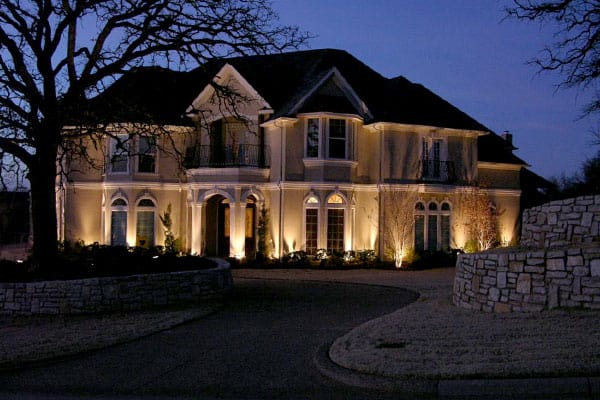 DFW Exterior Lighting Repair and Maintenance
Exterior lights are made to be durable, but they can become damaged over time. This can leave your home or business exterior dark and unsafe when this happens. Creative Nightscapes offers high-quality outdoor lighting maintenance services for residential and commercial customers in the DFW area. Our outdoor lighting experts can help ensure that your lights stay on and continue working properly and safely. Whether you need maintenance for security lighting to deter intruders or poolside lighting maintenance for a safer swimming area, we're here to help.
In addition, if you have lights that have stopped working or LED lights that have started blinking, our professionals can make a service call to repair these issues. Whether you're looking to prevent issues or your lights are currently experiencing issues, contact us and we'll be right there to help you.
Landscape Lighting Maintenance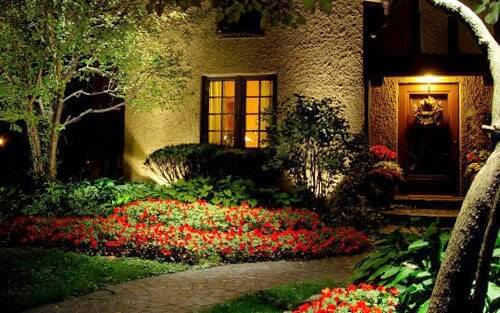 At Creative Nightscapes, our team offers landscape lighting maintenance for residential and commercial customers. With this maintenance, you can rest assured that your landscape lights will work reliably to highlight certain features of your building exterior and landscaping at all times.
Why Do My Lights Stay on When the Switch Is Off?
This can happen due to problems with the switches or the wiring. Our outdoor lighting experts can make repairs and check these components during maintenance to prevent this issue from occurring.
What Should I Do if Water Gets Into an Outdoor Electrical Outlet?
If this happens, you should shut off the breaker that powers this outlet. This helps prevent damage and injuries. If this outlet is powering your outdoor lights, our lighting experts can help you get the outlet fixed so your lights get up and running again.
LED Lighting Maintenance
Outdoor LED lights can save you money on your energy bills, so it's important to make sure they keep working right. Our team at Creative Nightscapes can come to your property on a regular basis for lighting maintenance and repair services for your outdoor LED lights.
What Does It Mean When an LED Light Bulb Starts Blinking?
LED lights can start flickering or blinking when you have a loose connection or if there's a problem with the bulb. Our outdoor lighting experts can inspect your LED lights during maintenance visits and tighten connections and replace or repair bulbs as needed.
Why Do My LED Bulbs Burn Out?
LED light bulbs eventually burn out, but some seem to do so more often than usual. If you have outdoor bulbs that keep burning out, our lighting professionals can check for loose connections and other issues that could be causing this to happen.
Security Lighting Maintenance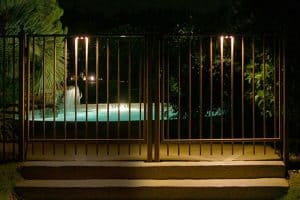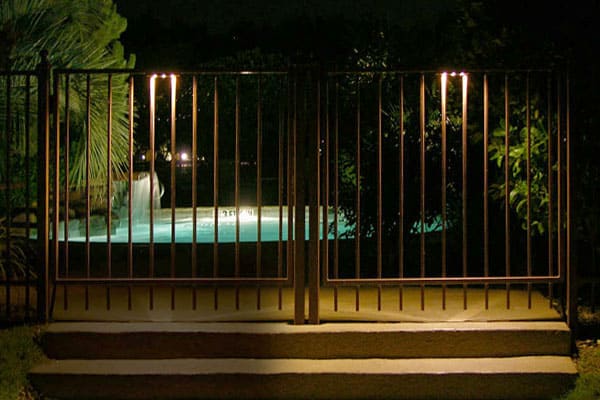 Keeping your security lights running is an effective way to lower the risk of intruders on your property. Creative Nightscapes provides security lighting maintenance and repair to ensure that you have working security lights at all times.
Why Is My Motion Detector Light Staying on All the Time?
This can happen due to problems with the current that goes to these lights, issues with sensitivity sensors, or a wide variety of other issues. Our experts can determine why this is occurring and fix the problem. We can also stop it from happening again with regular maintenance.
Why Aren't My Security Lights Turning On?
If your lights aren't coming on, it could be due to a burnt-out bulb or a problem with the lighting components. You might also have a problem with the sensor on your motion detector lights.
Why Are My Security Lights Flickering?
If one or more of your security lights are flickering, it could be due to a problem with the bulbs or with the wiring. Our team can check for loose bulbs that need to be tightened or wiring issues that need to be addressed.
Patio Lighting Maintenance
As part of our exterior lighting maintenance services, Creative Nightscapes can provide your home with patio lighting maintenance. Our services help ensure that your patio lights stay on so that the front of your property stays safe and secure.
Why Aren't My Patio Lights Working?
Your patio lights could stop working if you have bulbs that need to be replaced or if there is a problem with the fixture or other components, such as wiring. When our team comes by for routine maintenance, we'll check your patio lights for potential problems and take care of them right away.
Why Are My Patio Lights So Dim?
If you're not using the right wattage bulbs for your patio, you're going to have lighting that's too dim for this area. Our professionals can make sure that you have the right types of bulbs and the right wattage in your patio lighting fixtures.
Poolside Lighting Maintenance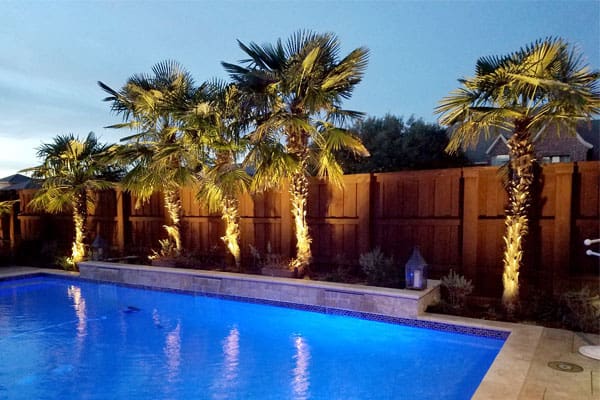 When your poolside lighting isn't working right, it can prevent you from being able to enjoy going for a swim at night. Creative Nightscapes has outdoor lighting experts available to perform routine poolside lighting maintenance at your home or commercial property.
Why Do My Poolside Lights Keep Tripping the GFCI Breaker?
If your poolside lights keep tripping your outdoor GFCI, there could be a problem with the wiring or with the fixtures. Our professionals can check your poolside lighting fixtures for water or other problems and inspect the wiring and other components to find the cause of this problem.
Why Can't I Get My Poolside Lights to Work?
If your poolside lights aren't coming on when you flip the switch for them, this could be due to one of several different problems. When you call us for repair services, our team of outdoor lighting experts can check your poolside lighting components, such as the wiring, connections, bulbs, and fixtures to locate the problem.
Garden Lighting Maintenance
Garden lights allow you to draw attention to particular features of your front, side, or backyard garden. With routine garden lighting maintenance from Creative Nightscapes, our outdoor lighting professionals can keep these lights in good condition.
Why Are Only Some Garden Lights Working?
If one or more sections of your garden lights aren't working, it can be due to wiring problems, connection issues, or other problems. Our outdoor lighting team can inspect all of your garden lights during routine maintenance to make sure that they are working. We can also come by to perform repairs at other times.
What Should I Do if My Garden Lights Have Moisture in them?
If this happens, our lighting professionals can safely handle this problem and get your garden lights working again. Water or moisture can get in when these lights aren't properly installed. We can make sure that you have garden lights that won't trap moisture inside them.
If you need outdoor lighting maintenance at your home or business, contact Creative Nightscapes today. We'll help you set up a maintenance schedule that works for you, or come by to perform repairs. Whatever your outdoor lighting needs are, we're here to help.