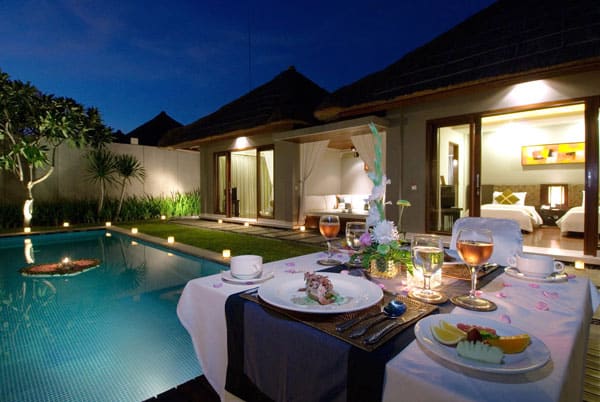 DFW Pool Lighting Services
Having a pool at your home gives you a chance to escape the heat in the Dallas-Fort Worth area all summer long. Even the nights are hot in DFW, which means being able to use your pool safely when it's dark is a big help. With the right poolside lighting, you and your family can continue enjoying your pool at night. This type of lighting also makes it possible to have nighttime pool parties with friends while ensuring that everyone can swim safely. Poolside lights also keep the area around your pool more secure and reduce the risk of falls. Creative Nightscapes provides an impressive range of poolside lighting options for homeowners in and around the DFW area.
Pool Deck Lighting in DFW
The deck of your pool needs to be lit up at night for a few critical reasons. A well-lit pool deck helps keep swimmers safe as they exit and enter the water. Since pool decks can also get slippery, these lights can help you, and anyone using your pool, avoid areas that are covered in water. This helps lower the risk of serious injuries that can occur if someone slips and falls near your pool. When you choose pool deck lighting, it's important to make sure you get lights that will offer the right amount of lighting for this area. There shouldn't be any glare or harsh lighting that could make it hazardous for people walking around the deck.
When you rely on Creative Nightscapes to help you select lights for your pool deck, you don't have to worry about ending up with lighting that's too harsh or too dim for this area. Our experts will make sure you choose deck lights that offer the perfect amount of illumination while also improving the appearance of your pool deck. We'll help you decide from among a wide range of styles and designs for pool deck lights, including designs that are more decorative and ones that are more functional.
Advantages of Exterior Pool Lighting
Whether you have a deck or patio around your pool, it's crucial to have exterior pool lighting for it. Without lighting, these areas can quickly become dangerous when it gets dark out. When you have exterior lights for your pool area, you can rest assured that you and your family, along with other pool guests, can walk around the outside of your pool in safety. These lights can shine down on your deck or patio from above, making it easier to see where you're headed and avoid slippery patches. Other types of pool lights can be installed in the ground around your pool to provide more subtle lighting that helps you see without the risk of glare.
Having pool lights around the exterior also gives you an opportunity to create an exciting or relaxing atmosphere for your pool. Depending on the types and styles of pool lights you choose and the areas you put them in, you can have a pool with a calming and serene appearance or one that has a more dramatic look. Our experts at Creative Nightscapes are here to walk you through the pool lighting design process so that you can get the right poolside lights for your home.
Tips for Choosing a Pool Lighting Design
Deciding on a pool lighting design can be overwhelming, especially when you discover just how many options you have to choose from. The lighting design you go with should enhance your pool area's appearance rather than creating an unflattering look. The design you choose should also provide your pool and the area around it with plenty of lighting without adding lights that are stronger than necessary. Whether you're more interested in a subtle and relaxing atmosphere or one that emphasizes fun, the professional lighting experts at Creative Nightscapes can guide you through this process.
When you work on a pool lighting design, keep in mind that where you put your lights is just as important as the swimming pool lighting techniques you select. Pool lighting needs to be carefully placed to ensure adequate lighting for safety reasons. You can depend on our experts to take this into consideration when helping you choose a suitable lighting design for your pool.
Get a Free Quote and Consultation for Pool Deck Lighting in DFW
If you're looking into poolside lighting for your DFW home, please contact Creative Nightscapes for a free consultation and quote from our lighting experts. We have a team of knowledgeable lighting professionals who are ready to help you select the best lighting for your pool. Our team can assist you in choosing poolside lights that offer a high degree of safety while also boosting the appearance of your pool area. Call us at 817-581-6936 for more details on our poolside light options in the Dallas-Fort Worth area.

Outdoor Lighting Services