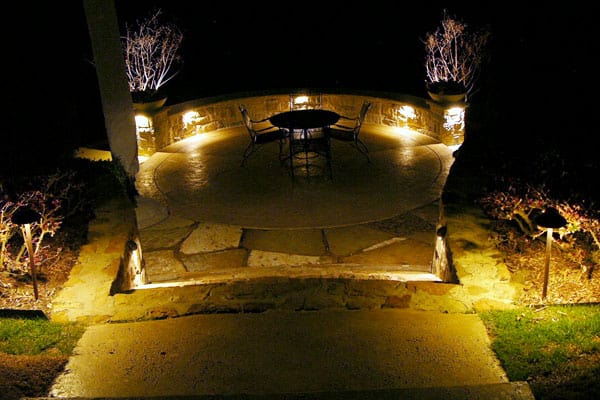 Patio Lighting Services in DFW
Your patio provides you and your family with a place to sit outside and unwind or enjoy the company of friends. When the sun goes down, having patio lighting means that you don't have to move indoors or worry about someone falling in the dark. Patio lights for your DFW home give you a reason to stay outside longer and enjoy the fresh air. You can count on Creative Nightscapes to help you choose the right kind of patio lights to suit your home. Since there are several different types and a number of different designs available, having lighting experts at your side can make it easier to narrow down your options.
Patio Outdoor Lighting for Your Dallas-Fort Worth Home
Choosing outdoor patio lighting isn't just about finding lights that will provide enough illumination for this part of your home. This type of lighting is more than functional. It can also be a great way to accentuate the design of your patio or highlight certain features of it. You can use patio lights to create a cozy or relaxing atmosphere for this area, so you and your family can get the most use out of it. Patio lights are available in many different styles, colors, and types. Depending on your needs, you might benefit from choosing patio lighting that gives this area a soft glow from above, or you might do better choosing lights that mark the perimeter of your patio for safety reasons.
No matter what your goals are for patio lighting, the experts at Creative Nightscapes can help you achieve them. Our professional lighting team will help you combine practical features, such as safety, with visual appeal to get the perfect patio outdoor lighting for your home. We offer a wide range of patio lights for homeowners in the greater Dallas and Fort Worth area.
Benefits of Outdoor Patio LED Lights
When you've chosen the type of patio lights you want for your home, you'll need to consider what kind of bulb to use. Outdoor patio LED lights are the ideal choice if you're interested in having lighting that doesn't use as much energy. These outdoor lights are highly energy-efficient, so you can expect to have lower electric bills, even when you use your patio lights night after night. LED patio lights also stay cool rather than emitting heat, which makes them a safer option, especially if children or pets are around. These lights help you spend less on lighting overall as well since each bulb usually lasts for about a decade. That means you can look forward to spending less money on your outdoor patio lighting.
LED lighting for patios in the DFW area also gives off light that has a better quality to it than other types of bulbs. You can choose different tones for your patio lights, such as cool white or warm white. Cool white lighting can be too harsh when it's used in the wrong places, but it can create a brighter look around the edges of your patio for improved safety. Warm white LED lights have more of a yellowish glow, which is softer and can be used for more comfortable patio lights that provide lighting from higher places.
Patio Garden Lights in DFW
If you have a patio surrounded by a garden or a patio and garden combination, patio garden lights are the perfect option. These lights provide lighting for patio seating areas and garden areas. You can use these lights for more practical reasons for your patio, such as reducing tripping risks, while accentuating certain features in your garden, such as specific flowers or plants in it. Your patio garden lights can also be installed around the edges of your patio and garden to create distinct boundaries or to make it easier to see as you move around these areas.
When you choose patio garden lighting for your home in the Dallas-Fort Worth area, let the lighting experts at Creative Nightscapes provide you with outstanding help and advice. Our experts can assess your patio lighting needs and consider your style preferences when determining which types of patio garden lights are best for your home. Whether you're leaning toward more aesthetic value or more practical purposes, our experts will assist you in selecting the most suitable patio lights.
Call Us for a Free Quote on Patio Lighting
If you're ready to learn more about patio lighting options for your DFW area home, call Creative Nightscapes at 817-581-6936 for a free quote and consultation. Our lighting experts will discuss design options for your patio lights and help you select the most flattering type for your home. With our help, your patio will have high-quality lighting that provides the right amount of light, so you can enjoy sitting outside at night when it's warm out.

Outdoor Lighting Services