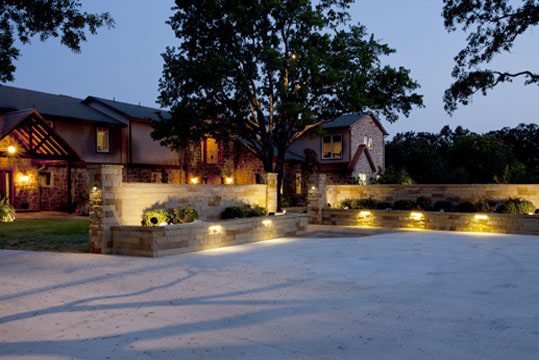 Landscape Lighting Company Serving the DFW Metroplex
Creative Nightscapes offers high-quality landscape lighting for homeowners in the DFW area. Landscape lights provide a way to highlight specific features on your property while also offering a safer environment overall. This type of lighting draws the eye to specific areas of your home, such as the home facade or distinct focal points, and brightens up darker areas for improved safety.
Creative Nightscapes offers different kinds of landscape lighting for you to choose from, including LED lights, Kichler lights, Dauer lights, and low-voltage landscape lighting. Common types of outdoor lights for landscaping include garden lights, wash lights, bullet lights, well lights, downlights, and floodlights. The experts at Creative Nightscapes can help you determine the most suitable type and style of lighting for your property.
LED Landscape Lighting in DFW
When you want to enhance the appearance of your home while also reducing your energy usage, LED landscape lights are an excellent option. These lights provide some significant benefits for your property compared to other types of landscape lighting. LED lights require less energy, which leads to lower utility bills. The bulbs also tend to last much longer than other types of bulbs, so you do not have to replace them as often. LED bulbs excel at enhancing landscaping features and home facades, and they don't heat up as other types of bulbs do, which means that they can be used next to plants and other foliage safely.
Our professional lighting experts can help you select the right color of LED lights for your property. These lights are available in a few tones, including cool white, white, and warm white. Warm white LED bulbs cast a softer and more subtle color than cool white bulbs, which can give off a harsh, bluish tone. With guidance from our lighting professionals, you can have LED landscape lighting that boosts the curb appeal of your DFW area home and saves you money each month on the cost of lighting your property for aesthetic and security purposes.
Dauer Landscape Lighting Options
Dauer is a United States based manufacturer that specializes in designing and creating highly-efficient and durable LED lamps, fixtures, and transformers. The Dauer name has quickly become recognizable as incredible proficiency and value when it comes to professional grade LED outdoor lighting. From unique landscape lighting options that can create modern or traditional style feels or hardy LED bollards that will make your pathways standout, our team can help you find the perfect option. Contact us today for more information on this incredible brands executional fixture design options.
Low Voltage Landscape Lighting for Your DFW Home
Low voltage landscape lights are ones that typically run on 12 volts instead of higher 110 or 120 volts as standard lights do. To have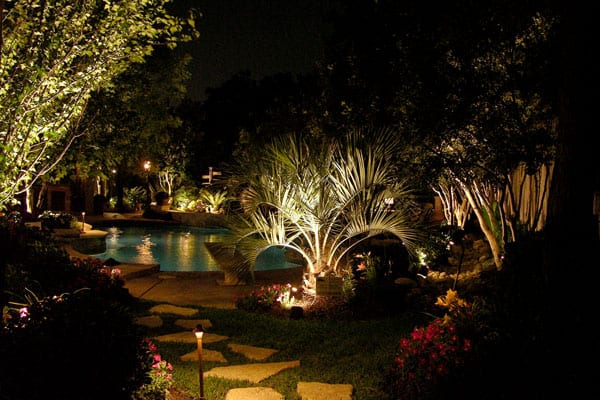 these types of lights, you'll need a transformer installed. While this might sound complex, our experts at Creative Nightscapes can quickly and safely install low voltage lights on your property. This type of lighting offers some advantages over other types, including being versatile enough to be used with many different bulb types. They're also available in a wide range of designs and styles that can instantly improve the appearance of your home and landscaping.
When you have low voltage lights installed for your landscaping, you can expect warm, comfortable lighting that brightens specific areas of your property just enough without being too bright or harsh. Since these lights run on a lower voltage, they also offer a safer form of lighting for your DFW home. The team at Creative Nightscapes can help you select the perfect low voltage landscape lights and ensure that your lighting is installed correctly.
Get a Free Quote on Landscape Lighting in DFW
If you're ready to get started on choosing landscape lighting for your DFW home, please contact Creative Nightscapes at 817-581-6936 to get a free quote. You can also schedule an appointment with our experts to determine where your landscape lights should go and what style they should be. We look forward to helping you create the ideal landscape lighting for your home.
Outdoor Lighting Installation Services in Dallas-Fort Worth, TX
Creative Nightscapes carries and installs quality landscape lighting products with lifetime warranties on our stainless steel transformers, 15-year warranties on our fixtures, and 6-year warranties on our bulbs.
If you're not ready for a complete reinstall and simply need some lighting repairs or other assistance, we have a full-service team to take care of any service or maintenance issues with your outdoor lighting.
Our LED Lighting fixtures have a 15-year warranty or 40,000-hour lamp life. We have 'retrofit' or upgradeable, replaceable LED lamps available. These have a 6-year warranty. We are also equipped to upgrade your halogen fixtures to LED.

Call us today!
Free consultation and quote
Serving the Dallas and Fort Worth metroplex 817-581-6936
Outdoor Lighting Services