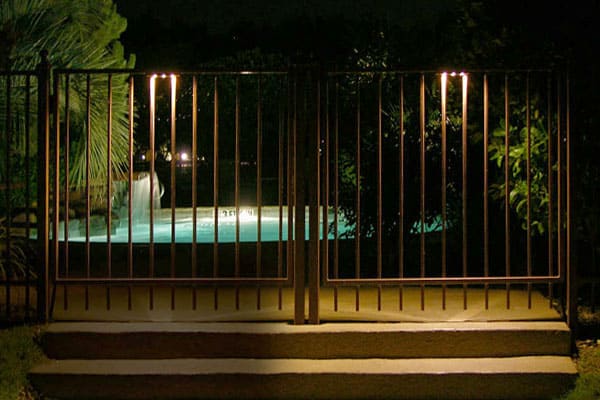 Outdoor security lighting can help you move about your property without tripping on steps, stepping stones, tree roots, and other obstacles found in pathways and exterior stairs around the home. Generally requiring a foot-candle or less, the most common safety lighting is step-lighting and path-lighting.
Deter Intruders with Exterior Security Lighting
Police departments and insurance companies nationwide indicate that an unlit home is three times more likely to be burglarized than a home equipped with exterior security lighting. Lighting can be used to discourage unwanted intruders and vandals by removing hiding places.
While bright spotlights can be used for this purpose, they are not necessary when the project is planned properly. The same level of security is possible with carefully placed low-level lighting which is more pleasing to the eye.
Safety and security is a key issue for today's homeowners. Exterior security lighting offers the peace of mind that a well lit home and property is a proven deterrent to intruders. By lighting dark areas in the yard and illuminating specific areas of the home, homeowners can eliminate hiding places and increase overall visibility on their property.
Call the outdoor lighting experts at Creative Nightscapes at 817-581-6936 to design and install landscape lighting for your home in DFW area.
Outdoor Lighting Services