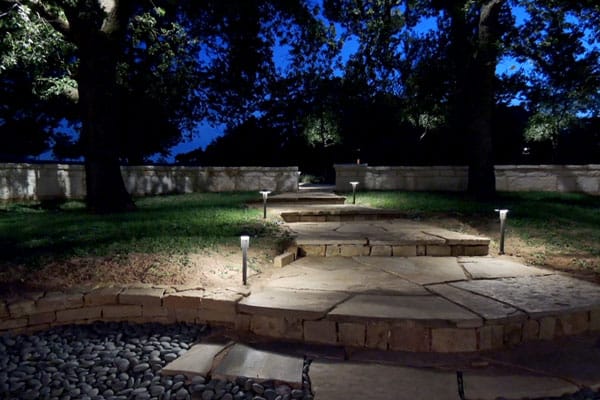 Creative Nightscapes offers environmentally friendly outdoor LED lighting for outdoor spaces and landscapes. This type of low voltage outdoor lighting offers a safe and reliable energy solution for illuminating homes and landscaping affordably.
Benefits of LED Lighting for Landscapes
Incandescent bulbs create light by burning a filament and due to this burning process they get very hot, use more energy and are very fragile.
LED lights use less low amounts of electricity, are cool, and resilient.
A light-emitting diode (LED) is a two-lead semiconductor light source that resembles a basic pn-junction diode. When an LED's anode lead has a voltage that is more positive than its cathode lead by at least the bulb's forward voltage drop, current flows. Electrons are able to recombine with holes within the device, releasing energy in the form of photons. This effect is called electroluminescence, and the color of the light (corresponding to the energy of the photon) is determined by the energy band gap of the semiconductor.
We offer field-proven and eco-friendly outdoor lighting products that are the most technically advanced in the lighting industry. With Kichler lighting you get years of experience along with industry-leading warranties.

Contact us today for a free outdoor lighting consultation and quote in Dallas and Fort Worth area. 817-581-6936
Outdoor Lighting Services