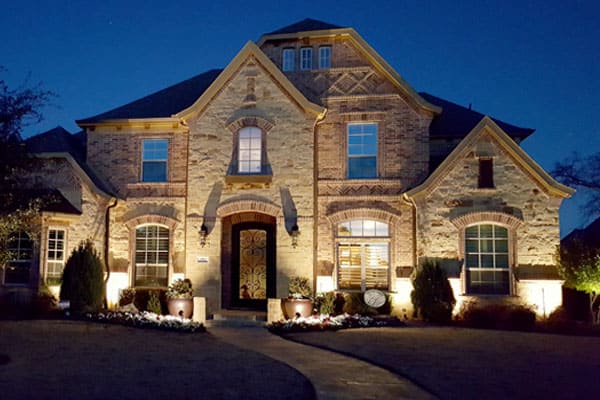 DFW Outdoor Lighting Installation Services
At Creative Nightscapes, we're known for creating beautiful lighting designs. And when it's time to implement this vision, we install your outdoor lighting with expert precision. From poolside lighting to security lighting, we handle the installation process for all kinds of outdoor lights.
Our expertise allows us to not only create eye-catching designs but also to help increase the security of your home. We'll put our skills to work for you to make sure your lights are properly and expertly installed. Contact us today and we'll get started on creating the lighting design of your dreams.
Exterior Lighting Options
Exterior lighting is essential for improving the safety of your home and creating an outdoor space for relaxing and enjoying the outdoors. We offer a variety of exterior lighting options, and we also create magnificent lighting designs. Our installation process is quick and creates few disruptions, allowing you to continue on with your day.
Poolside Lighting Installation
Increase the safety of your pool by investing in poolside lighting installation. Our experts will help you create a gorgeous aesthetic for your poolside that helps highlight key areas, such as your pool deck, to increase the safety of your pool. Our installation process is quick and easy, allowing you to enjoy your pool again quickly.
Patio and Pergola Lighting Installation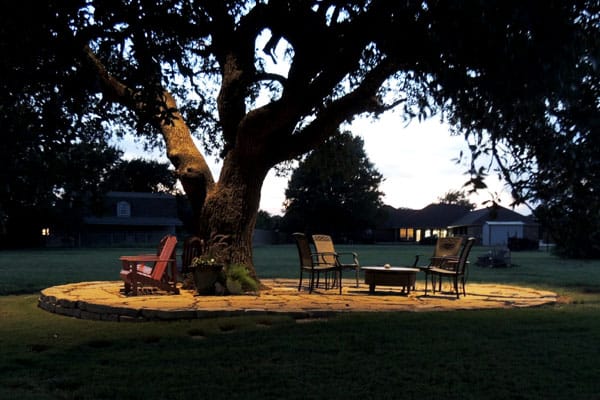 An outdoor party on your deck creates memories, and a relaxing spot allows you to enjoy a blissful evening out on your patio. Allow Creative Nightscapes to help you create the perfect atmosphere on your patio by installing patio and arbor lighting.
We offer a variety of LED lighting options for your deck, such as uplights to highlight a beautiful pergola or soft downlights to improve visibility at night. Our expert team will help you find the right lighting design to fit your individual needs. Contact us today for a free consultation.
Garden Lighting Installation
Show off the hard work you put into maintaining your garden by adding some garden lighting. You can transform the look of your garden by adding spotlights on key subjects, such as a rare plant or a fountain, helping to boost your curb appeal. Taking a stroll through your garden at night will also be a lot safer with added path lights, bringing attention to changes in the terrain.
Creative Nightscapes specializes in safely installing garden lighting, allowing us to work quickly without harming your plants. We understand that you put a lot of hard work into creating your dream garden, and we want to help you bring out its natural beauty by adding lights that complement your flowers and plants.
Landscape Lighting Installation
If you are looking to show off the majesty of your home's natural landscape, you can rely on the team at Creative Nightscapes to help. We offer various options for lights that can help illuminate your yard's natural beauty. Whatever your goals are, you can be sure that we will install lights that leave everyone awestruck.
Security Lighting Installation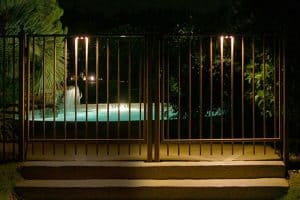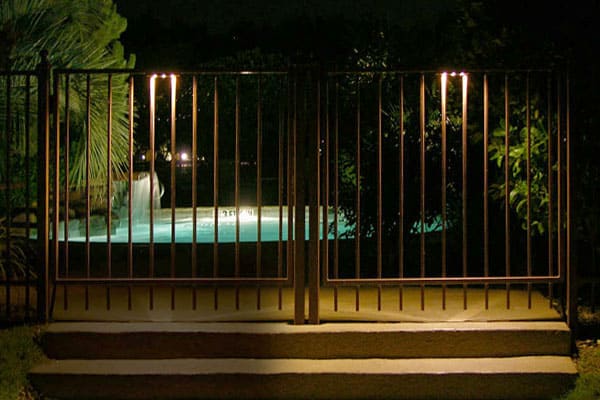 You should feel safe inside and outside of your own home. Unfortunately, burglary is a constant threat for homeowners. It is important to reduce the chances of your home being a target for thieves by adding security lighting. If you are looking for high-quality security lighting installation for your home, call Creative Nightscapes. Our security lighting will help you ward off any unwanted guests and keep burglars from hiding in hard-to-see areas.
We are also able to install motion detectors for your lights, allowing them to come on at the first sign of movement. The sudden burst of light will confuse and startle potential thieves, causing them to flee before they ever reach your home. Call us today to take the first step towards creating a safer home environment.
Wiring Outdoor Lights
Handling wires is extremely dangerous for those who are not sure what they are doing. Electrocution can cause serious injury to yourself and damage to your lights and wires. Avoid the risk and allow Creative Nightscapes' professional team to come in and take care of the wiring for you. With our expertise, we will ensure that all of your wires are properly installed. We make sure to follow all state electrical codes, allowing your home to pass inspection and keeping your family safe.
Outdoor Transformer Installation
Most outdoor lighting requires the installation of an outdoor transformer. This is to help keep control of the lights centralized in case of an emergency where the lights need to be quickly switched off. It also keeps your indoor transformer from getting overloaded.
The team at Creative Nightscapes can help you set up and install your outdoor transformer. We will ensure that your transformer is set up properly and that is it installed next to a GFCI outlet, which will help reduce the risk of electrocution when handling the transformer.
Outdoor Low-Voltage Lighting Systems
Whatever your lighting preferences are, we'll make sure that they are low voltage to help you avoid fires and reduce your energy costs. Low-voltage LED lighting systems help reduce energy costs by converting your home's 120-volt current to a 12-volt current. These lights can easily be set to a timer and the cables and wires are hidden underground to prevent animals and burglars from tampering with them. Creative Nightscapes can help you create the perfect layout for your lights and provide easy, no-hassle installation.
To turn your landscape into a masterpiece, contact Creative Nightscapes today. Our dedication to customer satisfaction will help you achieve your perfect vision of landscape lighting, leaving your home looking magnificent and providing an added feeling of security. We install lighting for commercial and residential customers throughout the Dallas/Fort Worth area.