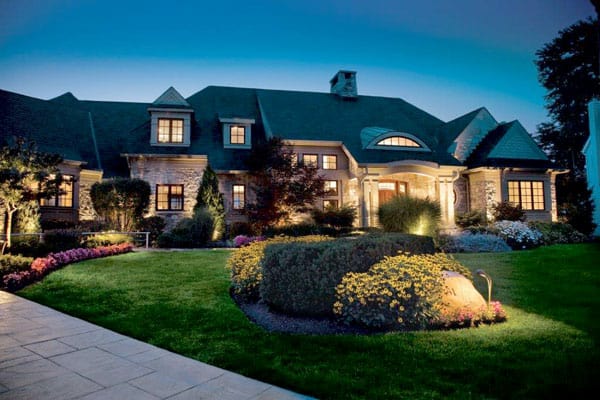 Garden Outdoor Lighting Services Dallas-Fort Worth
Gardens are easy to admire during the day, but it's hard to appreciate them when it gets dark out. Instead of leaving your garden in the dark at your DFW home, keep it well-lit with lighting options that can enhance its appearance. Lights in your garden also make this part of your property safer and help keep intruders at bay. At Creative Nightscapes, we offer an impressive range of garden lights for you to choose from. Our lighting experts can help you select garden lights that help bring out the beauty of your garden, even at night.
Lawn and Garden Lights for Dallas-Fort Worth Homes
When you want to give your lawn or garden an eye-catching look when it's dark out, you'll find a wide selection of lawn and garden lights to choose from. These lights are available in a variety of different types, which gives you plenty of options to consider. Common types of lawn and garden lights include tree spotlights, LED lighting, downlights, path lights, spread lights and hanging lights. Having garden lighting gives you an opportunity to draw attention to specific features in your gardens, such as certain trees, shrubs, bushes or flowers. You can also use this type of lighting to illuminate paths through your garden to make it safer to walk through in the dark. Garden lights also provide you and your family with a place to enjoy your surroundings in the evening or at night.
Creative Nightscapes has a team of lighting experts ready to help you navigate the many options that are available for gardens and lawns. The kinds of lighting that you'll need on your property depends on certain factors, such as the kinds of landscaping you have in your garden and the overall design of this part of your yard. Our experts can make sure that you have lighting that perfectly captures and accentuates the natural beauty of your garden and lawn.
Garden Light Ideas for Your Yard
When it comes to deciding on garden lighting for your home, there are many possibilities to consider. You can choose to call attention to a few elements in your garden, such as a particular tree or bush, rather than including lights that illuminate all or most of the area. Alternatively, you can have garden lighting installed along paths and walkways through your garden, which helps reduce the risk of falls at night. Another option is to use lighting to set up an area of your garden where you and your family can sit and enjoy warm evenings and nights.
Should you use downlights or uplighting in your garden? What style of path lights would look best? Would cool, bluish tones or warm, yellowish tones be more suitable for your lawn and garden? The experts at Creative Nightscapes can help you determine the best choices to make for your garden. The right selections depend on your garden's design, the kinds of landscaping elements you have in it, and the kind of atmosphere you want to create. You can have lighting installed to create an intimate atmosphere or lighting that creates more of a rustic or rugged effect for a more wooded look. No matter what style you prefer overall, our professional lighting experts can help bring your idea to life.
Benefits of Garden Landscape Lighting in DFW
When you have garden landscape lighting at your home in the Dallas-Fort Worth area, you'll be able to enjoy some essential benefits. This type of lighting can improve the value of your home by boosting its visual appeal. Instead of having a garden that's completely dark at night, you'll have one that offers an impressive appearance. Landscape lighting for gardens also serves a practical purpose by making it less likely that intruders will come onto your property. These lights also make nighttime strolls through your garden safer by lowering the risk of tripping.
The lighting professionals at Creative Nightscapes are dedicated to helping you design a safe and stylish lighting plan for your garden. You can depend on us to ensure that you have landscape lights that enhance the natural beauty of your garden and make it safer and more secure for you and your family. By adding this type of lighting, we'll also be creating a comfortable spot for relaxing with family or entertaining guests in your yard when it's dark out.
Contact Us for a Free Quote on Garden Lights
If you're eager to begin looking into garden lighting options for your home in the greater DFW area, Creative Nightscapes is here to assist you. Contact us for a free quote on garden lighting for your home. Our experts will go through your options, keeping preferences in mind to ensure you end up with lights that make the most of your garden.

Outdoor Lighting Services