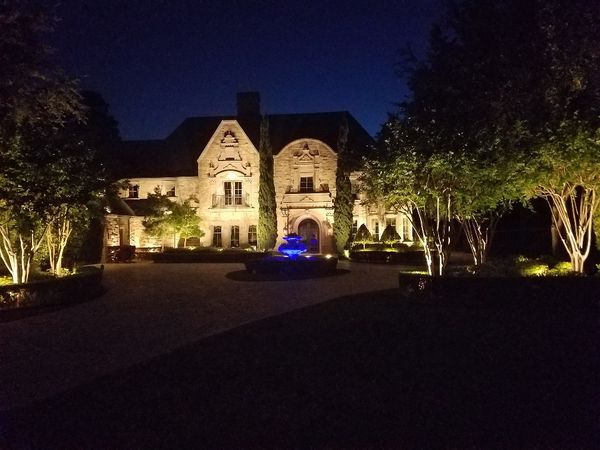 Outdoor lighting has come a long way over the past decade. From the introduction of energy-efficient LED lighting to smart outdoor lighting technology, technology has completely changed the landscape of the industry. With so many new advancements, many homeowners are unaware of the power at their fingertips to truly take control of their outdoor lighting systems.
The outdoor lighting specialists at Creative Nightscapes are dedicated to showcasing the homes and businesses in the DFW Metroplex in their best light by offering affordable and unparalleled lighting solutions. We have helped countless individuals extend the use of their outdoor spaces, improve the curb appeal of their homes, and create a safer environment through our captivating outdoor lighting designs. Part of our outdoor lighting strategy involves integrating incredible solutions for home or business owners to control their outdoor lighting. Whether they stick with traditional switches or want smart technology to control their lights from anywhere, our team can make it happen. In this article, we explain the different lighting control solutions available to our residential and commercial clients.
Traditional Switches: Simplicity Meets Functionality
The lowest-cost solution that is both simple and functional involves circuit-level switches. These switches control a certain amount of lights in designated control zones. Each one can be paired with photo sensors or timers to turn lights on automatically when the sun goes down or at a certain time, and then off again when natural light is present or the next set time hits.
Switches give power to the homeowner to override these commands, by changing either the timer or simply hitting the switch. It is a robust option that is incredibly effective when combined with the photosensor and timers. Homeowners can rest easy that their lights will turn on and off when needed.
Dimmers and Timers: Fine-Tuning Your Outdoor Lighting
A slightly more advanced option involves the use of dimmers and timers. These special switches give homeowners and business owners the ability to control how bright their lights are and exactly what time they turn on and off. When combined with LED outdoor lighting, homeowners typically report increased energy savings by using dimmers and timers.
How Do Dimmers Work?
Unlike switches that work by starting and stopping the flow of electricity, dimmers work to reduce the flow of electricity to the bulb. This allows homeowners and business owners to choose exactly how bright their outdoor lights will be by controlling the energy wavelength traveling through the circuit.
In more technical terms, the power that goes through a circuit in the United States (AC) has a varying polarity. One cycle of current will change directions 60 times a second. A dimmer works to chop the cycle up by automatically telling the bulb to turn off when the current direction changes. The dimmer then tells the bulb to turn back on with a particular "turn-on value." In other words, it tells the bulb how much energy to use.
There are various dimmer options on the market. Here is a quick overview of each type:
Plug-In Dimmer: The simplest option on the market, the plug-in dimmer is installed right into the transformer alongside your timer.
Low Voltage Dimmer: These dimmers are mounted outside of the transformer in a junction box. A low-voltage dimmer controls low-voltage lighting, allowing it to dim while ensuring that the correct max amperage is used. This protects the lights.
Low Voltage Zone Control Dimmer: This type of dimmer is designed to be controlled by a Bluetooth device. It allows you to control different areas of your outdoor lighting. For example, if you want the floodlights in your backyard to be fully on but the ones in the backyard near your room to be turned off, this type of dimmer allows you to control both separately. However, each zone will need to be set up by an outdoor lighting specialist. This is not a DIY type of job.
How Do Timers Work?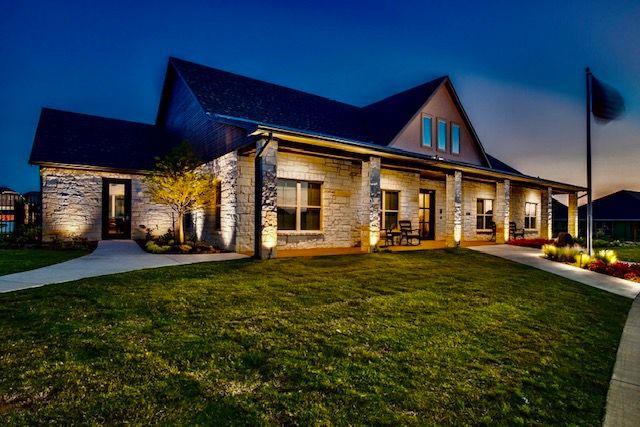 An outdoor lighting specialist installs timers directly into the transformer and can set them to turn on/off the lights at the designated time you prefer. For example, if you want your outdoor lights to turn on at 8 p.m. every night when you get home from work, the timer will ensure that the outdoor lights will automatically come on without you having to flip a switch. You can also adjust the timer to account for the varying degrees of natural lighting outside throughout the year and time changes.
Timers can also work alongside other control options, such as motion control lights. This ensures motion control sensors do not turn on until a specific time, ensuring, for example, that your floodlights won't automatically come on in the middle of the day when your dog runs by the side door.
Smart Lighting Systems: Effortless Control At Your Fingertips
App-enabled outdoor lighting controls are sweeping the market. Integrated with your smartphone or other internet-connected device, you can remotely turn on and off your lights, dim them (if you have a dimmer installed), or turn on different zones. Some of these systems may also provide a breakdown of energy use in certain areas, the life of the bulbs, and which lights are currently on and at what power.
No longer will you have to second-guess if you reset the timer on your lights after the time change or contemplate if you hit the switch before you left the house? Your lights can be controlled and checked right on your phone, no matter where you are.
As with all smart technology, it may also be integrated with other automated systems in your home, such as home security systems, automated gates or garage doors, and outdoor sound systems. Ask our team today about the capability of our smart lighting systems for your home or business.
Why Choose Creative Nightscapes for Your Lighting Control Needs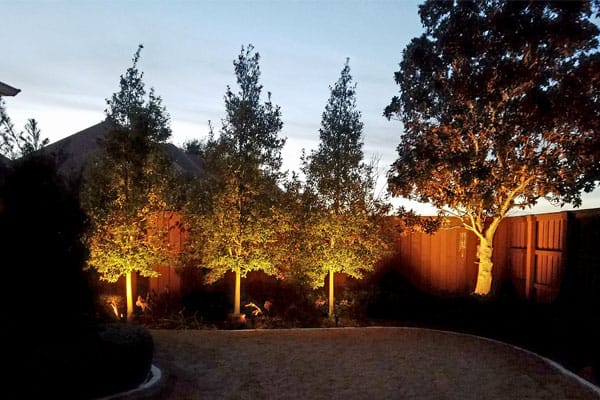 Creative Nightscapes specializes in creating pieces of functional art with your outdoor lighting design. Whether you are a business looking to brighten your storefront to bring in more customers during the evening or a homeowner looking to make more use of your outdoor living space, we have solutions for you. We have years of experience in creating captivating outdoor lighting designs, including uplighting to moonlighting for trees, highlighting walkways and decks to keep people safe, or accenting the special architectural features of your building.
Our outdoor lighting specialists stay current with the latest advancements in outdoor lighting control systems so that we can provide our clients with solutions that save them money and give them peace of mind. If you are looking to install dimmers to set the mood for your late-night reading time on the porch or you are looking for a more automated system for your business, give our specialists a call. We can't wait to help you transform your DFW home or business.
Outdoor Lighting Control Systems FAQs
What Are the Benefits of Having Outdoor Lighting Control?
There are a plethora of benefits you can gain from being able to control your outdoor lighting. These include but are not limited to:

1. Better Energy Efficiency
2. Ability to Set the Lighting Color and Brightness to Your Preferences
3. Better Convenience, Especially When Using Smart Outdoor Lighting Controls
4. Improved Safety
How Do Traditional Lighting Switches Work for Outdoor Lighting?
Traditional outdoor lighting switches control your outdoor lights on a circuit-level basis. They stop and allow the flow of electricity to your outdoor lighting system depending on the way the switch is flipped. This is a simple, yet effective solution for homeowners. Switches can also be controlled using timers installed on transformers, powering the lights at a certain time and turning them off at the next preset time.
How Can Dimmers and Timers Enhance My Outdoor Lighting?
Dimmers give homeowners and business owners the ability to control the brightness of their lights in a given area. For example, if you want your front porch lit up brightly, you can keep the dimmer set to full power while the lights on your back porch where you may want to relax can be set lower. 
Timers, in conjunction with outdoor lighting, give homeowners the power to have their lights turn on automatically when =needed most. For example, maybe you want your home's lights to come on at 8 p.m. when you get home from work and then turn off or dim around 10 p.m. when you put your kids to bed. A timer can help make this seamless.
What Is Smart Lighting and How Does It Benefit Outdoor Spaces?
Smart Lighting is designed to elevate your outdoor outdoor spaces by giving you control of your outdoor lighting system. Connected to a smart device such as your cell phone, smart lighting allows you to control your entire outdoor lighting system through an app. Turn on/off the lights, dim them, change the color, or change the settings for your timer all in one easy location. There's no need to worry whether you forgot to leave the lights on for a pet or set up a timer before leaving for vacation. Your lights can all be controlled from your phone, ensuring you get the perfect amount of light whenever you need it.
Additional Resources: