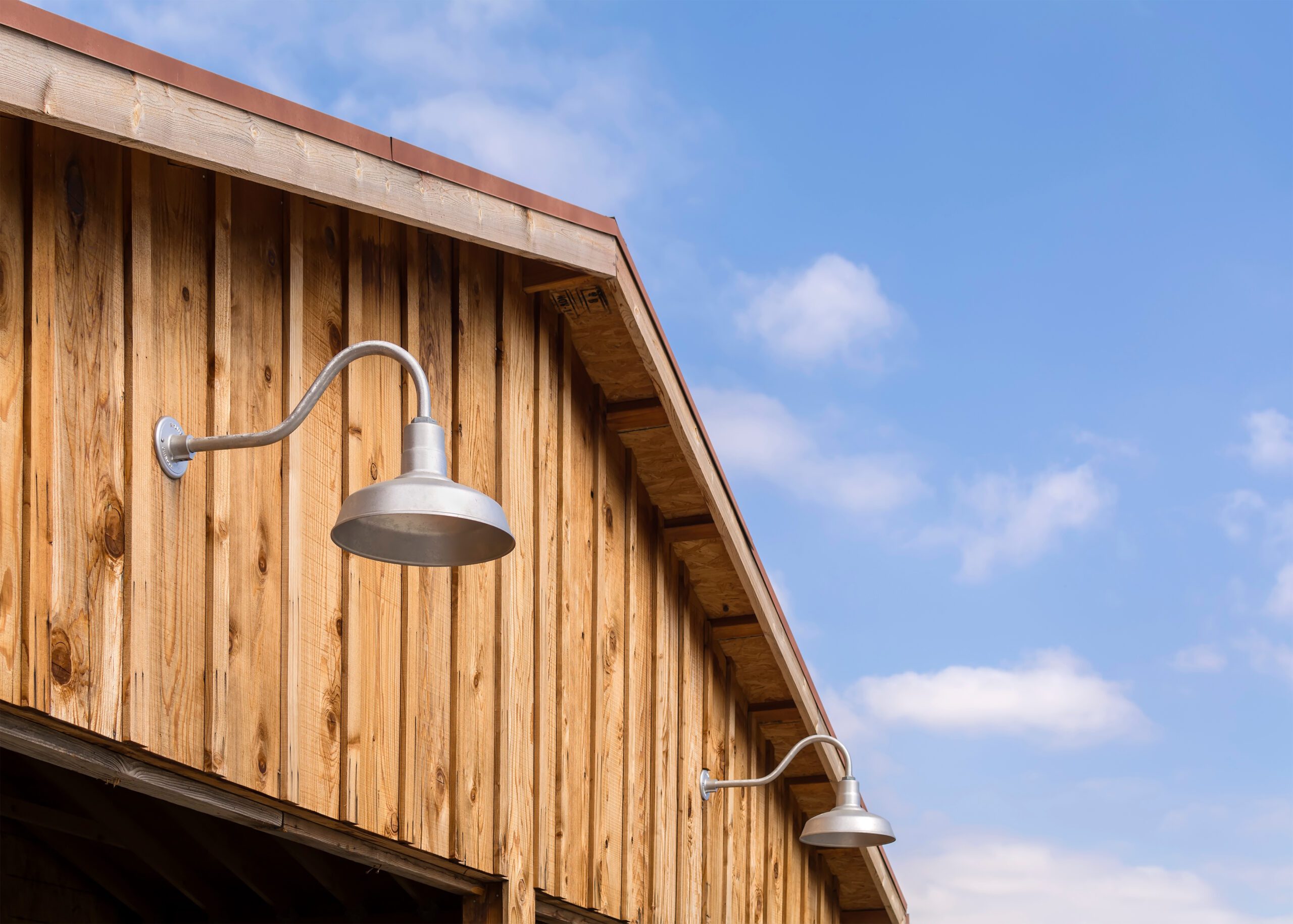 Despite their names, outdoor farmhouse and barn lights aren't just for farms. In this blog post, Creative Nightscapes will look at these styles of outdoor lights to provide insight into what they are and how they can be used to enhance your property. Outdoor farmhouse and barn lighting fixtures have a wide range of looks available, so you won't have to live in a rustic farmhouse to find a light that will complement your home or landscape. By reading this blog post, we hope you might find inspiration for your property.
Please be aware that working with electricity is dangerous and should be left to professionals.
Exterior Barn Lights
An outdoor barn light is a fixture that projects a typically downward-facing light. It can be a pendant light or held by an arm. Barn lighting can be found everywhere, from residential to commercial applications.
Types of Outdoor Barn Lighting
There are a number of barn lights on the market. In the following sections, we'll describe some popular types of barn lights and their uses.
Classic Outdoor Lights: The classic light fixture has a round head that is connected to a wall via an S-shaped arm. The light from the classic light generally aims downward. There is a wide variety of classic barn light styles available. Classic lights are also known as yard lights because of their frequent use on structures and garages to illuminate yards.
Gooseneck Lights: Gooseneck lights are the most popular type of barn light. They feature a curved arm. The gooseneck barn light is a popular choice for bigger areas, such as warehouses, entryways, residential and commercial building exteriors, and garage doors because of their distance from walls.
Light Sconces: Light sconces are similar to gooseneck barn lights but feature a significantly shorter gooseneck arm. Because of the shorter arm, light sconce shades are, by necessity, on the smaller side. Light sconces work great for illuminating smaller areas. They work with doorways, columns, and posts.
Sign Lights: Sign lights are an excellent way to attract attention to a business. Sign lights also illuminate a-frame signs, storefronts, and billboards. Sign lights are equipped with a gooseneck arm and a swivel joint. The swivel joint allows the shade to rotate in a 180-degree arch. The gooseneck arm enables the sign light to rotate towards or away from a wall.
Pendant Lights: Pendant lights offer a modern and stylish interpretation of the iconic barn light. Please note that not all pendant lights are suitable for outdoor use. Be sure to check with the manufacturer if you don't know. Outdoor pendant lights are excellent for illuminating outdoor sitting areas over tables, grills, bars, and patios.
Light Post Lamps: Light post lamps can be used in a number of areas, such as decks, paths, landscapes, sitting areas, and more. They are available in a variety of shade styles and colors, so you have a good chance to find the right look for your needs.
Straight Arm Lights: As the name implies, straight arm lights feature a mount that is a straight arm. These lights are available in various looks, from designer to industrial. Straight arm lights can add a pleasant touch to porches.
What are the Benefits of Outdoor Barn Lighting?
Outdoor barn lights offer consumers a number of benefits. In the following section, we will cover a couple of these advantages. Please note that there are many types of barn lights on the market, and their qualities may vary.
A Range of Looks: While barn lighting is a specific style, many types of barn lighting fixtures are available. You'll also have a variety of colors and finishes to select from. Barn lights range from modern to rustic, so you'll most likely be able to find one that fits your needs.
Rugged Design: While quality can vary, generally, outdoor barn lights are built tough to handle rugged conditions. With any lighting, you must select the right fixture for each situation.
Farmhouse Outdoor Lighting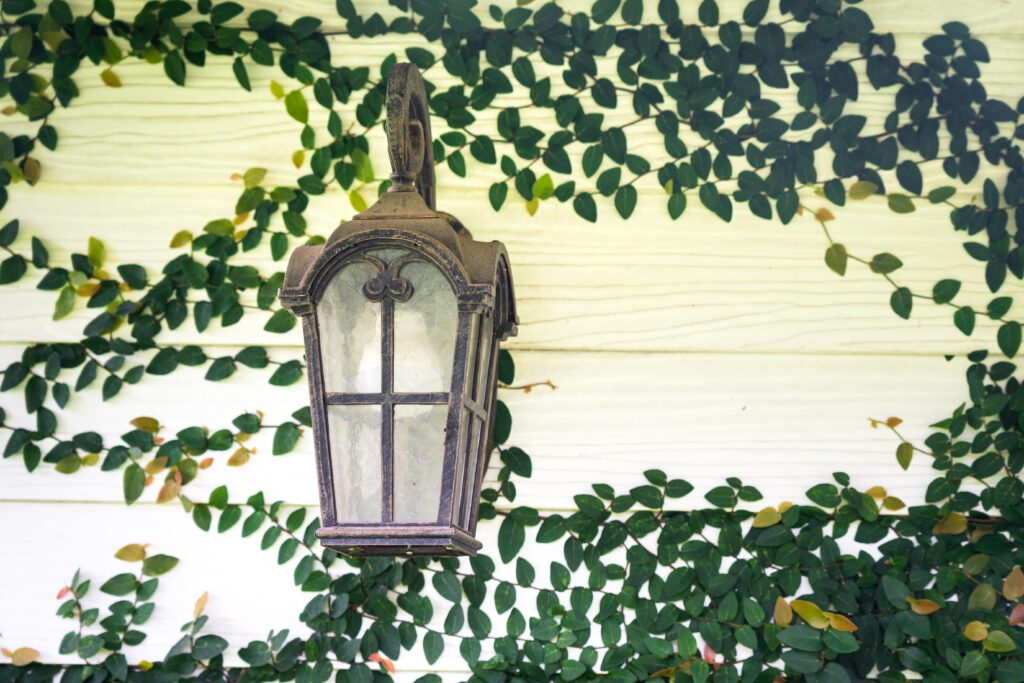 Some common elements of farmhouse lighting include a worn look, exposed light bulbs, an industrial look, and new interpretations of classic looks. When it comes to farmhouse lighting, you aren't restricted to one particular look. Some farmhouse exterior lights provide a modern touch; some are distinctly rustic, while others are a combination of the two. Outdoor farmhouse lights are made from a variety of materials.
Types of Farmhouse Outdoor Lighting
There are a number of different farmhouse lighting fixtures and ways they can be used. Below, we've included a few examples.
Metal Caged String Lights: Metal caged string lights feature a utilitarian look while providing ambient light and a country feel. These lights also make for a great conversation piece.
Farmhouse Style Lantern Lights: The classic look of a lantern goes well with the style of outdoor farmhouse lighting. You'll find farmhouse lanterns in a range of sizes and shapes. Farmhouse lantern lights work well on patios and porches.
Outdoor Farmhouse Pendant Lights: Outdoor farmhouse pendant lights are an excellent way to make a covered patio more interesting.
Please note that not all pendant lights are made for outdoor use. Be sure to check with the manufacturer if you are unsure. As with all lights, the outdoor farmhouse pendant lights must be durable enough to withstand the situation they are used in.
DFW Outdoor Farmhouse & Barn Lighting Services
If you are looking to add outdoor farmhouse or barn lighting to your home in the greater Dallas- Fort Worth area, the experts at Creative Nightscapes will make your dreams a reality. Our talented designers can use farmhouse and barn lights to add beauty and functionality to your landscape. Along with designing and installing outdoor lighting, we offer maintenance and repair services to help keep your lights shining.
Our business has won many awards and received many five-star reviews. We proudly maintain an A+ rating from the Better Business Bureau. We look forward to giving you the outdoor lighting of your dreams.
Contact us for a free consultation and quote!
Additional Resources: