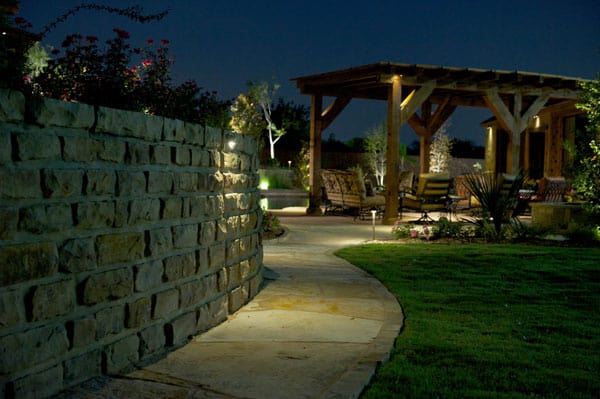 DFW Exterior Pathway Lighting Installation
The walkways of your home or garden can be dangerous at night, as the darkness hides potential hazards from your guests and family. This increases the potential of an accident happening, which can lead to injuries. Furthermore, dark pathways can prevent you from seeing criminals sneaking up on you while you walk to your door. Outdoor pathway lighting is the perfect way to help minimize the risk of injury and crime while creating a beautiful atmosphere for your landscape.
There are many different styles and options to choose from, making outdoor pathway lighting versatile enough to fit into any aesthetic. With a great eye for detail and an immaculate knack for design, you can trust Creative Nightscapes to create a magnificent look for your home. Contact us today to learn more about our outdoor walkway lighting options.
Kichler Path Lights
Creative Nightscapes is proud to be a Kichler Light supplier. Kichler lights can capture the immense beauty of your outdoor living space while providing some extra security. When it comes to walkway lighting, Kichler offers unique light fixture designs that are also durable and long-lasting.
These lights are well-engineered for safety and energy efficiency, saving you money on your energy costs while reducing the risk of unnecessary accidents. Kichler pathway lights are known for their high performance, making them one of the most popular products in the outdoor lighting market. Here are some of the Kichler outdoor path light options that we offer at Creative Nightscapes.
Pyramid 2700K LED Path Lights
These warm LED lights provide the perfect lighting for any driveway, walkway, or garden setting. The housing for the lights come in a variety of different colors and textures, and they can match a variety of different styles and tastes. These lights can work with a wide variety of different landscapes and blend in seamlessly with any landscape lighting you may already have installed.
12 V Cast Brass 6" Dome Path Lights
This new rendition of the popular Kichler 6" shade light is a popular option amongst homeowners. These pathways lights cast a wider range of light, helping to chase away more of the shadows around your walkway. Kichler 6" Dome Lights come in many different finishes, such as textured black, centennial brass, and textured architectural bronze.
If you are as excited about adding new Kichler Path Lights to your home, call Creative Nightscapes today. Our professionals can help you choose the perfect Kichler outdoor walkway lighting options for your home. 
Dauer Path Lights
Dauer has quickly become an industry leading innovator in LED lighting systems. Their outdoor path lighting fixtures combines both beauty and functionality. These fixtures are sure to create a welcoming atmosphere for your guests while also creating elegant accents for nearby flowerbeds.
Amani (8″ Hat) Aluminum Drop-In
The Amani cast aluminum path light by Dauer features an enclosed socket, 8-inch diameter hat, and reflective powder-coat interior. It stands about 20-inches tall and comes with a five year warranty.
Firefly Brass Drop-In
This gorgeous solid brass drop-in features one MR16 LED lamp. A composite stake is included with the fixture but other mounting options are available. It comes with a five-foot factory-installed wire lead and a lifetime warranty to protect your investment.
Path Light Fixtures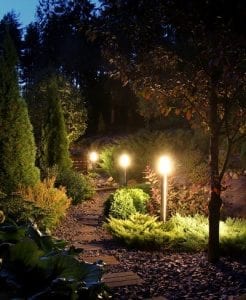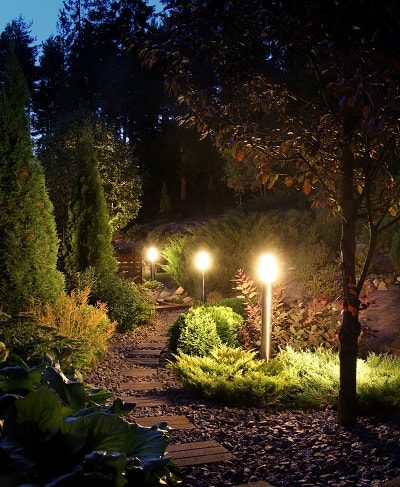 Walkway lighting fixtures are a great way to keep your family and friends safe outside your home. They help prevent trips and falls by highlighting any potential hazards, and they can deter criminals from coming after you. With outside pathway lighting fixture installation from Creative Nightscapes, your path lights will be bright enough to help you see without blinding you. Here are some of the walkway lighting fixtures that we can install:
Bollards
If you want to add a beautiful ambient flair to your home, consider using bollard lights to illuminate your outdoor walkways. Bollard lights create beautiful lighting while also increasing visibility and improving security. They are an excellent choice for illuminating driveways and paths, as they are both sturdy and eye-catching. These unique light fixtures can fit in with any landscape design.
Downlights
Downlights are perfect for pathways leading from a patio with a cover or pergola to another part of your backyard. They provide a gentle white light that helps your guests see where they are walking without being blinded by the light. Pathway downlights are subtle and provide light without taking attention away from your other outdoor features.
Lamps
Outdoor path lamps are a perfect way to create the style of light you want while not sacrificing security. They come in many different sizes and styles, allowing you to match your new lamps with the look of your outdoor landscape. Contact Creative Nightscapes for more information on our types and designs of lamps.
Outdoor Walkway Lighting in Dallas/Fort Worth
Improve the curb appeal and safety of your home with the incredible walkway lighting services from Creative Nightscapes. With tons of lighting solutions for all of your landscape lighting needs, Creative Nightscapes can help you create an outdoor paradise that is both magnificent and effective. Contact us today to see how you can completely transform your landscape with new exterior walkway lighting.