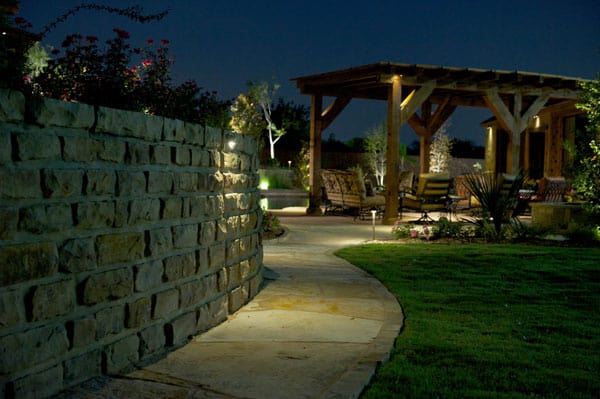 DFW Outdoor Lighting for Pergolas, Arbors, Patio Covers, Pavilions, and Gazebos
Pergolas, arbors, and other outdoor structures provide you with shade as well as shelter from the rain. Pergola lighting helps brighten up your deck, patio, or garden entrances so that you can use them when it's dark out. Whether you want to sit outside and unwind after a long day or you have company over for an outdoor gathering, you'll be able to enjoy being outside more often with our pergola lighting. Creative Nightscapes offers high-quality pergola lighting in the Dallas-Fort Worth area. Contact us today to learn more about our patio and deck cover lighting services.
Low Voltage Pergola Lighting
Using outdoor lighting – especially on a regular basis – can add to your energy bills. With low voltage LED lighting for your pergola or other shady structure, you can keep these lights on as often as you need without having a large spike in your energy bills. Creative Nightscapes offers low voltage LED pergola lighting to help you save on energy costs. You'll still have the right amount of illumination in your yard, but you won't be using as much energy as you would with other types of bulbs.
At Creative Nightscapes, we offer LED lighting options for pergolas, arbors, patio covers, pavilions, and gazebos. When you have any of these structures in your yard, we can help you find the right low voltage lighting to use. Our expert outdoor lighting team can work with you to create a lighting design that suits your pergola or other outdoor structure. After designing your new lighting, our professionals will also handle the installation process. With your new low voltage pergola lighting, you'll be able to keep your deck or patio lit up whenever you want while still keeping your electricity bills low.
Pergola and Arbor Lighting
Pergolas and arbors are slatted structures that offer a bit of shelter and shade for homeowners. Having lighting on these structures can help bring more light to your yard so that you can see better while walking around in the dark. Creative Nightscapes offers high-quality pergola and arbor lighting services for homeowners throughout the DFW area.
Pergolas and arbors usually do more than serve a practical purpose; these outdoor structures often have intricate designs that enhance the look of your yard. When it's dark out, you can lose out on the beauty that these structures add to your property. With pergola and arbor lighting from Creative Nightscapes, you can draw attention to these structures even at night. We can help you come up with a lighting design that makes your pergola or arbor even more visually striking. Whether you want soft, subtle lighting or a bolder look, we'll create a design that meets your needs. You can count on our professionals to get your new pergola or arbor lighting installed promptly so that you can start enjoying your yard more at night.
Patio Cover and Pavilion Lighting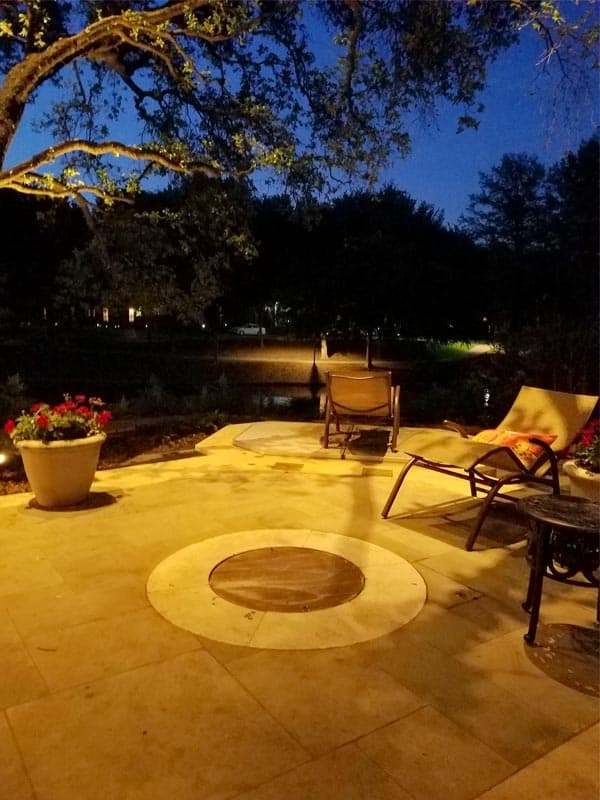 Patio covers and pavilions make it possible for DFW homeowners to enjoy sitting out on a patio or deck while getting some relief from harsh sunlight. They also provide shelter from the rain. However, when it's nighttime, they can make your yard darker and less safe. Adding patio cover or pavilion lighting to these structures can help you feel more comfortable about sitting outside at night, which means you'll be able to get more use out of your deck or patio. Creative Nightscapes offers a wide range of lighting design options for patio covers and pavilions.
Gazebo Lighting
Gazebos provide the best of both worlds when it comes to outdoor structures. These free-standing structures can enhance your property with their beautiful design while also giving you a sheltered place to get out of the rain or sun. Having lighting installed can allow you to use your gazebo at night and ensure that it continues to enhance your yard, even when it's dark out. Creative Nightscapes offers gazebo lighting design and installation services in the Dallas/Fort Worth area.
You can choose gazebo lights that provide greater visibility at night so that your yard is brighter for safety purposes. This lighting helps illuminate this structure as well as the surrounding area. You can also choose lighting that highlights your gazebo. No matter what kind of lighting you want for your gazebo, our team at Creative Nightscapes can help you come up with the perfect design. We'll also take care of the installation process after designing your new gazebo lighting.
Dallas/Fort Worth Pergola Lighting
If you need pergola lighting for your home in the Dallas/Fort Worth area, contact Creative Nightscapes. We have years of experience installing outdoor lights on residential properties. We'll help you make your yard both safer and more beautiful by designing and installing lights that work perfectly for your property. From pergola and patio cover lighting to garden and poolside lighting, we do it all. Contact us today to learn more and schedule a consultation.