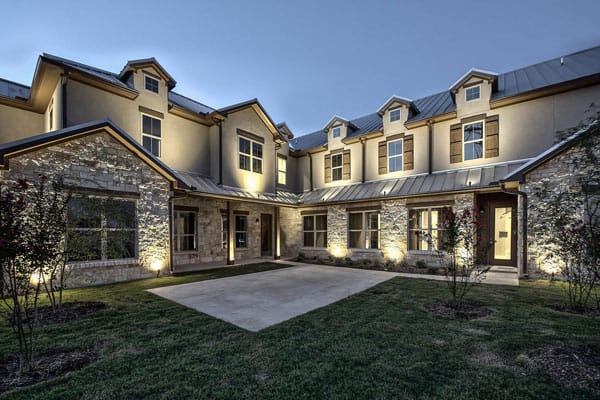 Outdoor Lighting Services for Commercial Buildings in Dallas-Fort Worth
Commercial outdoor lighting can enhance your property's appearance and give you and your visitors additional peace of mind. Creative Nightscapes offers a wide range of commercial-grade lighting solutions for customers in the Dallas and Fort Worth area. Whether you need to add lights to pathways, invest in security lighting, or use landscaping lighting to highlight features of your property, we can help.
We offer a wide range of commercial-grade outdoor lighting options, including landscape lighting, pool lighting, water feature lighting, commercial LED lighting, security lighting, and outdoor pathway lighting. Our outdoor lighting professionals have years of experience designing and installing exterior lights for commercial properties in the DFW metroplex. With our help, you can count on getting high-quality lighting expertly installed on your commercial property. Contact us today for more information about our commercial-grade lighting options.
Commercial Landscape Lighting
Commercial landscape lighting allows you to highlight specific features of your property, such as architectural features on your building's exterior, a carefully designed garden, or ornamental trees. Creative Nightscapes can help you beautify your commercial property with our commercial-grade landscape lights. We have a wide range of commercial lighting options available, including wash lights, downlights, garden lights, and well lights.
Our experts can help you choose the ideal lighting for your commercial property, depending on your needs and wants. Whether you're interested in having several lights installed throughout your property or just a few expertly placed lights to enhance your property's appearance, we'll design the perfect lighting plan to suit your vision. You can rely on us for expert outdoor lighting installation for your hotel, apartment, or other commercial building in the greater Fort Worth and Dallas area.
Commercial Poolside Lighting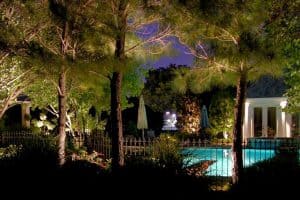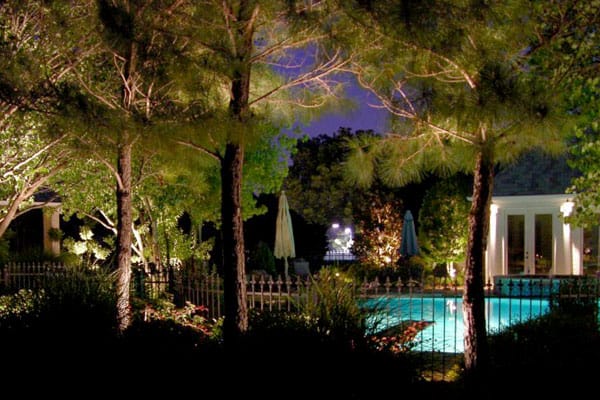 When your commercial property has an outdoor pool, it's important to ensure that your poolside area is as safe as possible. Poolside lighting helps tenants or guests get more use out of your pool while also reducing the risk of accidents. Creative Nightscapes has commercial-grade poolside lighting solutions that can effectively improve the safety of your pool area. With our decorative lighting, you can also spruce up the appearance of your pool area overall.
Whether you need lights placed higher up that shine down for safety or more subtle lighting installed in the ground around the edges of your pool, we can help. Our lighting team can work with you to create the right design for your commercial property's poolside area. We offer lighting for apartment, hotel, resort, and indoor pools.
Water Feature Lighting
Water features on your commercial property can improve your property's curb appeal and help you grab the attention of passersby. However, these water features don't do you much good when it's dark, unless you have lighting added. Creative Nightscapes offers superior quality water feature lighting that illuminates these parts of your commercial property. Whether your property has decorative fountains, waterfalls, or other features, we can help you ensure that your water features are highly visible at all times.
Our experts in commercial-grade lighting installation will help you determine the best water feature lighting design for your commercial property. We can install the right number of lights to highlight these features or add colored lights to make your water feature more dramatic and eye-catching. No matter what your lighting needs are for your water features, you can depend on us for solutions.
Commercial Outdoor LED Lighting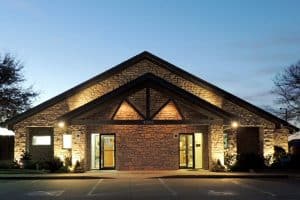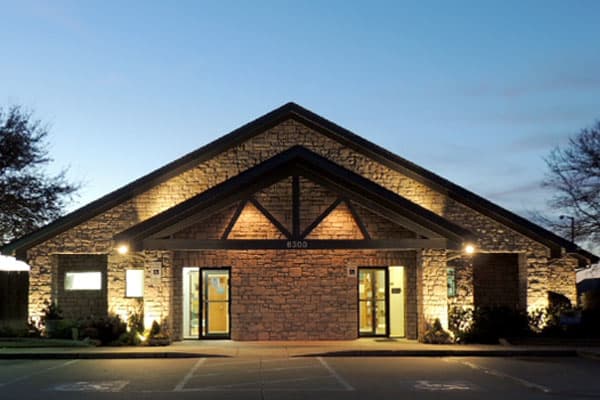 Lighting up the exterior of your commercial building can cost a significant amount of money when you use incandescent or fluorescent bulbs. At Creative Nightscapes, we offer commercial-grade LED lights that are effective and have a long lifespan, while also helping you save money on your energy bills.
Our team can go over all of your options for commercial LED lighting and help you choose the right design for your building. Whether you want LED lights for security or aesthetic reasons, we'll ensure that you have an impressive lighting solution that adds value to your commercial property.
Outdoor Security Lighting for Commercial Buildings
Security lighting makes your commercial building much safer by deterring intruders and providing illumination for customers or tenants who walk around at night. When you have security lights on your building or property, you'll have a lower risk of burglaries and other criminal incidents. Tenants or customers can also feel safer walking around when it's dark out, whether they need to walk to their vehicle or want to go for an evening or nighttime stroll.
Creative Nightscapes offers many different kinds of security lights for commercial properties in the Dallas and Fort Worth area, including floodlights and spotlights. Our team can help you decide which types of security lights to install and where these lights should go for maximum effectiveness. Our security lighting solutions can give you peace of mind that your commercial property is safe and secure.
Outdoor Walkway Lighting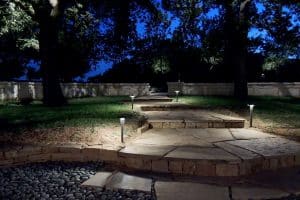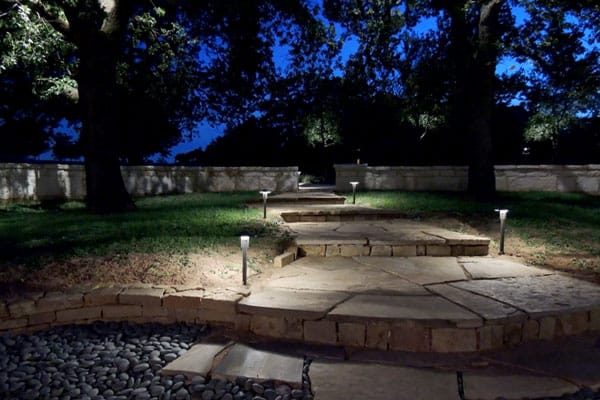 Pathways on your commercial property can become hazardous in the dark. Outdoor pathway lights provide lighting that helps reduce the risk of falls and other accidents when tenants, employees, or customers are walking around. This type of lighting can also be used to accentuate and beautify your pathways.
Our team can help you choose the most suitable walkway lights for your commercial property. With our help, you can depend on having commercial-grade pathway lighting that makes your property safer and more visually appealing when it's dark outside.
Buildings We Serve
At Creative Nightscapes, we provide commercial outdoor lighting services for several different types of businesses and other properties in the Dallas and Fort Worth area. Our services are available for hotels, apartment buildings, resorts, hospitals, schools, malls, and other commercial buildings. Whether you need commercial-grade lighting for a hotel pool, landscape lighting for your resort, or security lighting for parking lots, our team is here to assist you. All of our commercial lights come with a 15-year warranty.
If you need commercial-grade outdoor lighting for your property in the Dallas-Fort Worth area, contact Creative Nightscapes. We're available to answer any of your questions regarding commercial outdoor lighting or to help you schedule a consultation with one of our lighting design professionals.