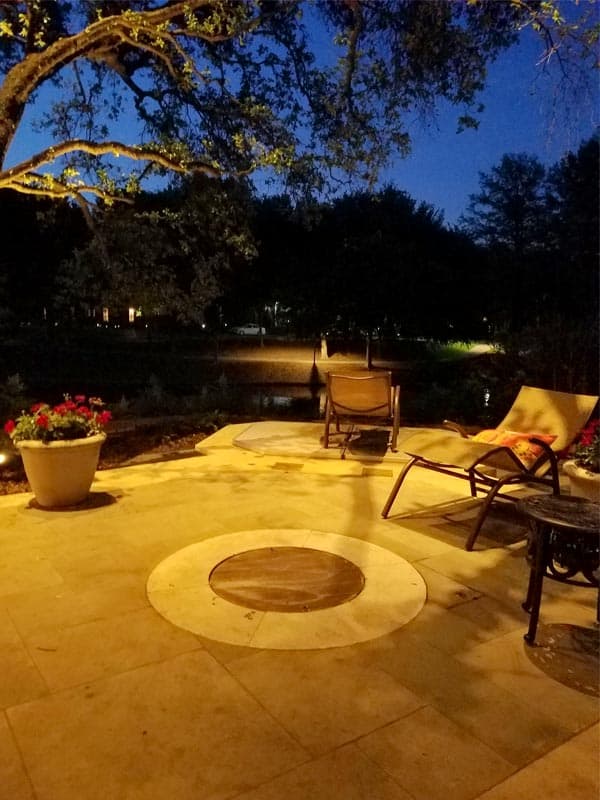 Patios and arbors are great ways to add a personal touch to your Fort Worth, Texas, landscape. You can take this personalization further by adding lighting to the equation. In this blog post, Creative Nightscapes will delve into patio and arbor lighting trends in North Texas that you can utilize for your property.
With all outdoor lighting, you must use fixtures that are suitable for the conditions they are in.
Caution: Given the dangers of working with electricity, it should only be handled by professionals.
What is Patio Lighting?
Patios can be illuminated in a number of ways. For example, patio lighting can have a decorative and functional aspect to it. Not only does patio lighting allow you to spend time on a patio after sunset while potentially highlighting tripping hazards, but it also enables you to highlight the patio's design or architectural features.
What are the Different Types of Patio Lights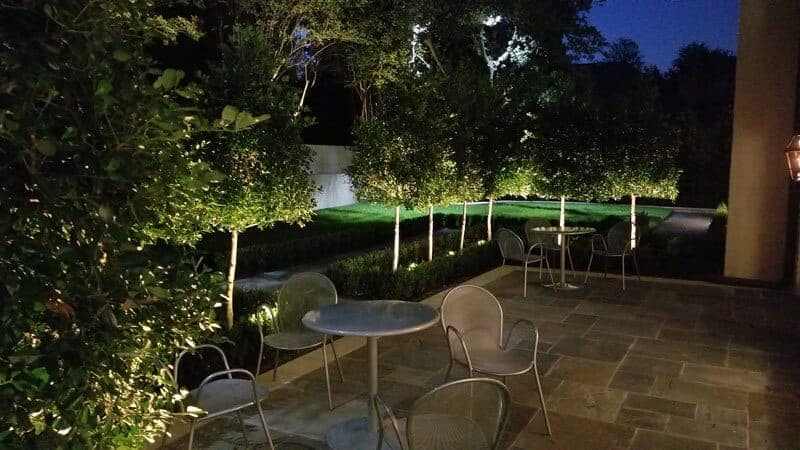 There are a number of ways to illuminate patios. In the following section, we'll cover some of the most common methods.
Ambient Patio Lighting
With the correct ambient lighting, you can get a nice, even light. String lights can provide ambient lighting on a patio. An outdoor ceiling fan light is another way to supply ambient light to a patio.
Security Patio Lighting
Security lighting doesn't have to detract from the beauty of your patio. With the right design, security lighting can merge form and function.
Please note that security lighting is best used in conjunction with other security systems.
Wall Lighting
If your patio is next to a wall, you can utilize outdoor wall lighting. You have a good chance of finding the right option for your situation given the many outdoor wall lighting fixtures available.
Step Lighting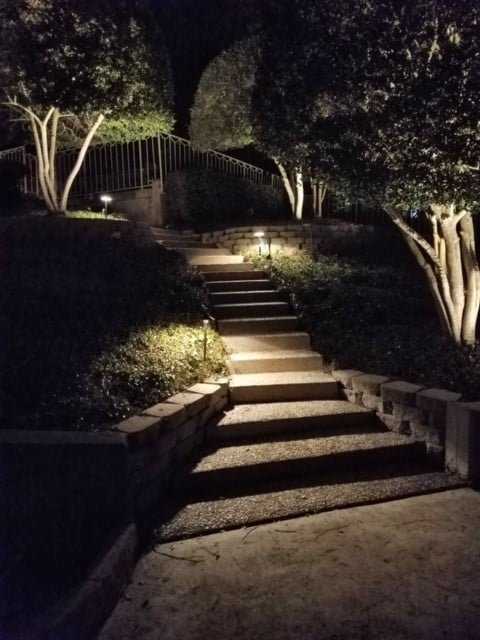 Step lighting is a good feature to have, as steps covered by darkness are dangerous to people—especially those unfamiliar with your property.
Task Lighting
When you're doing something that requires a good amount of light, such as cooking or reading a book, task lighting can be a helpful addition. There are several ways you can add task lighting to your patio. One way, for example, is to have a light on an outdoor ceiling fan.
Pendant Lighting
Pendant lighting combines an attractive and attention-grabbing light fixture with usable lighting. Pendant lights may be positioned at the center of a patio or out of the way. They work well positioned over a table or at a location on your patio that you want to attract attention to. Pendant lights are also an excellent way to provide light for patio gatherings.
As pendant lights come in various fixtures, you can select one that best complements the style of your patio.
Wash Lighting
If your patio is next to a wall, you can add wash lighting to highlight the texture and design of the wall.
Benefits of Patio Lighting
In the following section, we'll discuss some potential benefits patio lighting provides.
Increased Visibility
If you plan on using your patio after dark, it is important to see where you are going. With better visibility, you are less likely to trip over an unseen obstacle or an elevation change. It also turns a patio into a fun after-dark gathering place for friends and family.
Highlights Architecture
Patio lighting can highlight the texture of walls or other interesting patio features.
Potential Increase in Security
Best used with other security systems, outdoor patio security lights can enhance the security of your property.
Patio Lighting Ideas
There are many ways to illuminate your patio. In the following section, we'll highlight some fun patio lighting ideas.
Layer Your Lighting
When it comes to lighting, it pays to have options. Different situations and times of day require different levels of light. By layering your lighting, you'll be able to have the right amount of light for a variety of situations. Some examples include reading a book or magazine on your patio during the golden hour, or a friendly gathering in the dark of night.
Illuminate Important Structures or Trees Near Patio
If your patio has a pergola or arbor on it, or a tree nearby, these could be wrapped with string lights to create a welcoming atmosphere.
Incorporate Lighting into Other Useful Appliances, Such as an Outdoor Fan
Several outdoor appliances feature integrated lights. An excellent example of this is an outdoor fan with a light. An outdoor fan is a great tool during those hot Texas summer nights, and adding a light will make this fixture even more helpful. And while it will most likely see less use in Fort Worth than an outdoor fan, a patio heater with an integrated light can also help you stay more comfortable while providing light to your patio.
Rustic Outdoor Lighting
You can add a rustic feel to your patio with festoon lights. By using them over a table, they can add a soft light to the area. Use festoon lights with other lighting sources to create enough light for the patio.
Outdoor string lights can also provide a "cottage" feel to patios.
Contemporary Outdoor Lighting
You can add a contemporary feel to a patio by adding wall lighting with a geometric shape and contemporary color choices.
What is Arbor Lighting?
Arbor lighting brings attention to the design of an arbor (or the path that travels through it).
What are the Different Types of Arbor Lights?
There are several arbor lights available. In the following section, we'll highlight some common options.
Spotlights
A spotlight can light up an arbor to highlight its attractive design after the sun has set. While several spotlights are available, getting adjustable fixtures to optimize your lighting is a good idea.
Two or more spotlights may be needed depending on the size of the arbor.
Solar spotlights are a convenient way not to deal with the hassle of wires.
Color lenses enable you to add a splash of color to your arbor.
Rope Lights
Rope lights are strands of light in a flexible plastic tube. Given the flexibility of rope lights, they can outline the shape of an arbor. Rope lights can give your arbor a softer lighting touch.
String Lights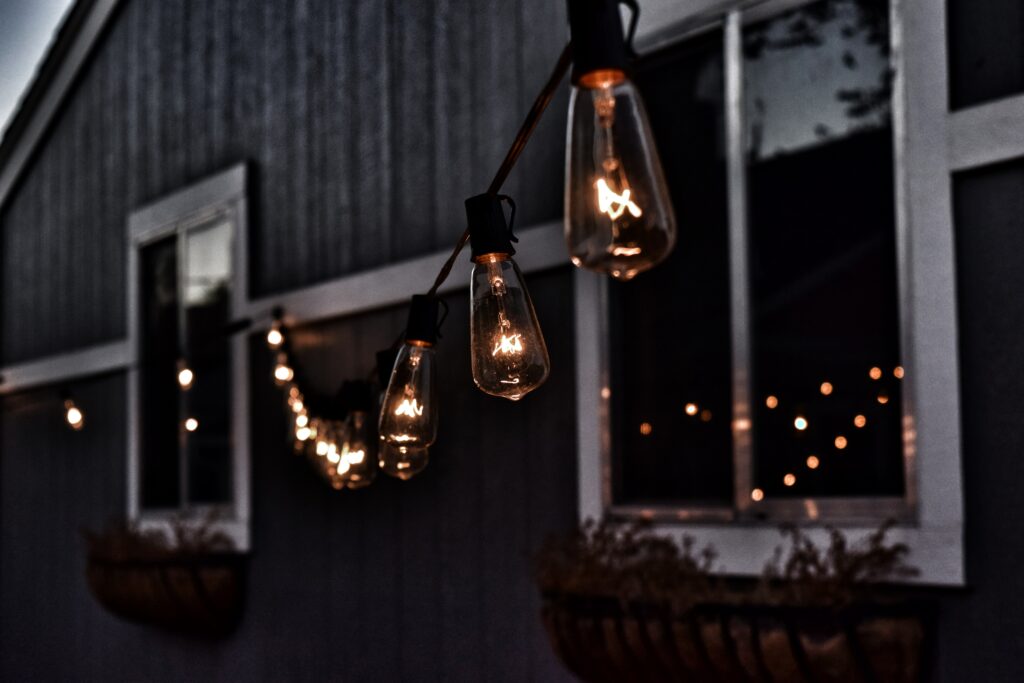 String lights are an affordable way to add lighting to an arbor. String lights give arbors a romantic and whimsical look. Although many colors of string lights are available, white string lights provide a graceful look. Solar-powered and battery-operated lights are also available, meaning you won't have to plug them in.
Pathway Lights for Underneath
A path under an arbor can be illuminated with pathlighting. Pathlighing allows you to see where you are going and can showcase your arbor at the same time. Several types of path lighting fixtures are available.
Patio and Arbor Lighting in the Dallas-Fort Worth Area
If you've been inspired to add lighting to your patio or arbor, do it the right way by hiring professionals. If you're in the Dallas-Fort Worth area, the experts at Creative Nightscapes can use outdoor lighting to bring out the best in your patio, arbor, or other parts of your landscape. Since 2004, we've been helping people bring light to their landscapes, and look forward to helping you.
We've won multiple awards and proudly maintain an A+ rating from the Better Business Bureau.
Additional Resources: