Whether you're sailing on the open sea or cruising on a lake, boating is a fun activity. However, it does come with potential danger. Safe boating practices can save thousands of dollars in damages, prevent injuries, and even save lives. But not all dangers happen on open water—some occur at the dock. In this blog post, Creative Nightscapes goes over ways you can enhance the safety of your dock with boat dock lighting.
Make Sure Your Boat Dock Is Safe With Boat Dock Lighting
The proper dock lighting means a safer and easier docking process. A properly lit dock will make docking, entering, and exiting the dock easier after sunset. Dock lighting can not only make boating safer, but it can also make navigating your dock on foot safer. When you can see where you are going, you reduce the risk of accidentally going for a swim.
Dock lighting can also help protect your property from theft and vandalism. Plus, illuminating the end of your dock will help passing boats see it in the dark, reducing the likelihood of a boat collision. This will save money on dock and boat repairs as well as reduce the chance of injuries.
There are multiple ways you can use lighting to illuminate your dock. The following sections highlight several dock lights and how they can benefit you.
Lighting Near Docks

By lighting areas near your dock, such as pathways or stairs, you make walking around safer while beautifying it. This kind of lighting ensures potential tripping hazards can be spotted more easily. We recommend using downward-facing lights, which create less pollution than other kinds. With dock lighting, you should be conscious of your neighbors and the effect your lights can have on the environment.
Piling Lights
A piling light goes on top of a post or piling and illuminates sections of your dock. They often indicate where the edge of your dock is, allowing you to move about more safely. These lights are both functional and aesthetic.
Dock Flood Lights
Floodlights offer expansive illumination, and a single one can cover a large area. Be advised, however, that they may interfere with other boats and contribute to light pollution if not set up correctly.
Underwater Dock Flood Lights
Underwater dock floodlights can increase visibility around your dock while enhancing its look. They can make maneuvering your boat easier at night. Given their constant exposure to water, these lights need to be durable. Be sure to use lights intended for underwater dock use.
Underwater dock flood lights are also helpful if someone falls off a dock. How bright your underwater lights need to be depends on whether the water is clear or murky. Some underwater lights are explicitly intended for use in saltwater. Given the incredibly corrosive nature of salt water, it is essential that you use lights intended for it. Whether saltwater or freshwater, underwater lights need to be tough enough to deal with the constant effects of water.
Underwater Organism Growth on Flood Lights
Water organisms, such as barnacles, zebra mussels, and algae, potentially threaten underwater dock lights. These organisms can block out the light source, decreasing the light's effectiveness. To help prevent this, apply a barnacle-resistant coating to your underwater lighting's housing.
Please note: to protect your light's glass, don't apply the coating to the glass directly on the lighting. To keep flood lights barnacle-free, you can scrub them off every two to three months using a deck or pool brush. Always take care when working with electricity, especially when it is underwater.
Boat Dock Lighting Safety
When dealing with dock lighting, it is important to be extra cautious and use high-quality lights. Water and electricity are a dangerous combination. With electricity, you also run the risk of fire.
Take extra care in saltwater environments, given their corrosive nature. When working on dock lights, it is vital to utilize a trained professional who can ensure that your lights are set up as safely and efficiently as possible.
Go with Low Voltage LED Lights
Private docks should not use household voltage (120V) for lighting. This is incredibly dangerous and a fire hazard. Private docks should always use low voltage (12V) lighting. A professional can help create an excellent dock lighting setup with safer low voltage.
Avoid Using Bright Tall Lights
Avoid using lights that are tall and bright, as they have the potential to be blinding when you are attempting to dock a boat.
Use Lights Made for Docks
Your dock lights need to be able to handle the elements. For example, they will need to withstand high winds and hard rains.
Dock Light Maintenance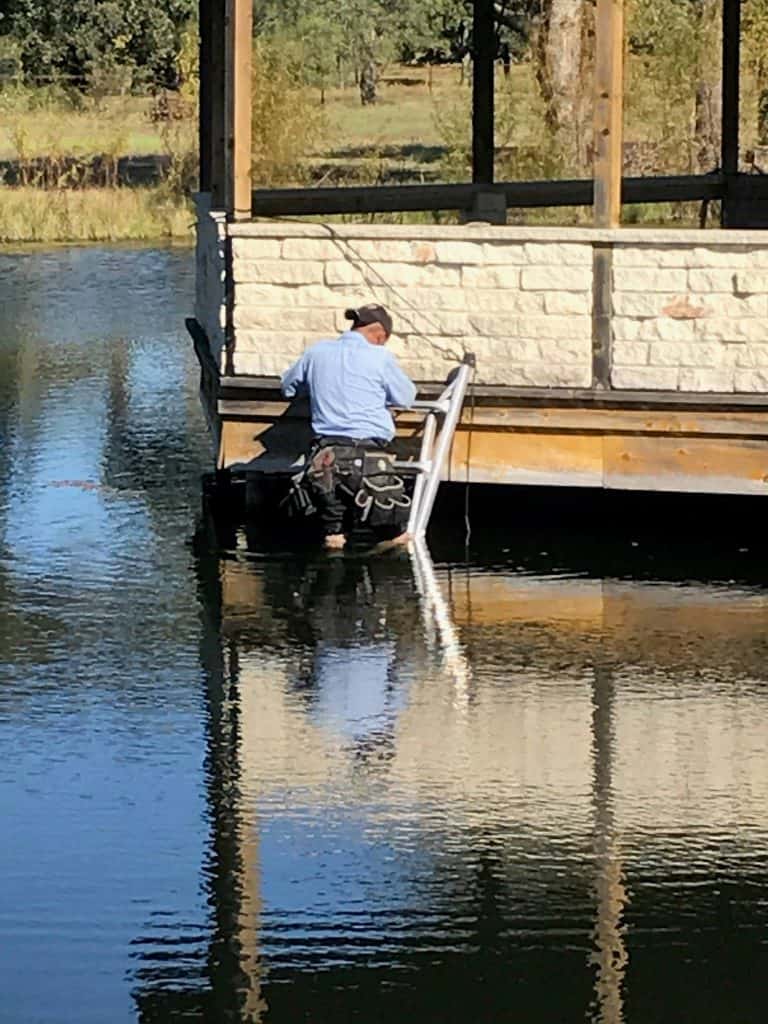 While lights made for boat docks are supposed to be resilient, no light is indestructible. It's important to maintain your dock lights to help keep them safe and functioning as they should. Be sure to work with a qualified electrician when maintaining dock lights due to the inherent risks of working with electricity and water.
Be Considerate of Others
If you're at a marina or share a dock with others, be aware of where your light shines. Lights can be blinding and disruptive to your neighbors. It's a good idea to talk with your marina or dock manager to ensure you abide by any lighting rules.
It's also a good idea to check with your dock neighbors to ensure your lights won't interfere with them and cause an unsafe situation. Improperly arranged dock lighting has the potential to be a hazard to boaters. Don't shine too much light onto cottages or other buildings near the water.
Watch for Potential Light Pollution
Dock lights can make your dock safer but can also be a source of light pollution, disrupting local wildlife. By contacting local wildlife organizations, you may get tips on minimizing the effects your lighting has on the environment.
Outdoor Lighting Services in the Dallas-Fort Worth Area
Since 2004, Creative Nightscapes has been creating incredible outdoor lighting arrangements to fit various needs and situations. We proudly maintain an A+ rating with the Better Business Bureau and have won multiple awards. Our company can design, install, and service your outdoor lighting in the Dallas-Fort Worth area. Creative Nightscapes has earned many five-star reviews from satisfied customers, and we look forward to working with you.
Contact us for a free outdoor lighting consultation and quote.
Additional Resources: