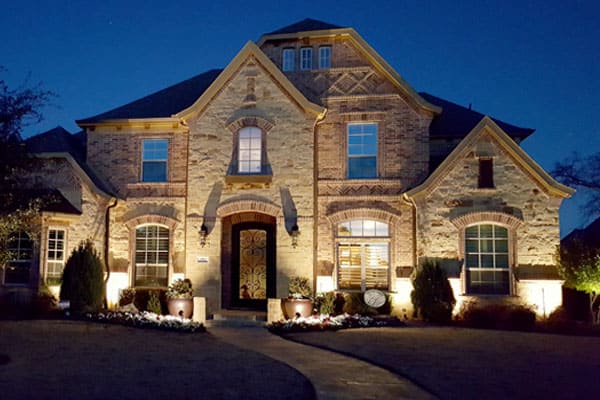 When it comes to residential landscape lighting, low voltage lighting is the most common option for homeowners. It is easy to install, it has a low cost, and it is safe to use. If you are looking to install landscape lighting into your yard or garden but are unsure whether or not low voltage landscape lighting is right for you, check out this list of the benefits low voltage landscape lighting can provide:
Advantages of Low Voltage Outdoor Lighting
Low voltage landscape lighting is loved for its versatility. It can be used in almost any setting and it is simple to install. This makes it easy to move around if you decide to change the design of your landscape. It is also fairly inexpensive and safe to use. Unlike high voltage landscape lighting, low voltage landscape lighting does not require that you hire a licensed electrician to work with the wiring to make sure everything is up to code. The low voltage reduces the potential risk for a shock, and if a shock were to occur, it would be relatively harmless.
Due to its easy installation and versatility, low voltage lights work well in a majority of environments, including wet locations such as in a garden or near a swimming pool. Here are some of the areas where low voltage lighting thrives in:
Pathway and Walkway Lighting
Pathway lights are the most commonly seen low voltage lighting options on the market. These nifty lights can help you make your home environment safer by illuminating your path and reducing the potential to trip. They can help chase away shadows, giving trespassers little place to hide. You can also use them in your garden to light flowerbeds and provide a beautiful and calming outdoor ambiance.
Garden and Open Area Outdoor Lighting
Low voltage spotlights and floodlights can be used to highlight key areas in your yard or garden. These low voltage lights work well with trees, shrubs, and outdoor water features, illuminating their natural beauty by sending the light up from the base. This creates a nice fade that shows off the plant's colors without being overwhelming to the eyes, making these lights a favorite for gardeners.
Additionally, low voltage lighting is popular for its child and pet friendly-safety features. The cables can be attached to the lighting fixtures themselves instead of being required to be buried in the ground. This helps decrease the potential risk that the cables will be dug up by dogs or children. These lights also do not need a conduit, meaning that you can skip having to invest in a strong transformer to keep your lights running.
Deck Lighting
Enjoy a night outdoors with your family or friends by adding deck lights. These lights help make your deck more secure by providing enough light to see the distance between steps and reveal any potential tripping hazards.
These lights come in a vast variety of designs and lighting fixtures, allowing you to choose the style that works best for your home.
Low voltage landscape lighting fixtures are a wonderful addition to any outdoor landscape because they are easy to install, safe to use, are versatile, and come in a wide variety of designs. This allows you to choose the style that best blends in with the look of your home. Creative Nightscapes are the experts when it comes to creating stunning designs for outdoor lighting. We can help you create the perfect aesthetic and then provide professional installation services, preventing you from having to deal with the hassle. Call Creative Nightscapes today for a consultation and to learn more about our fabulous lighting options.
Additional Resources: