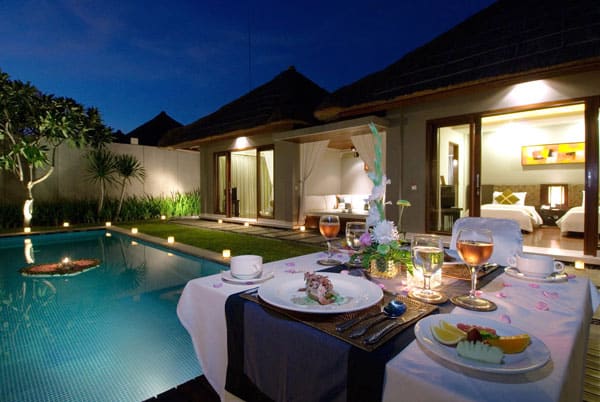 You don't have to head to an expensive restaurant in Dallas or Fort Worth to have a romantic dinner. You can have a romantic evening without leaving your backyard. It's more economical, and you don't have to fight the city traffic.
You're probably wondering how you can transform your landscape into a beacon of romance. One of the ways you can help set the mood is with gorgeous outdoor kitchen and dining lighting. Creative Nightscapes will take you through some of the elements of outdoor lighting that can help enhance a romantic dinner at home.
Outdoor LED Lighting
LED (light-emitting diode) lighting makes an excellent choice for many outdoor applications, including outdoor kitchens and outdoor dining areas. 
Here are a few benefits of using LED lights:
Environmentally friendly
Energy efficient
Generates less heat
Long-lasting
Less likely to attract bugs
LED Outdoor Kitchen Lighting
As with other types of outdoor lighting, LED lights make an excellent choice for outdoor kitchen lighting. They don't get hot the way other lights do, reducing the risk of accidental burns—great to have when you are working in tight spaces.
LED Outdoor Dining Lighting
Outdoor dining lighting is another place where LED lighting shines. It generally doesn't attract insects the way other lights do, leading to a potentially more enjoyable dining experience. If you spend a lot of time in your home's outdoor dining area, you'll appreciate the possible energy savings provided by LED lighting.
Lighting for a Romantic Evening
Below you'll find a list of different types of outdoor lighting and how they can assist in creating a romantic atmosphere. Please note that these lights are not necessarily exclusive to either the outdoor kitchen or outdoor dining room. There are also many types of lights not covered here. This is just a rough guide to provide inspiration:
Outdoor Kitchen Lighting Design
If your romantic evening involves outdoor cooking, it pays to have excellent outdoor lighting. When cooking and preparing a meal, good visibility is paramount. For outdoor kitchen lighting, visibility is important for safety. With the right setup, you can have outdoor kitchen lighting that is both usable and beautiful. 
Safety should come first with outdoor kitchen lighting or any other type of lighting. A properly illuminated outdoor kitchen can help make using your kitchen safer when it is dark out. Well-positioned task lighting can help you see what you are doing better on a kitchen counter. By positioning lights by a cooktop or grill, you can better understand the condition of your food and avoid accidentally getting burned. When positioning kitchen lights, make sure they are not exposed to high temperatures or open flames.
Types of Outdoor Kitchen Lighting Fixtures
When it comes to kitchen lighting, you have a lot of options. As with lighting in general, it's a smart idea to work with a professional to get a safe and well-designed lighting setup for your outdoor kitchen.
Below you'll find some examples of outdoor kitchen lighting fixtures:
Task Lights
With task lighting, you can get a better view of what you are working on in your outdoor kitchen. Task lighting is a great asset when doing something detail-oriented like cooking.
Pendant Lights
Depending on their position, pendant lights can light a variety of places in your outdoor kitchen while providing a stylish flair.
Countertop Lighting
Countertop lighting is useful when you are working in the kitchen and also when you want to eat or drink at the counter. It can also help showcase the design of your countertop.
Under-Counter Lights
Under-counter lighting can provide a unique look for your kitchen. They won't offer much light on the counter itself, so seeing what you are doing can prove difficult if that is your only light source.
Outdoor Dining Lighting Design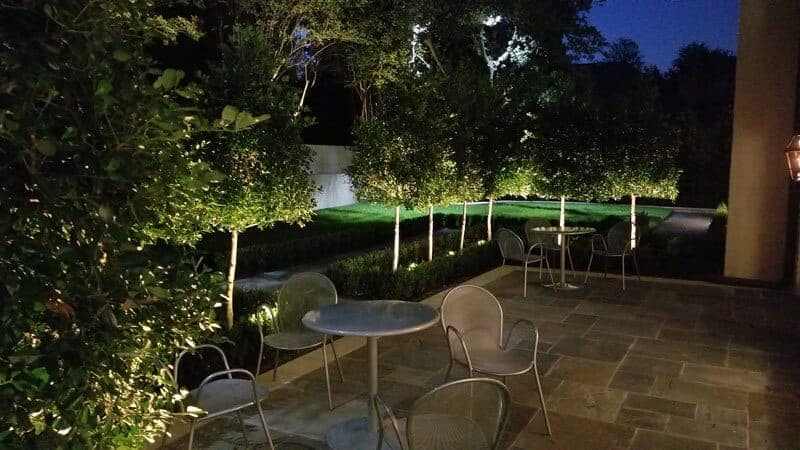 When the food is ready and the drinks have been poured, it's time to eat. With the right setup, you can set the mood for a memorable evening in the privacy of your backyard. As with outdoor kitchen lighting, it pays to enlist the services of a reputable professional.
As with many types of lighting, finding a balance between style and practicality can be difficult. Ensure that your lighting allows you and any guests to safely get around your dining area. You can also utilize a dimmer switch to find the optimal level of lighting.
Types of Outdoor Dining Lighting Fixtures
Different types of outdoor lights can be utilized to create a romantic atmosphere. While not exclusive to dining, these outdoor light fixtures can do an excellent job of setting the tone for a romantic dinner. Aside from the light they cast, the physical structure of the fixture can contribute to an elegant atmosphere that evokes feelings of a high-end restaurant.
Outdoor Chandeliers
An outdoor chandelier can bring a level of sophistication and glamor to your dining area. As with indoor chandeliers, you have many options to select from. The elegant designs seen in many outdoor chandeliers can complement an excellent dinner. It is important to get one made for outdoor use and can handle the wear and tear that comes with it. As it can present a falling risk, it is important to have outdoor chandeliers installed and maintained by reputable professionals.
Pendant Lights
If you think an outdoor chandelier is a bit much for the look you are trying to accomplish, you can use pendant lights. Pendant lights can be a good idea when working with limited space as they generally take up less room than a chandelier.
Wall Lights
Wall lights can be a great addition to your dining area, provided there is enough space. As with other types of lighting, the choices available to you can seem daunting. You can go with the leading age style of a contemporary wall sconce or one that offers a rustic look.
String Lighting
By adding string lighting above your dining area, you can provide your dining area with an elegant and graceful feel. String lights are generally affordable.
Other Outdoor Lights that Can Contribute to a Great Time at Home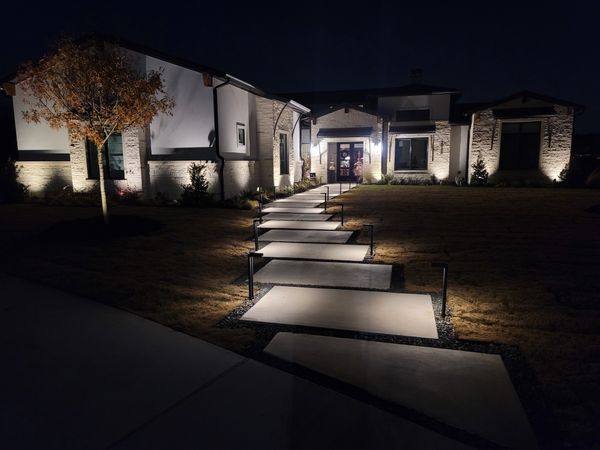 Aside from the types of outdoor lighting we previously discussed, some other outdoor lights can enhance a romantic evening at home. Below we highlight a couple of other outdoor lights that can assist in making your romantic dinner memorable.
Pathway Lights
While not technically an outdoor dining light, pathway lights can play an important role in the enjoyment of your outdoor space. Going from your home to your outdoor space (and vice versa) can be hazardous at night. Unseen tripping hazards can lead to injuries, and accidentally stepping off the path can damage grass and plants.
Step Lights
Nothing stops a romantic evening quicker than falling on your face. Thankfully, outdoor step lights exist to make getting around in the dark safer and easier.
Outdoor Lighting Services
When you're ready to bring a romantic dinner closer to home, Creative Nightscapes can help. Since 2004, Creative Nightscapes has been bringing high-quality outdoor lighting to the Dallas Fort Worth Metroplex. Our work speaks for itself, but we've gotten many awards to show for it. In addition to selling and installing quality lights, we also provide maintenance and repairs to help your lights keep working. Whether you want a romantic dinner at home or just want to add some light to your yard, our talented designers can create something truly beautiful for you. 
Contact us for a free consultation and quote.
Additional Resources: