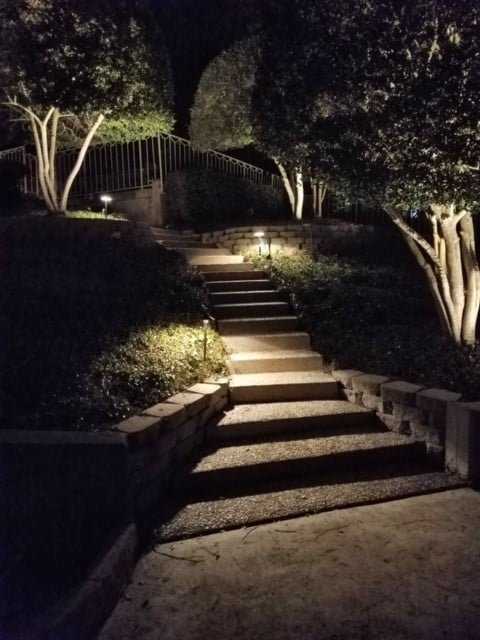 What Is a Pathway Light?
Well-designed pathway lighting provides safe passage along walkways, stairs, and other outdoor paths. Pathway lights are a functional and elegant addition to your exterior landscape, providing soft illumination that enhances your landscape without feeling harsh. They also come in a multitude of options, including garden lights, downlights, bollards, and flush lights.
What Are the Benefits of Pathway Lighting?
Pathway lighting offers many benefits, including:
Enhanced safety for visitors, helping prevent tripping and missteps.
Upgraded security, eliminating shadows where intruders might conceal themselves.
Garden protection, preventing accidental trodding by revealing the boundaries of pathways.
Revealing elevation changes like stairs or inclines.
Highlighting low-growing plants for added visual interest.
Improving your home's curb appeal by enhancing its best features with proper lighting.
Providing ambient lighting for entertaining in the garden or other outdoor areas.
Different Styles of Pathway Lights
Pathway lights come in a variety of styles. Homes and Gardens magazine offers a glimpse at how you can use pathway lighting to enhance your yard. Understanding your options can help you create a lighting plan that suits your space best.
Garden Lights
Garden lights are a common lighting element that often show up in the DIY pathway lighting kits found at your local home improvement store. They typically stand between 18 to 24 inches tall and include a canopy that helps reflect light down onto paths and garden beds. Garden lights come in a wide variety of styles.
Downlights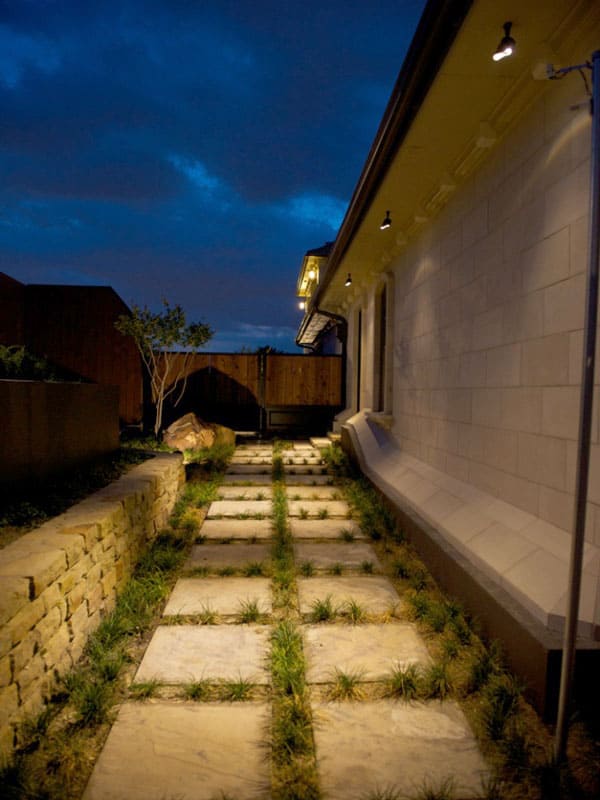 Downlights are a versatile pathway lighting option. These lights are set higher, usually affixed to a pole, wall, or nearby tree. The higher they are situated, the broader the area of lighting coverage they offer. Their design directs light towards the ground like a moonbeam, bathing a pathway or section of the garden in gentle illumination without irritating side glare.
Bollard Lights
Bollard lights, otherwise known as pillar lights, are brighter than other forms of pathway lights. As suggested by the name, these are pillars that spread light in 360 degrees. For this reason, they are an excellent option for the beginnings, intersections, and endings of pathways. By limiting their use, walkers gain a clear view of the paths without being overwhelmed with glaring light. Like garden lights, they come in various styles and can be a visually stunning element of your landscape.
Flush Lights
As the name might suggest, flush lights are installed in the ground or pathway or mounted low in a garden wall. Some feature built-in eyelids to direct light in a particular direction and help reduce glare. Flush lights can highlight the pathway or nearby gardens without blinding or distracting from other features in the landscape.
Pathway Lighting Design Tips
If you are relatively handy, you can install your own path lighting. This Old House breaks down the basic anatomy of a pathway lighting DIY kit and when hiring a lighting pro is the best plan. If you are tackling the project on your own, these tips will help ensure the best results.
Situate lighting fixtures about 10 to 15 feet apart to ensure pathways are well lit without being overpowering.
Ditch the runway look—stagger lights on either side of the pathway.
Install downlights, bollards, and garden lights slightly away from the path. Doing so will ensure an adequately illuminated pathway while also showcasing garden elements that frame the walkway.
Always keep lights directed away from the eye and towards or across the ground. Limit the use of brighter bollard lights to keep glare to a minimum.
A Note on LED Lighting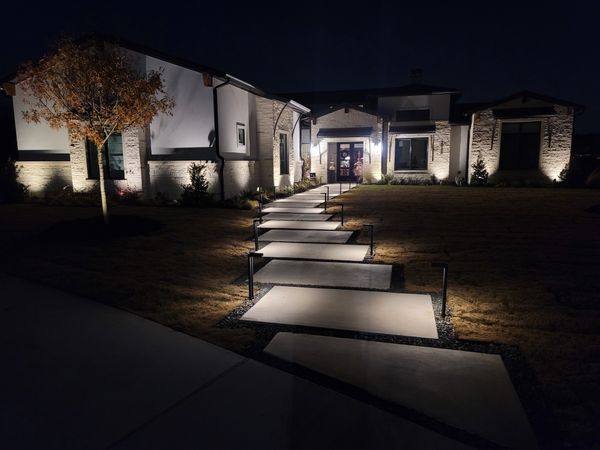 While Xenon, halogen, and incandescent bulbs are options, low-voltage LED lights are the smart choice for pathway lighting. These bulbs offer a significantly expanded lifespan over other types of lighting and consume much less energy. For example, a halogen bulb has an average lifespan of 2,500 hours whereas an LED bulb will typically last 25,000 hours. A typical LED bulb uses only 12 volts of electricity. A halogen can use as much as 120 volts. While the initial cost of LED may be slightly higher, its longevity and energy savings make it the best choice. 
Light Up Your Pathways Like a Pro
It's easy to set up a simple array of pathway lights to guide guests safely through your yard. Home improvement stores often sell DIY kits with simple garden lights to help even the less-than-handy get more illumination on their walkways. If you genuinely want to dazzle, lighting professionals can work with you to shine a light that best highlights your landscaping features while ensuring safe, pleasant navigation. Creative Nightscapes is ready to assess your needs and develop a radiant, energy-friendly lighting package that suits your home. Contact Creative Nightscapes today to set up a free consultation with one of our friendly lighting experts.
Additional Resources: