Adding an outdoor kitchen to your patio space can be a great way to take your outdoor entertaining to the next level. Rather than having to seclude yourself inside your home's kitchen to prepare a meal for your guests, an outdoor kitchen allows you to remain a part of the party while you prep, cook, and serve.
Still, when it comes to planning your outdoor kitchen, there's a lot more to consider than the layout, appliances, and materials you select. One important aspect you won't want to overlook is choosing the right lighting for your outdoor kitchen.
Not sure where to begin when it comes to selecting lights for an outdoor kitchen space? Consider these options, then schedule a consultation with a lighting professional for help in making the best choices for your needs.
Lighting to Reduce Tripping Hazards
Outdoor tripping hazards are a concern that shouldn't be taken lightly, especially in an area where you'll be doing a lot of food prep and working with potentially sharp utensils. With this in mind, it's important to install plenty of lighting in your outdoor kitchen to illuminate the space and cut down on tripping hazards not just for you, but for your guests as well. This will be especially important if you plan on doing any outdoor cooking or entertaining at night.
There are a few different types of lighting to choose from that can help to reduce tripping hazards.
Pathway Lights
The right outdoor lighting is essential for keeping your guests safe as they navigate through your outdoor living areas and yard. Specifically, path lights are a great option for helping to lead guests from your outdoor kitchen to an adjacent outdoor dining area or other entertainment space in your yard.
Likewise, pathway lights can serve an added purpose of highlighting your flower beds, gardens, and other areas that you want to prevent your guests from stepping over. There are many different types and styles of pathway lights, ranging from hard-wired to solar-powered designs.
Stair or Step Lights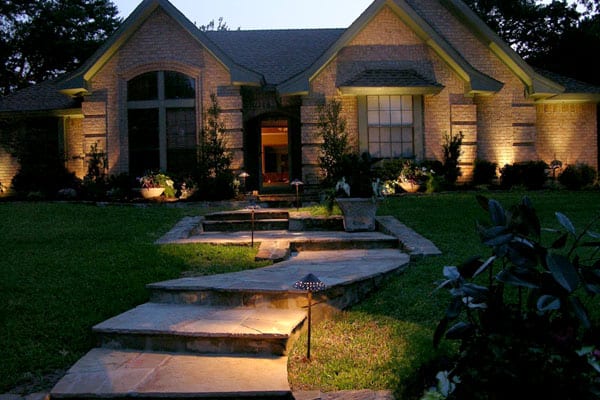 Another huge tripping hazard to consider when it comes to your outdoor space is any stairs you may have leading to/from your deck, patio, or other areas of your yard. Changes in elevation and lack of proper lighting create the perfect storm for an accidental fall.
Fortunately, stair or step lights can always be installed to reduce tripping hazards. Consider having these added to any existing steps on your outdoor property. These are especially important in areas that lead to important appliances (such as your grill) with a change in elevation.
Under-Counter Lighting
Lights installed underneath the counters in your outdoor kitchen are a great way to create visual interest, especially when preparing food at night. Likewise, these lights help to ensure that your guests can see their food. This type of lighting, in turn, can reduce the risk of accidental spills, especially on bartop areas.
Under-counter lighting can also be installed underneath a countertop that has storage underneath, making it easier for you to see the tools you need to make the perfect meal.
Multi-Functional Lights
Installing lighting that can serve more than one functional purpose will help you get the most "bang" for your buck while also improving the use of your outdoor kitchen space. Some examples of multi-functional outdoor lighting fixtures to consider include ceiling fans with lights and task lights.
Ceiling Fans With Lights
If you live in an area that experiences a hot climate (like here in Texas), then you already know that even the night time can have a little bit of leftover heat from the day. This can make sitting outside uncomfortable, even when there is no sun beating down on you. This can be worsened by heat from cooking food outdoors.
With this in mind, a ceiling fan with lighting can be the perfect solution to ensure that your outdoor kitchen area has plenty of light and that you and your guests stay as comfortable as possible—even on warmer nights. Ceiling fans also create an air current, which is ideal for deterring mosquitoes. It's a win-win!
Task Lights
Task lighting is extremely important to have installed in any outdoor kitchen. Specifically, this type of lighting is designed to help illuminate your work space, allowing you to see exactly what you're doing for food prep. This is especially important when you're working with sharp objects (such as knives) to cut up vegetables or when cooking on a hot stove/grill.
Meanwhile, carefully selected task lights can double as accent lights by showing off the pride of your kitchen. Whether it's your gorgeous countertops, your shiny outdoor appliances, or the architecture and features surrounding your outdoor kitchen, the right lighting goes a long way in highlighting these special features.
Accent Lighting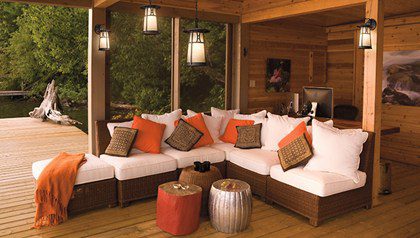 In addition to path/stair lighting and multi-functional lighting, it's nice to have some simple accent lighting to create ambiance in your outdoor kitchen and entertaining space. Both pendant lights and chandeliers can be used to set the mood with warm lighting for a more enjoyable gathering.
Pendant Lights
Pendant lights come in a wide range of styles and can be used to accent your space while providing a small amount of task lighting as well. Specifically, pendant lights hang down from a ceiling or other covered outdoor space and are great for illuminating:
Countertops
Cooktops
Work and Prep Spaces
Chandeliers
If you're really looking to make a statement with your outdoor lighting, consider installing an outdoor chandelier in your outdoor kitchen or dining area. These are perfect for creating a lovely, elegant atmosphere for your al fresco dining experience. There are even some outdoor chandeliers that come with a dimmable option, making it possible to control the amount of light that you want for your outdoor party or gathering.
Transform Your Outdoor Kitchen With the Right Lighting
The right lighting can make all the difference in your outdoor kitchen space, so be sure to keep these options in mind. And remember to reach out to our experienced team at Creative Nightscapes for help with your landscape lighting design! Contact our team today!
Additional Resources: