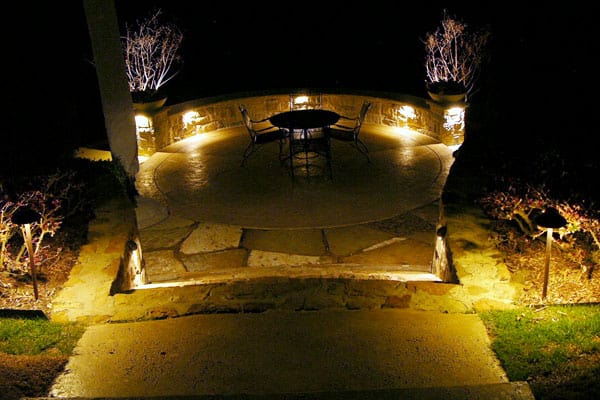 The pride you have for your favorite football team is apparent. You are decked out in your favorite jersey. War paint adorns your cheeks. You have mastered the game face and your special recipe for the ultimate grilled chicken wings, burgers, and hotdogs. Now you just need the ultimate place to cheer your favorite team on with your family and friends. While most people opt for a mancave or a living room, you are different. You want to feel like you are a part of the game. Feel the cool weather on your face, the warm food filling your belly, and have a nice beer in your hand. With a well lit outdoor living space, you can create an NFL watch zone that will be worthy of the team you root for. Here are some ways that your outdoor lighting can lend itself to creating the ultimate experience. 
Game Plan for Outdoor Kitchen and Grill Lighting
Food is your safe haven. Whether or not how your team performs, your food will always be a comfort and should provide you with a sense of triumph. Without proper outdoor kitchen lighting to see what you are doing, you run the risk of burning your special game-day meals. 
Placing a beautiful LED light on the eaves above your grill will not only shed some much-needed light on your food, but it can also highlight you as you grill. Make sure the switch is placed near the grill though, so you have easy access to turn it off and on. Deliver the food in a timely manner and score a major touchdown with the family. 
If your outdoor living area centers around a beautiful outdoor bar with a TV, you'll want to make sure your outdoor lighting is not blinding your guests. Under-countertop lighting is perfect for underneath bars, as it gives enough light to see without being overly distracting. It allows your guests to navigate safely back to their respective seats after getting more snacks or give you a high-five as your team makes an interception. 
Score a Touchdown with These Creative Lighting Ideas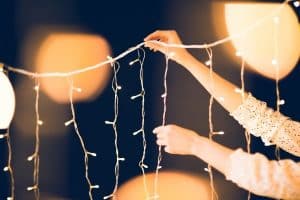 You and your guests' focus should be primarily on the big game. Normal overhead lighting for your outdoor living room is perfect for before and after the game but isn't quite appropriate during. At Creative Nightscapes, we love coming up with worthwhile solutions for your lighting needs and have these creative and easy lighting ideas that will give your space just the right amount of light.
Beer Bottle Lights are not only a unique way to recycle your old bottles but they can add a cool modern flair to your watching space. All it takes are some Christmas lights, (if you are a Cowboys fan, you can use blue and white), and about three to four beer bottles. Take the lights and make a tail with two sections and run it through the mouth of the bottle. Do this until all of the bottles are filled. If you have any remaining lights, you can just run them around a table or couch leg.
Cupcake Lights are simple but effective for dim lighting around spaces that hold food or drinks. It gives just enough light to brighten up a small area without grabbing too much attention from the eyes. All you have to do is cut a small hole around a decorative paper cupcake liner (yes, they do make cupcake liners for NFL teams. Just check your nearest party store.) and insert Christmas lights through it. Hang them from the ceiling or rafters.
"Stadium" Lighting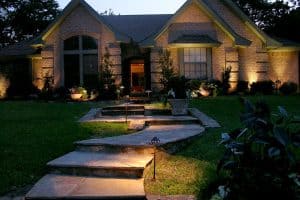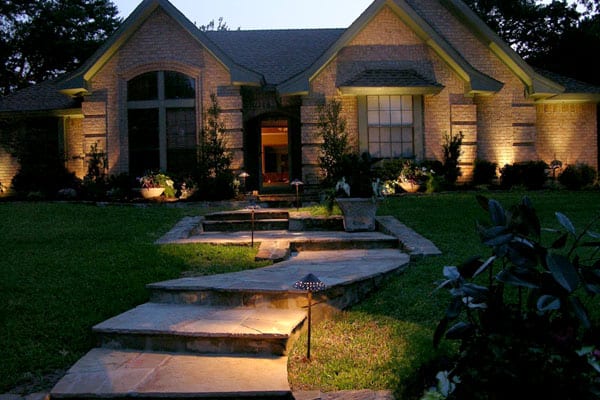 While lighting up your game day space is important, even more important is creating an eye-catching entrance. You want it to show off the splendor of your house while providing enough light for your guests to enter safely.
Floodlights help illuminate large expanses of your yard and show off your gorgeous landscaping. It will ensure that your guests are not intercepted by dips in the ground, allowing them to make it safely in and out of your home.
Soffit Lights and Wall Mounted Fixtures provide immaculate lighting to show off the front of your home and light up the entryway. It will mimic what it feels like to walk into the stadium, allowing your guests to get excited about the big game.
Pathway Lights can safely direct your guests in and out of your home and back to their cars. This allows them to make it home in one piece, take the next week to recover, and repeat the process all over again the following Sunday.
No matter what team you root for, we can all agree, having the optimal space to enjoy the game makes all the difference. Make sure you can focus on what really matters by allowing Creative Nightscapes to be your linemen and set up the perfect lighting for you! Contact us today for all of your outdoor lighting and design needs. 
Additional Resources: