Part of what makes a home a home is the feeling of safety. When you're at home, you should feel safe and secure so that you're truly able to relax. An important part of ensuring your home's security is the effective use of lighting. 
Provides Awareness of One's Surroundings
Accidental injuries, such as trip and fall accidents, are one of the leading causes of death in the United States. Often, they occur because people simply cannot see where they are going and take one wrong step. To avoid this, it is important for the safety of your family and guests to light up driveways, backyards, pathways, steps, porches, and other outdoor areas around your home. By making sure there is adequate light in these areas, you can help your loved ones stay safe and avoid any pitfalls, literal or otherwise.
Heightens the Functionality of Your Outdoor Living Spaces
Outdoor entertaining areas such as a pool or outdoor kitchen need to be well-lit to be safe for you and your guests. The lights can help bring attention to issues within your outdoor living space, such as a tripping hazard, hot surface, or someone struggling in the pool. This is especially key if you want to take advantage of your outdoor space well after dusk. To really make the most of your outdoor entertaining areas whenever possible, lighting is a must.
Security lighting can also double as accent lighting as well, improving the atmosphere around your outdoor living space while also increasing the safety. In particular, using warmer, ambient tones can foster a comforting atmosphere, encouraging relaxation and reducing stress, all while keeping you safe. 
Makes Your Home Less Attractive to Burglars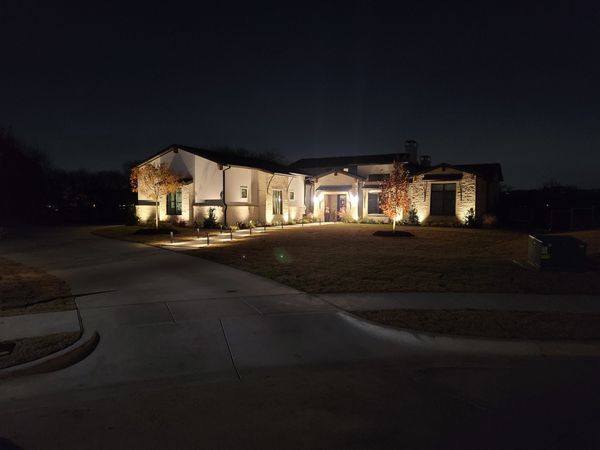 Burglaries are one of the most common threats to homes and homeowners. For context, 112,405 burglaries occurred in Dallas in 2019. Bright lights around your property can rid your home of shadows where thieves love to lurk. This makes it more difficult for them to break into your home, as they are now in full view of your neighbors, cameras, and passing cars. The increased risk of detection is an excellent deterrent to would-be burglars, letting them know they shouldn't mess with your home or they'll likely get caught.
Having timers installed on your outdoor lights or even motion sensors to come on is also highly valuable. This can help catch a burglar off guard, startling them and making them think twice about approaching your home. It can also help you save on electricity while still prioritizing maintaining the security of your home and your loved ones.
Security Lights Can Increase Your Home's Value, Securing Your Investment
Outdoor security lighting can increase the overall value of your home by highlighting its best features and demonstrating the sense of care your home deserves. Specifically, your home will get a higher appraisal value for having security lighting (especially if that security lighting has timers or motion sensors.) 
Outdoor lighting can also lower your home's insurance rates, saving you a little bit of money every month that can add up over time. Even more than that, security lighting helps prevent damage occurring to your home as a result of bad actors, further securing your investment and decreasing the risk of incurring damages that will require costly repairs.
LED Security Lighting Can Save You Money on Energy Costs
LED lights have lower voltage than other types of bulbs and do not emit as much heat which makes them safe for use in high traffic areas and around plants. LED lighting also boasts a long life span, meaning you will not have to replace them as often. Specifically, LED lighting has a 50,000 hour lifespan. Because of their versatility, relatively lower electrical needs, and long lifespan, LED lighting can save you money while also increasing the security of your home.
Need Help Finding the Right Security Lighting for Your Home?
When it comes to something as important to the security lighting for your home, it's important to get it right the first time. Our experts at Creative Nightscapes have the skills and the years of creative experience to help you end up with the security lighting that you'll love and need. We'll work with you to ensure that your security lighting not only accomplishes everything you need in terms of security, but also that it accomplishes it in the best possible way for your wallet, design preferences, and lifestyle. To schedule an appointment or consultation, contact us today!
Additional Resources: