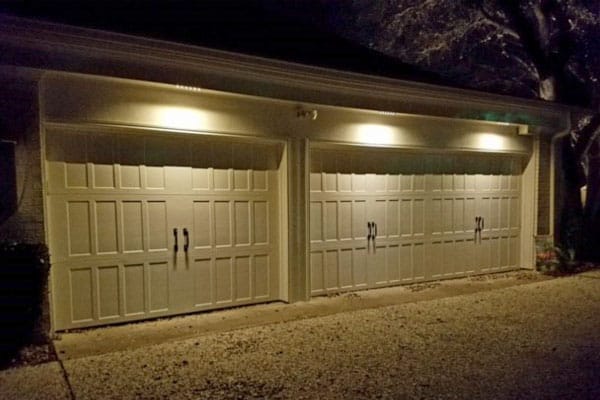 The United States Department of Justice reports that over 2 million home robbery/burglary crimes occurred in 2017. For homes with outdoor security lighting, the chance of being burglarized was significantly lower than for homes without them.
In order for security lights to be the most effective, they need to be placed in the optimal places that will most effectively light up the most vulnerable parts of your home. Here are the best places to place outdoor security lights for peak effectiveness.
1. Light Up Entrances
Criminals typically look for easy access into a home. These easy to access places include doors and windows, especially if they are showing signs of wear. In addition, a particularly bold burglar might attack you in your entryway, thus gaining entrance into your home. Placing security lights near entrances will help you avoid attacks and break-ins, and also help you spot danger before it strikes. For the best results, use overhead porch lighting. The wider the radius of light, the easier it is to spot a potential threat.
2. Keep Garage/Storage Sheds Well Lit
A majority of burglaries happen when you are not home. Garage and storage sheds are popular targets for thieves because higher-end merchandise – such as bikes or canoes – tend to be found in them. Keeping your garage or storage shed well let will deter burglars from even attempting to approach them. The most effective lighting for garages is equipped with motion detectors. These give the thief the impression that they've been caught, thus causing them to run away.
3. Remove Blind Spots
Corners of your home, wide open yards, and gardens create excellent hiding places for thieves. That's because most people don't think about lighting these areas up. Make sure that you place lights around pools, gardens, and any other unlit areas of the front and backyard so that the light chases away any shadowy areas. Floodlights are great for fully lighting your yard – especially when equipped with motion sensors. Motion sensors make thieves think they've been spotted, and they also prevent you from bothering your family and the neighbors with bright lights that are always on.
If you are looking to invest in lights that add both security and beauty to your home, contact Creative Nightscapes. We'll create a lighting design for your that meets your wants and needs. Contact us today to learn more about our lighting options and to receive an estimate for your home today.
Additional Resources: