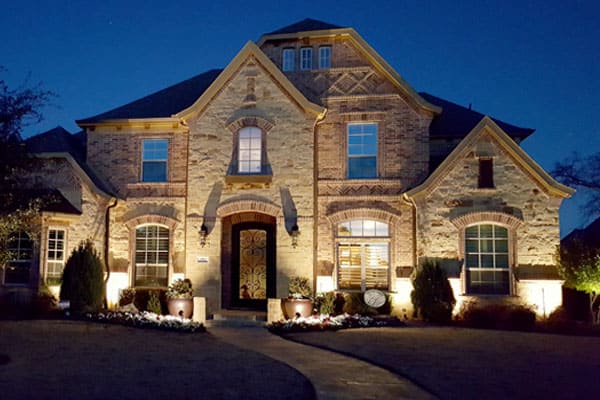 Contact Creative Nightscapes in Lucas, TX
Creative Nightscapes
817-581-6936
Monday to Friday 9am-5pm
Landscape Lighting Design and Installation in Lucas
Creative Nightscapes is a company that specializes in landscape lighting design and installation. We handle all types of low voltage lighting systems and provide unparalleled service and maintenance to all of our clients' outdoor lighting systems. Creative Nightscapes has been happily serving the people of Lucas, TX and the greater DFW Metroplex since 2004.
Starting in a garage in 2004, founder Patrick Cheatham worked tirelessly to provide his clients with exceptional outdoor lighting that elevated the aesthetics of their home and added an extra sense of security. Patrick's passion for landscape and beauty has allowed him to create one of DFW's leading lighting businesses. To date, Creative Nightscapes has now completed 7,000+ lighting projects. We continue to strive for excellence and ensure that we take the time to build long-lasting and trusting relationships with our clients.
Creative Nightscapes completes all of its projects with a professional in-house staff of designers and installers. We never cut-corners nor look for the aid of subcontractors. Our team takes each job personally, and we are proud of every project and ensure that we do it right. As an added assurance to our clients, we provide one of the best warranties in the business. It is no wonder that our team has been named "Landscape Lighting Contractor of the Year" by Kichler, a top lighting brand, in 2007.
Services We Offer to the City of Lucas, TX
Creative Nightscapes helps realize your vision of beauty with exceptional landscape lighting design and installation. From garden lighting to poolside lighting, we can help bring your vision to life because enhancing the beauty of your landscape and increasing your home's security is what we do best.
Patio Lighting
Spend time reading a book out on your patio during the evening, or enjoy a romantic evening dinner under your new patio lighting system. We can ensure that your patio remains lit to your satisfaction, meeting your needs and allowing you to see well into the night.
Poolside Lighting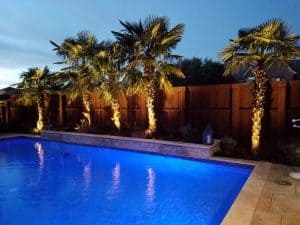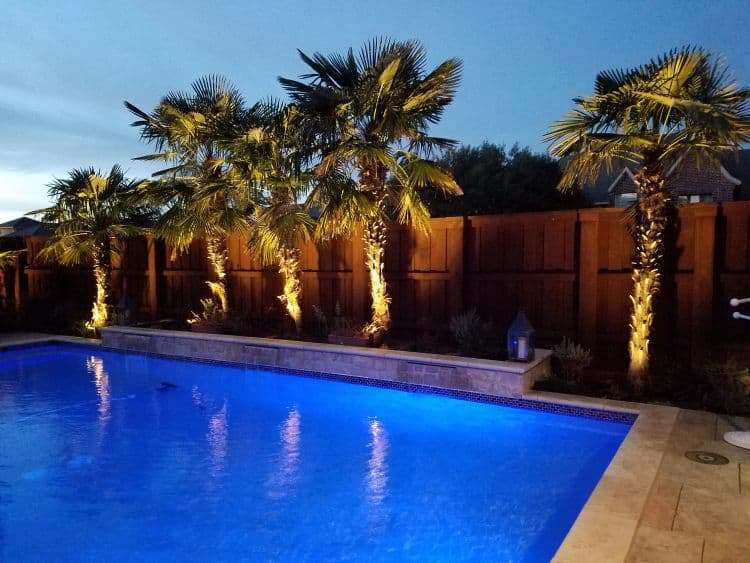 Enjoy an evening swim under the safety and comfort of your new poolside lighting system. Decrease the risk of accidents and bring out the beauty of your pool and the space around it by investing in gorgeous colored LED lights, or go classic and stick with the traditional white lights. Whatever your preference, Creative Nightscapes can ensure that it will look magnificent.
Security Lighting
Protect your home by stopping criminals in their tracks with a security lighting system from Creative Nightscapes. Motion sensor lights can blind criminals and cause them to think twice before attempting to break into your home. Decrease the chances of a trip and fall accident by adding in some pathway lighting as well, revealing potential dangers before disaster strikes. We can help you increase your security and bring a sense of comfort and peace into your home.
Local Resources in Lucas
City Ordinances – Ordinances adopted by the city of Lucas
Permit Information – Permit and construction information for the city of Lucas
Creative Nightscapes proudly serves the people of Lucas, Texas and neighboring areas including Allen, Fairview, and Murphy for all of their landscape lighting needs. Contact our incredible team of landscape lighting specialists and learn why we are the most trusted name when it comes to outdoor lighting in the state of Texas.

Local Reviews
for Lucas, TX
---
George W.
Installed up lights, hardscpaes, and spot lights to accent the facade, columns, and peaks of home.
Near

Inverness Ln,

Lucas

,

TX

75002
Jerry H.
Installed Kichler LED lighting at home in Lucas on 10/5/2016.
Near

Strain Dr,

Lucas

,

TX

75002