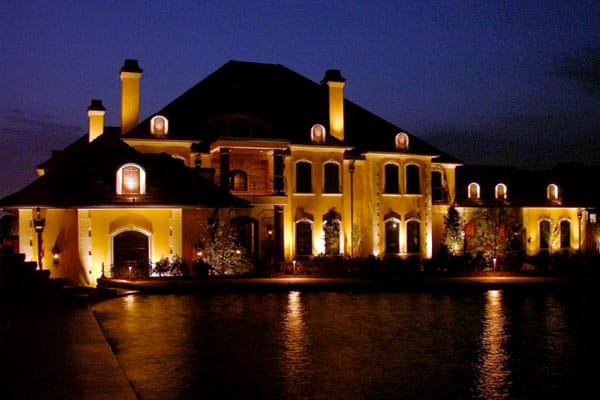 Landscape Lighting Company Serving Decatur, Texas
For the best outdoor lighting to showcase your home, Creative Nightscapes is the solution. Outdoor lighting can have a significant impact on the look and feel of your home. With a well-lit entryway, you can create an inviting atmosphere that makes your house a home. Whether you want accent lighting on your front door, or you want to create a full lighting concept for your entire yard, Creative Nightscapes offers many solutions for all of your outdoor lighting needs.
LED Low Voltage Lighting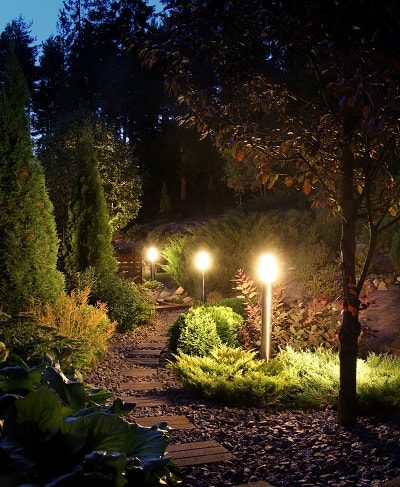 Creative Nightscapes offers environmentally friendly outdoor LED landscape lighting for a Greener tomorrow. This type of low voltage outdoor lighting offers a safe and reliable energy solution for illuminating homes and landscaping all night for pennies a day. You don't want to have big electric bills, though, and there are ways to get the lighting you love without a lot of expense.
Landscape LED lighting is a great way to make your yard really stand out in Decatur. One of the best ways to do that is through the use of low voltage lighting, which doesn't use a lot of electricity but easily lights up even the biggest yards when placed correctly.
We offer excellent options for eco-friendly lighting, so you can get everything you want in your outdoor lighting without harming your plants or the rest of the surrounding environment. Taking care of your yard is important while you work to make it look as good as possible, day or night.
Outdoor Lighting Installation and Design in Decatur, Texas
For quality lighting installation and design for your home and yard, Creative Nightscapes is ready to work with you. Your property in Decatur, Texas deserves to look great during the day and at night. Landscape lighting installation can be difficult for an amateur, and this is why planning, design, and installation is always best left up to the pros. If you live in the Decatur, Texas area and you are looking for a new lighting concept and design for your yard, it's time to contact Creative Nightscapes.
Living in Decatur, Texas
Decatur, Texas is a small town and residents feel part of a community there. The population is relatively young, and residents enjoy heading out to local parks for recreation. To get more involved in the community, residents tend to volunteer for their favorite cause. This is rural living, although it's close enough to Dallas and Fort Worth to give people who live in Decatur plenty to do during their time off.
The population of Decatur, Texas is 6,301, with a median age of 32. It's a small town that is 56% female and 44% male. The median household income is $46,161. It's an affordable area of Texas, with a young population.
Home Prices in Decatur, Texas
The median home price in Decatur, Texas is $137,600, making Decatur one of the more affordable towns within the Dallas/Fort Worth region. Home prices are expected to remain stable, as the housing market throughout Texas has remained strong. People looking for home restoration services in Decatur often trust Rainbow International. People searching for a home in Decatur can find a home that is affordable, especially considering the low mortgage rates that are still available to qualified buyers.
Visiting Decatur, Texas
Decatur, Texas is roughly 40 miles north of Fort Worth. It's a residential area and a small town in the heart of Texas. Most visitors to the Decatur area enjoy visiting the local parks and heading out for a ride to Dallas or Fort Worth to take in some of the local history. Decatur isn't a big tourist town, but this doesn't mean it has nothing to offer visitors to the area.
Since 2004 Creative Nightscapes has proudly served the people of Decatur, Texas and her neighboring cities, including Denton and Azle. Contact Creative Nightscapes today to learn more about our unparalleled landscape lighting services.

Local Reviews
for Decatur, TX
Creative Nightscapes
Rated
5.0
out of 5 stars based on
3
customer reviews
---
Great service, professional, prompt, courteous
Todd

-

Decatur

,

TX

76234



Review of
Creative Nightscapes
---
Great Service
Todd

-

Decatur

,

TX

76234



Review of
Creative Nightscapes
---
Remarkable!
Jeff

-

Decatur

,

TX

76234



Review of
Creative Nightscapes
Patrick and the Creative Nightscapes team did an unbelievably remarkable job for our home. Our pool area is completely transformed. Our beautiful oak trees are highlighted perfectly. The design was flawless, and the installation was outstanding. I would highly recommend Creative Nightscapes to enhance any outdoor area.
---
Patrick C.
Installed Kichler low voltage LED lighting accenting tree canopies, walkway and moonlighting deck area and backyard in Decatur, TX.
Near

N Trinity St,

Decatur

,

TX

76234
Patrick C.
Installed Kichler low voltage LED lighting accenting tree canopies, walkway, landscape greenery & moonlighting deck area and backyard of Decatur, TX.
Near

N Trinity St,

Decatur

,

TX

76234
Patrick C.
Installed Kichler LED lighting at home in Decatur on 11/28/2016.
Near

Wild Horse,

Decatur

,

TX

76234
Creative N.
Performed semi-annual maintenance for a residential client in Decatur; cleaned and tested all Garden Light fixtures, replaced five halogen bulbs (PAR36 & MR-16), two well light covers, digital timer batteries.
Near

Indian Trail,

Decatur

,

TX

76234