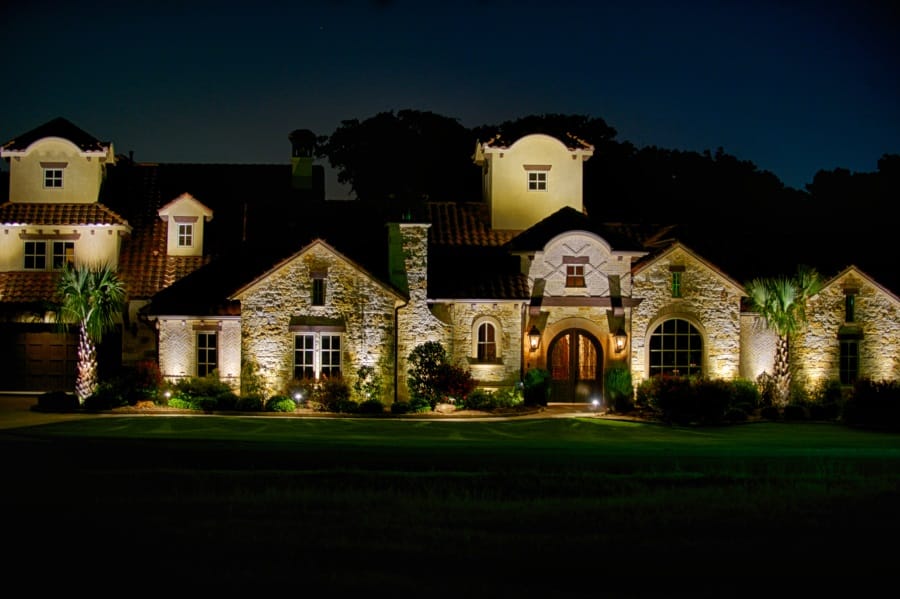 Best Outdoor Lighting in The Colony, Texas
There is no shortage of truly breathtaking homes in The Colony, Texas. One way, though, to make these homes even more valuable and enjoyable is with outdoor lighting such as landscape lighting, pool lighting, security lighting, and more. Outfitting your home with outdoor lighting not only deters would-be burglars, but it also allows you to make the most of the cool Texas nights. If you would like to learn more about outdoor lighting, we invite you to contact Creative Nightscapes – the most trusted outdoor lighting company serving The Colony.
Landscape Lighting Installation and Design in The Colony
If you decide to increase the value and enjoyment of your home with outdoor lighting, the process of having it designed and installed is simple. It all starts with a free quote from Creative Nightscapes. From there, professional lighting designers will work with you to create a design that is custom-tailored to meet your needs and look great in your home. Once you are 100% satisfied with the design, installation experts will come and bring that design to life, leaving you with a home that is a sight to behold.
Living in The Colony
Living in The Colony, Texas is indeed a pleasure. If you are considering making a move, here are some impressive stats and facts for you to consider.
The Colony, Texas has a population of 42,408.
The overall cost of living is 8% lower than the national average.
The median household income is $71,425.
The median price for homes that are currently for sale is $231,800.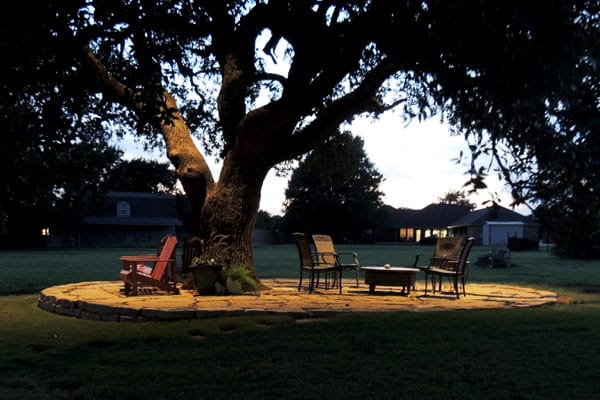 Given its proximity to Dallas and Fort Worth, the cost of living in The Colony is incredibly low. The Colony is also a very safe city with access to excellent education, making it especially well-loved by families with children. The Colony is home to a tight-knit community, and there is never a shortage of new things to do and see. Combine all of this with the warm Texas weather and friendly people, and you'll have a pretty good picture of why people choose to call The Colony home.
By far the easiest way to get involved with the community is to go to every event you can and participate while you are there. The good news is that The Colony frequently hosts a wide range of activities at all times of the year, giving you plenty of options to choose from no matter what your interests are. If you would like to keep up with what's going on in The Colony and how you can get involved, we recommend checking out the city's official website.
If you plan on traveling to Dallas or Fort Worth very often, you're in luck. The Colony is located just 29 miles from Dallas and 40 miles from Fort Worth. This equates to about a 36-minute drive to Dallas and a 43-minute drive to Fort Worth.
Visiting The Colony
If you decide to pay a visit to The Colony, there are plenty of great sights to see and fun activities to enjoy. When planning your trip, be sure to set aside the time to visit the following landmarks and attractions.
You can visit the Wynwood Park as well as Downtown The Colony for iconic sites, historic building, and stunning architecture.
If it's warm outside, you may want to stop by the Hawaiian Falls Waterpark or Lewisville Lake for a bit of fun in the water. The Colony is also a nature lover's paradise, with plenty of great parks and wildlife reserves to check out. Lastly, be sure to spend a bit of time exploring the many shops, restaurants, bars, and clubs in the city for a great night on the town.
Local Resources
If you decide to move to The Colony, you can rest assured that there are plenty of great local businesses ready and willing to meet your every need. If you are searching for lawn care services, be sure to give Stonebridge Lawn and Garden a call. For plumbing services, you can count on CPR Plumbing Services, and for HVAC work rely on Colony Air Conditioning and Heating.
The bottom line is that The Colony is a thriving city full of plenty businesses that go above and beyond to serve their local customers. No matter what you find yourself needing, there is sure to be a local business in The Colony that is ready to help.

Local Reviews
for The Colony, TX
Creative Nightscapes
Rated
5.0
out of 5 stars based on
1
customer reviews
Powered by Link Right Local
---
Outdoor Lighting
Lynn

-

The Colony

,

TX



Review of Creative Nightscapes
The entire staff is very friendly and professional. We got exactly what we were promised. Workmanship is awesome! The crew cleaned up afterwards. No surprises.Jerry had some great ideas! Easy from estimate to schedule to install to payment. I would highly recommend this company.
---
Jerry H.
Installed Kichler outdoor LED lighting at home in Castle Hills. Mounted down lights to illuminate step behind pool and backyard area.
Near
The Colony

,

TX

75056
Jerry H.
Installed Kichler LED outdoor landscape lighting at home in Ridgepointe. Placed up lights to accent bay windows, peaks, and facade of home. Mounted down lights in eaves to illuminate driveway.
Near
Overlook Ct,

The Colony

,

TX

75056
Jerry H.
Installed Kichler LED landscape lighting at home in The Lochs at Tribute. Placed up lights to accent columns, entry way, facade, peaks of home, and trees. Set path lights to highlight walkway, front steps, and landscape greenery. Mounted down lights and hardscapes to illuminate patio seating, walkway, stone wall, bar seating, and waterfall.
Near
Kirkfield Ct,

The Colony

,

TX

75056