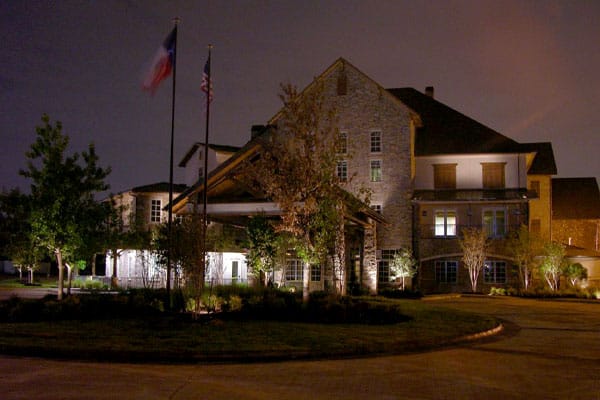 No matter what kind of business you own in the DFW Metroplex, the products you sell, or the services you provide, it is universally true that half of the battle is getting new clients through your doors. Most individuals use the outward appearance of a store as a guide to help them decide which ones are worth their time.
While beautiful plants and creative window graphics can catch customers' attention during the day, it does little for them at nighttime without proper outdoor lighting. Commercial outdoor lighting can completely transform your storefront and business by highlighting the hard work you spent on creating an inviting outdoor environment for your customers. Outdoor lighting can also double as added security for your customers and employees, allowing them to safely and confidently enter and leave your building.
Not sure where to begin when it comes to creating immaculate yet security-conscious commercial outdoor lighting? Here are some tips from DFW's most trusted outdoor lighting company, Creative Nightscapes.
1. Know Where the Darkest Parts Of Your Business's Outdoor Space Is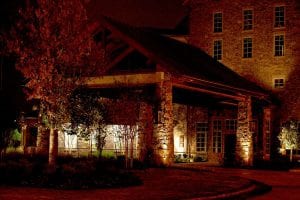 While shadows can be complementary to outdoor lighting designs and help create a stunning visual experience, too many is a recipe for trouble. Darkness, especially around commercial buildings, can lead to a heightened risk of crime, trip and fall accidents, and uneasiness in your customers. Before any outdoor lighting is installed, it is important to take note of where your property naturally casts the most shadows.
Next, you will want to determine if these areas are places where your customers will be walking by or if they are access points to your building. If the answer is yes, then these places will need to be brightened by outdoor lighting. This is also true for the corners of your property, as these areas are easy hiding places for intruders and a safety concern for your employees and customers. Still unsure where you should place your outdoor lighting? Here are some specific places that must have ample outdoor lighting;
Parking Lots
Steps
Areas that have a body of water, such as a pool or pond
Any areas where there may be a drop-off or uneven ground.
2. Draw Attention to the Important Aspects of Your Building
If your commercial building has unique aspects that show off the services or goods your business provides, these should be highlighted with your outdoor lighting. For example, if your business sells vacuum cleaners and you have a model vacuum on your business's roof, this can be spotlighted with gorgeous outdoor lighting.
Well-designed commercial outdoor lighting can highlight your business's message and the main focus points of your business. Whether you have a waterfall, an important display outside of your storefront, or even storefront signage, proper outdoor lighting will highlight whatever you want to catch the customer's eye.
3. Keep the Foliage Green All Night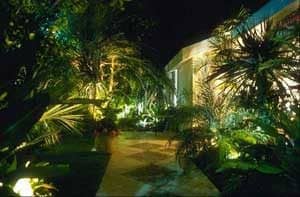 If your storefront has a lot of plants, such as flowers or gorgeous trees, then these should be lighted as well. Greenery adds a calming and gorgeous natural element to your commercial building.
When lighting your store's greenery, it is important to remember that light that is too harsh can drown out your plant's natural color, making it look sickly. To avoid this, natural lighting, such as moonlighting and downlights, should be used to highlight foliage. These options create a gorgeous glow to leaves and flowers without washing them out.
Path lighting should also be used to separate walkways from plants and guide people around your business's outdoor areas.
4. Investing in LED Lights
LED lighting can provide a plethora of benefits for your business. One of the biggest benefits of LED lighting is the energy efficiency. This one benefit can save your business money on your energy bills every month.
Another cost-saving element of LED lighting is its incredible durability. LEDs have a rated life of up to 50,000 hours which is 50 times longer than that of incandescent bulbs and 20-25 times longer than that of halogen. The decreased need to replace bulbs saves your business time and money.
Finally, LED lights don't generate as much heat as halogen and incandescent bulbs. This makes them safe to use around plants and outdoor furniture and greatly reduces any fire risks. These bulbs also create a softer light that is more pleasing to the eye without giving up the amount of light coverage.
5. Consult a Commercial Outdoor Lighting Specialist
When it comes to commercial outdoor lighting, you want a team that specializes in creating stunning displays of outdoor lighting that transform your business at night. Such a stunning display can grab the attention of potential customers and bring them inside. Creative Nightscapes can help you achieve the perfect balance of security and beauty in your commercial outdoor lighting. Contact our team today for more information on our services or to schedule an appointment!
Additional Resources: