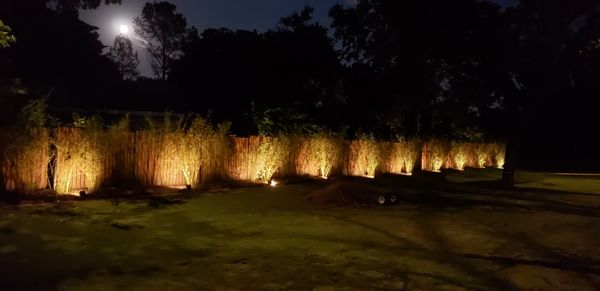 Halloween is known for its spooky decorations, making it the perfect time to take advantage of spooktacular lighting options to create some nightmarish scenes. Outdoor lighting is absolutely necessary to show off your Halloween decorations; otherwise, they may not be visible at twilight or the witching hour! And don't settle for simply illuminating your hard work when you can go a step further and use your lights to add to your Halloween aesthetic. Here are some options to use outdoor lighting to your advantage this Halloween season, whether you want to show off your macabre masterpiece in the best possible light or achieve maximal spookiness with minimum effort:
Use Accent Colors
You can add in splashes of color along with your typical outdoor lighting to create an eerie or otherworldly atmosphere. When choosing colors, consider which colors pair well and which clash, especially in terms of color theory. For example, orange and blue make an excellent pair, as do green and purple. Combining these colors in your front yard along with some cemetery props or cotton spider webs will help create an enticing atmosphere.
When you are picking out lights to add alongside your decorative lighting, you may want to stay away from white lights. They tend to drown out the colored lights, muting the haunting effect and creating a washed-out feel.
Colored Flood Lights
Got an inflatable or other scary scene decorations you are proud of? Why not add in a colored floodlight to direct visitors' attention? Darker colors such as blue, purple, and green foster a more ghostly atmosphere. Red and orange look great when highlighting pumpkins or more action-filled scenes. With a colored floodlight, you can maximize how much of your yard is decorated while only having to include minimal elements. Of course, if you're more of a Halloween maximalist, colored floodlights can also frame and complete whatever scene you dream up.
Replace Porch Lights with Colored Bulbs
Want to really turn up the spookiness? Adding in some colored bulbs in place of your porch's normal white ones will help add a splash of creepy color while still allowing you and your guests to see where they are going. This one lighting change can transform your nice, safe porch into a haunted house out of a horror movie.
The Misting Cauldron
If you've decided to host a coven of witches for the holiday, a misting cauldron is exactly what you need. However, there's no need for toil and trouble when cooking up your bubbling potion. Simply find a cauldron prop at your local Halloween store along with a spooky mister LED light. Next, get a shallow basin and fill it partially with water. Then, turn the mister on; the light and the mist should come out of the top of the cauldron. With the light reflecting off of the water in the basin, the cauldron will look a lot fuller than it is. Don't forget to add some witches and witch paraphernalia to the scene to really complete the effect.
Halloween Pathlights
Some Halloween outdoor lighting is meant for casting tricks while others are for creating treats. Leaning into the frightening aspects of the holiday can be fun, but it's also important to still prioritize safety. Pathlights will help direct your guests to where they should go and keep them safe as they walk. They also complete the scene, allowing your yard to be one whole effective piece.
The Leaders In Outdoor Lighting Design
Move over, Christmas — it's time for a new holiday to rule the outdoor lighting scene! Whether you want to implement one of the options suggested above or cast your own unique outdoor lighting spell, our team of experts at Creative Nightscapes is here to help. Our attention to detail and years of experience may make our lighting design seem downright magical, but we promise there's no witchcraft involved – just skill and a commitment to customer satisfaction. Whether you're looking to turn your yard into a trick or a treat, make sure to contact us for all your outdoor lighting needs!
Additional Resources: