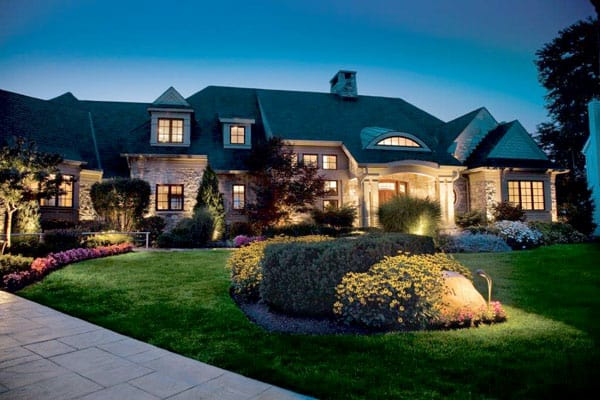 Best Landscape Lighting Company in Fort Worth, Texas
When you need outdoor lighting in Fort Worth, Texas, you can count on Creative Nightscapes to provide it. We offer lighting services for homeowners in the Fort Worth area, including landscape, garden, exterior, LED, poolside, security, patio, and arbor lighting. With more than 4,000 projects completed in the DFW Metroplex, we have the experience necessary to provide exceptional lighting services.
Creative Nightscapes has earned several accolades, including Contractor of the Year three times from American and Canadian lighting organizations and the Super Service Award three years in a row from Angie's List. We've also received recognition from national landscape and lighting publications. lighting experts for all of your outdoor lighting needs, you can depend on receiving high-quality service. At Creative Nightscapes, we're committed to providing all of our customers with superior care.
Trust our lighting experts for all of your outdoor lighting needs including high-quality service and installation. At Creative Nightscapes, we're committed to providing all of our customers with superior care.
Outdoor Lighting Installation and Design in Fort Worth
Making your yard look its best involves choosing the right landscape lighting. At Creative Nightscapes, we provide assistance selecting landscape lighting products and designs. We offer full-service landscape lighting installation and design in the Fort Worth area.
We'll help you choose the right style and type of lighting for your home. Our lighting experts will also assist in determining where these lights should go in order to enhance the exterior of your home and your landscape features. This adds visual appeal to your home while also providing extra lighting for security purposes when it's dark out. You can depend on Creative Nightscapes for all of your landscape lighting needs.
Living in Fort Worth
The average cost of living in Fort Worth is 96, which is slightly higher than the average cost of living in the state and lower than the average cost of living in the U.S. The average income in Fort Worth is $52,492, which is about the same as the state average and slightly lower than the national average. The population of Fort Worth was 741,206 as of the 2010 Census, which was an increase of 206,512 compared to the previous census.
For those looking for a place to call home in Fort Worth, the average home price is $239,000. More and more people are moving to the Fort Worth area thanks to its combination of big-city amenities and attractions and small town atmosphere and close-knit communities. The city has plenty to offer residents, including world-class attractions, exciting events, and notable dining and shopping establishments.
Residents who want to get involved in their local community can do so through the city's numerous volunteer opportunities. Some of the organizations and places that offer these opportunities include the public libraries, the Botanic Garden, animal welfare, parks and recreation, and Keep Fort Worth Beautiful.
Those who live in Fort Worth also have easy access to Dallas via I-30 E, which is about a 35-minute drive, depending on local traffic conditions. To avoid traffic on this main road, residents can take TX-183 E instead, which is a slightly longer drive that stretches north of both cities.
Visiting Fort Worth
Fort Worth offers a number of landmarks and things to do, including natural, historical, and cultural attractions. Those who enjoy the outdoors can head to Grapevine Lake for fishing, camping, and picnics. Fort Worth Botanic Garden provides a way for visitors to explore lush landscapes filled with impressive flowers, trees, and other vegetation. Fort Worth Water Gardens offers an urban park filled with water-based features.
Those who are looking for family-friendly attractions can head to Fort Worth Zoo to see a wide range of animals from all over the world. The zoo is home to more than 7,000 animals, including penguins, cheetahs, kangaroos, meerkats, and rhinos. Fort Worth Museum of Science and History offers a chance for visitors of all ages to learn more about energy, dinosaurs, and other scientific topics with hands-on exhibits. Visitors can also appreciate history at the National Cowgirl Museum and Hall of Fame.
Visitors who want to experience and learn more about the city's past have plenty of places to choose from. Fort Worth Stockyards Station provides a chance to step back into the Old West and enjoy several attractions, including the Grapevine Vintage Railroad, Cattle Pen Maze, Legends of Texas, and the Fort Worth Herd. The Texas Cowboy Hall of Fame offers an opportunity to learn all about the western and rodeo lifestyle.
Those who are interested in cultural attractions can go to Kimbell Art Museum to see impressive art exhibits, including Asian, European, and American works of art. The Modern Art Museum of Fort Worth is home to several post-World War II works of art. To see numerous works of American art, visitors can make plans to spend a few hours at Amon Carter Museum of American Art.

Local Reviews
for Fort Worth, TX
Rated
5.0
out of 5 stars based on
26
customer reviews
Powered by Link Right Local
---
Love my new landscape lighting
Zac

-

Fort Worth

,

TX



I worked with Jerry and was thrilled with how our landscape and accent lighting turned out.
---
Patrick
Patrick

-

Fort Worth

,

TX



George and the team were exceptionally responsive to our needs and thorough in understanding these.
---
Beautiful Lights
Judy

-

Fort Worth

,

TX



Creative Nightscapes highlighted my big Crepe Myrtles & Chinkopin tree & steps as well as the elevation of my home. ....turned it from dark to beautiful
---
Could not have been more professional!
Tim S.

-

Fort Worth

,

TX



From start to finish Creative Nightscapes were a pleasure to work with. The estimator/designer Jerry is extremely knowledgeable and has a creative vision far beyond my collective input. Thank goodness, haha!! His design input and execution was spot on! As for the installers, they were very attentive to their vocation and took enormous pride in the project. They arrived on time and finished ahead of schedule. But most importantly, besides the lighting, there was no trace of them ever being on our property. Everything was cleaned up and put back in better shape than when they arrived. This is extremely rare when dealing with contractors! Could not have been more pleased. In fact, we're already designing phase two as I write this. Tim S.
---
Incredible Service, Highly Recommend
Melia

-

Fort Worth

,

TX



From the moment I reached out for a quote, I knew Creative Nightscapes was the right choice for our landscape lighting. They were responsive, respectful and the price was extremely fair based on the level of service and quality of the products they installed. George was a pleasure to work with and made the process – from beginning to end – easy and fun! I would recommend Creative Nightscapes to anyone who is looking to add curb appeal, security and value to their home.
---
Great service
Donna

-

Fort Worth

,

TX



Work was done in one day . Cleaned up and left . Customer service was great. George came out and helped me decide what would look the best in my yard and Im so happy with the results.
---
Great Price, Service and Final Install
Michael

-

Fort Worth

,

TX



Very professional in all aspects. our neighbors have raved about how nice our house looks.
---
Amazing Service and Lights!
Shannon

-

Fort Worth

,

TX



This is the second home we have used Creative Nightscapes in and we are so pleased with everything from the customer service to the lighting.
---
Great Service
Ray

-

Fort Worth

,

TX



---
Celeste
Celeste

-

Fort Worth

,

TX



Excellent customer service and very professional. I love the new lighting!
---
LOVE AT FIRST SIGHT!
Paige

-

Fort Worth

,

TX



I checked around and believe me, these folks are the best! Not only in service but also in price. We were very happy and are loving our outdoor spaces as a result.
---
Very Satisfied-great job!!!!
Keith

-

Fort Worth

,

TX



I am extremely please with the lighting provided by Creative Nightscapes. The price was competitive and the work is exceptional. I didn't want lighting that were just floodlights that created spotlights on my home but rather subtle lighting that accented my shrubs and trees. The job that was done makes my home look very classy and all of my neighbors are in awe. I will be using them again to complete my backyard and cannot wait for those results.
---
Dennis
Dennis

-

Fort Worth

,

TX



Great job Very professional
---
Excellent in every respect
David

-

Fort Worth

,

TX



Jerry Holbrook is extremely knowledgeable. Installation was quick and professional.
---
Jerry H.
Admiring beautiful accent lighting on the home and hardscapes accenting the garage doors.
Near
Manorwood Trail,

Fort Worth

,

TX

76109
Patrick C.
Installing 26 LED lights for a great young couple. A combination of up lighting and downlighting.
Near
Tumbling Trail,

Fort Worth

,

TX

76116
George W.
Near
Carlisle Ct,

Fort Worth

,

TX

76180
George W.
Installed kichler lighting system on home in fort worth riglea country club estates. Facade up lighting. Step lighting and soft crepe myrtle up lighting
Near
Battle Creek Rd,

Fort Worth

,

TX

76116
Jerry H.
Reviewing the beautiful back yard lighting in the pool area and up lighting on the inside and outside of stone fence columns around the back yard perimeter.
Near
S Bay Breeze Ln,

Fort Worth

,

TX

76179
George W.
Near
Carlisle Ct,

Fort Worth

,

TX

76180
George W.
.
Near
Aubrey Ln,

Fort Worth

,

TX

76182
Patrick C.
Near
Carlisle Ct,

Fort Worth

,

TX

76180
Patrick C.
Near
Carlisle Ct,

Fort Worth

,

TX

76180
Jerry H.
Installed Kichler LED outdoor lighting at home in Skyline Ranch. Mounted down lights and hardscape lights under eaves and the top of the fence to illuminate dog run, BBQ grill, patio seating area, walkway, steps, and fence. Placed up lights to accent facade of home, columns on either side of garage, peak of home, address, and front entry way.
Near
Brazoria Trail,

Fort Worth

,

TX

76126