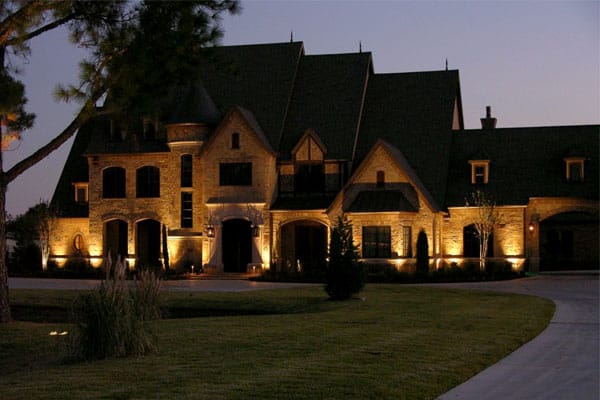 Best Outdoor Lighting Company in Dallas, Texas
When you want to upgrade your existing outdoor lighting, Creative Nightscapes is ready to work with you on your outdoor lighting design to help you create an inviting atmosphere. While you can go with some basic outdoor lighting to make a path more accessible, designing a lighting concept with Creative Nightscapes will transform your existing yard into a nighttime oasis. If you want a beautiful yard that is showcased using landscape lighting, it's time to call Creative Nightscapes to see how your yard can be changed into an amazing display.
Landscape Lighting Installation and Design in Dallas
Installing lighting for your yard landscaping requires a professional in order to look great. Creative Nightscapes will work with you to come up with a design that you will love for your property. Together you will develop a plan that works for your home and your budget. When you care about how your home looks both during the day and at night, it's important to use a trusted, professional lighting installation and design company in the Dallas area.
LED Low Voltage Lighting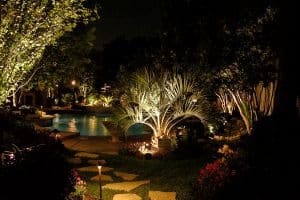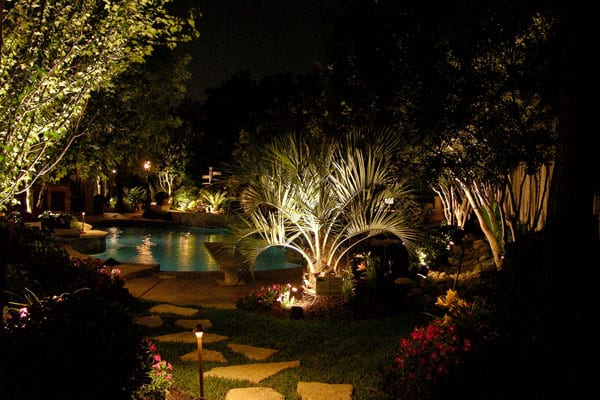 Creative Nightscapes offers environmentally friendly outdoor LED landscape lighting for a Greener tomorrow. This type of low voltage outdoor lighting offers a safe and reliable energy solution for illuminating homes and landscaping all night for pennies a day. You don't want to have big electric bills, though, and there are ways to get the lighting you love without a lot of expense.
Landscape LED low voltage lighting is a great way to make your yard really stand out in Dallas. One of the best ways to do that is through the use of low voltage lighting, which doesn't use a lot of electricity but easily lights up even the biggest yards when placed correctly.
There are also excellent options for eco-friendly lighting, so you can get everything you want in your outdoor lighting without harming your plants or the rest of the surrounding environment. Taking care of your yard is important while you work to make it look as good as possible, day or night.
Having low voltage LED lighting or other types of outdoor lighting options in your yard can really make it beautiful. Contact us, and we can help you explore some great options for an outdoor space you'll love, day or night.
Living In Dallas, Texas
With a population of 1.2 million or more people, the city of Dallas, Texas is a vibrant city in which to live. The median household income is $43,781, while the median age of those living in Dallas is 32. With a median home price of $135,400, Dallas is an affordable place for most families to live and work.
There are many reasons people love living in the Dallas-Fort Worth area. The area is ethnically diverse, and the shopping, restaurants, and activities available reflect this diversity. There's no state income tax in Texas, and you'll have a little extra money in your pocket than in other states. If you love football, Dallas is the place to live during the fall. The weather is also quite nice in the area, as Dallas experiences all four seasons during the year.
Take a Trip and Visit Dallas
Whether you're flying in or out of Dallas you'll likely utilize DFW International airport or Dallas Love Field. Dallas Love Field is a city-owned public airport, which houses the corporate headquarters for Southwest Airlines. DFW's larger airport, the Dallas-Fort Worth International Airport, is one of the busiest airports in the world. DFW Airport is larger than the island of Manhattan and is the second largest US airport in acreage next to Denver International Airport.
Whether you are interested in history, sports, art or more, there is plenty for you to do and see when you visit Dallas. Check out the Dealey Plaza National Historic District, and visit the John F. Kennedy Memorial Plaza, take a tour of downtown Dallas, or visit the Dallas Holocaust Museum. It is an area rich in history, and you spend days checking out the historical sites.
If you want to see Dallas from a unique perspective, you can even take a tour on a Segway or a trolley bus tour. For sports fans, there are plenty of teams to cheer for in Dallas. The Dallas Cowboys in the NFL, The Dallas Mavericks in the NBA, The Texas Rangers in major league baseball, and FC Dallas in major league soccer to name few. No matter what season it is, you can find a sport's team to follow in Dallas.

Local Reviews
for Dallas, TX
Rated
4.9
out of 5 stars based on
29
customer reviews
Powered by Link Right Local
---
Job well done
John

-

Dallas

,

TX



George understood what we wanted, added some good ideas, and he and his crew got the work done in a professional manner.
---
Survey
Jason

-

Dallas

,

TX



---
Great price, fast service
Jayden

-

Dallas

,

TX



Very professional and quick service. Great team and great product
---
Great experience
Andrew

-

Dallas

,

TX



We obviously loved the end product- but the whole experience was seamless. From George coming out sharing his vision for our yard, to day of installation- it was so easy and stress free. Big thank you to George and his creative team.
---
Lights in front trees
Cris

-

Dallas

,

TX



Very nice like the effect we now have.
---
Wonderful service!
Katherine

-

Dallas

,

TX



We absolutely loved our experience with Creative Nightscapes. They were quick, easy to work with, and created a beautiful lighting design for our home. We would recommend their services to everyone!
---
Our beautiful lights!
Nikki

-

Dallas

,

TX



Jerry was quick to come out and design our exterior lighting and install it! We LOVE our lights. Our house looks beautiful and we 100% recommend using Jerry and Creative Nightscapes!
---
Creative Nightscapes has transformed my forgettable ranch house into something remarkable. Sunset has a renewed excitement for me now.
Erin

-

Dallas

,

TX



---
Awesome Job! We love it!
Martha

-

Dallas

,

TX



George did a spectacular job on our lights. He was so easy to work with and his crew was terrific.
---
Beautiful!
Donna

-

Dallas

,

TX



The nightscape created by the team made a huge improvement to our lovely 1933 home. Excellent choice of service. Thanks George!!
---
George W.
Near
Lakewood Blvd,

Dallas

,

TX

75214
George W.
Near
Lakewood Blvd,

Dallas

,

TX

75214
Jerry H.
Installed Kichler LED outdoor lighting at home in Belmont Suburban. Placed up lights in landscape beds to accent porch columns. Mounted down lights in eaves to illuminate walkway along side of home. Set wash lights to accent landscape greenery and fence.
Near
Velasco Ave,

Dallas

,

TX

75206
George W.
Installing new kichler down lighting in eaves to highlight garage parking area and side yard for security
Near
Preston Haven Dr,

Dallas

,

TX

75230
Patrick C.
Installed 26 up and down lights in Ft Worth.
Near
E Airfield Dr,

Dallas

,

TX

75261
Jerry H.
Installed Kichler LED outdoor landscape lighting at home in Richland Corners. Mounted down lights in trees to create moonlight effect and illuminate driveway and yard.
Near
Victorian Ct,

Dallas

,

TX

75243
Jerry H.
Installed Kichler LED outdoor lighting at home in Sparkman Club Estates. Placed up lights to accent the facade of home and front entry way. Mounted down lights in trees to create moonlight effect and illuminate yard and walkway to front door.
Near
Merrell Rd,

Dallas

,

TX

75229
George W.
Installed kichler lighting system on home in Dallas. Facade up lighting. Soft canopy up lighting an down lighting in backyard
Near
Sonnet Dr,

Dallas

,

TX

75229
George W.
Removed high voltage Mercury Vapor fixtures. Installed Kichler LED outdoor lighting at home in Cambridge Place. Placed up lights to accent various trees on the property, the facade on the right side of the entry, and the fountain in the back yard. Set path lights to highlight the walkways along the back fence line and left of the patio.
Near
Portsmouth Ln,

Dallas

,

TX

75252
George W.
Designing a lighting system for client in the Dallas area. Facade lighting. Tree lighting and fence lighting.
Near
Hiddencreek Dr,

Dallas

,

TX

75252