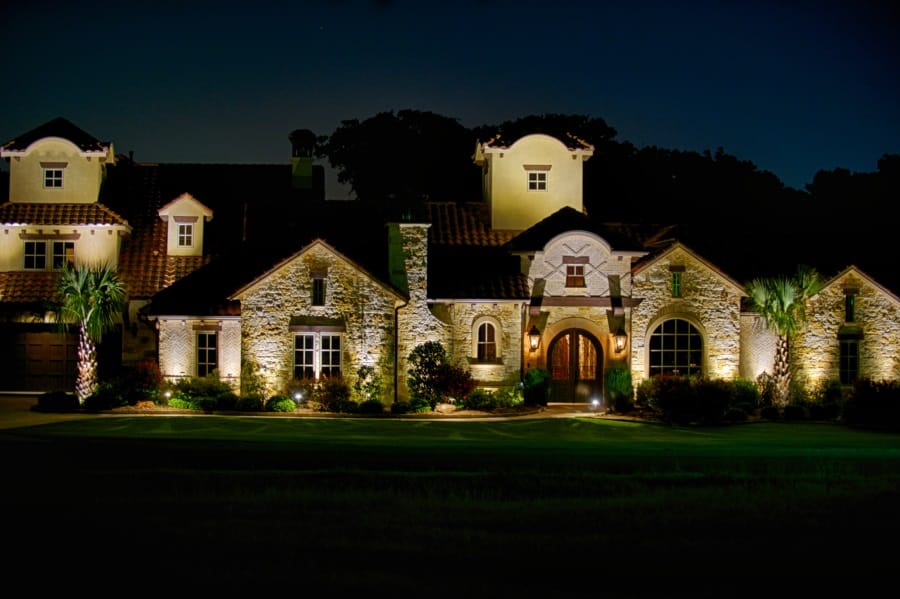 Selling Your Home in the Fall & Winter Months
With the time change, the sun goes down around 5 PM, when most folks are on their way home from work. Since most of your guests are visiting you after work, they will now be coming over at night time and your home's outdoor features will be lost in the dark. If you are selling your home, this really will put you at a disadvantage when potential buyers drive by your home and all they see is a dark shape of a home.
Professional Outdoor Lighting System
With a professionally installed outdoor lighting system, your home will stand out in the dark and look much more attractive to potential home buyers. Outdoor lighting will illuminate your property's landscaping, flower beds, and trees.
With outdoor lighting, you can highlight your home's best features. For example, you may wish to showcase your homes front porch and columns. You may want to highlight windows and balustrades. Or you may have recently planted trees along your home that should be illuminated.
Outdoor lighting can be used to highlight walls. Good effects for wall lighting are grazing and washing techniques. Grazing will create beautiful shadows. A washing effect is created when a beam of light is aimed at a wall from two to three feet away.
Lighting Brings Return on Investment
According to many real estate sales experts, adding outdoor and landscape lighting to your home when selling it may bring a 50% return on your outdoor lighting system investment. So what are you waiting for?
Call Creative Nightscapes lighting professionals today for a free estimate to install a lighting system to your property today.