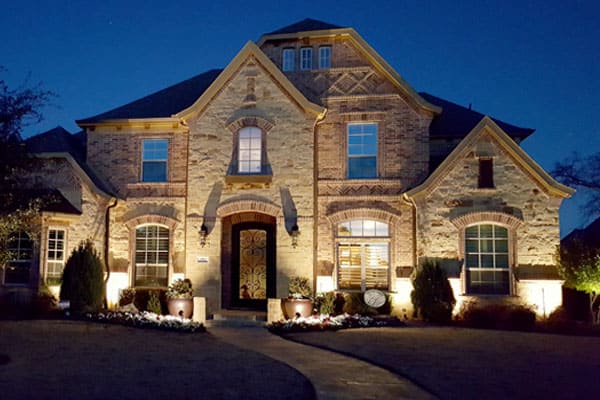 Contact Creative Nightscapes in Westover Hills, TX
Creative Nightscapes
817-581-6936
Monday to Friday 9am-5pm
Landscape Lighting Design and Installation in Westover Hills
Since 2004, Creative Nightscapes has been designing, installing, and servicing low voltage lighting systems in the DFW area. We serve all clients in this region, including those with homes in Westover Hills.
Creative Nightscapes was founded by Patrick Cheatham, a graduate of the University of North Texas. Patrick founded this company in 2004 after realizing that he had a passion for landscape and the beauty of the home. Since that time, it has been his goal to create something of beauty for every client he meets.
Creative Nightscapes offers one of the best warranties you will find in the DFW lighting industry. We have extensive experience in our field, with 7,000+ completed projects under our belt. Whether you are looking for landscape lighting or you need to light multiple areas around your home, we will do our best to make sure our services exceed your expectations.
All of our projects are the work of skilled designers and installation professionals on the Creative Nightscapes' staff. We do not subcontract any of our work. Our team also maintains all of the systems we install. Creative Nightscapes is a member of the Association of Outdoor Lighting Professionals and the Better Business Bureau. Kichler has honored us with the title of "Landscape Lighting Contractor of the Year" for four of the past six years.
Services We Offer to the City of Westover Hills
Landscape Lighting
If you need landscape lighting in Westover Hills, Creative Nightscapes can help. We can handle all types of lighting jobs, whether your goal is to add to the visual appeal of your home, increase safety, or both. Every design is customized to meet the needs of the customer, and we can incorporate any type of low voltage lighting, from floodlights to garden lights.
Security Lighting
Outdoor security lighting keeps your home safer from intruders. Creative Nightscapes will review your home's structure and your security lighting goals carefully to develop a design that meets all of your specifications.
Poolside Lighting
Creative Nightscapes has extensive experience in the design and installation of poolside lighting. This lighting illuminates your pool and the surrounding area at all hours, allowing you to have nighttime pool parties without worrying about accidents.
Patio Lighting
If your Westover Hills home includes a patio, you need to install a lighting system in this area to make it more safe and usable for your family. Whatever the size of your patio or your plans for lighting, Creative Nightscapes will help you complete this project successfully.
Garden Lighting
With the right garden lighting, you can enhance the best features of your garden and make it possible to enjoy this area at any time of day. Creative Nightscapes designs and installs lighting in gardens of all sizes throughout Westover Hills.
Local Resources in Westover Hills
City Ordinances – Ordinances adopted by the town of Westover Hills
Permit Information – Building construction and permitting for the city of Westover Hills
At Creative Nightscapes, we are proud to serve customers in Westover Hills, as well as nearby cities like Westworth Village, Lake Worth, River Oaks, and White Settlement. Please contact us today to learn more about our services.

Local Reviews
for Westover Hills, TX
---