Landscape Lighting Services in Prosper, Texas
Are you ready to showcase your landscape in Prosper, Texas? Creative Nightscapes offers outdoor lighting solutions to enhance your home's yard and landscaping. We offer the best outdoor lighting options in the area and have the experience to bring your home to life at night!
Outdoor Lighting Installation and Design
A well-designed lighting concept can draw attention to your home and lend a certain elegance to your landscaping. We will work with you to create a design that works for your property, add curb appeal, and increase the value of your home.
LED Lighting in Prosper, TX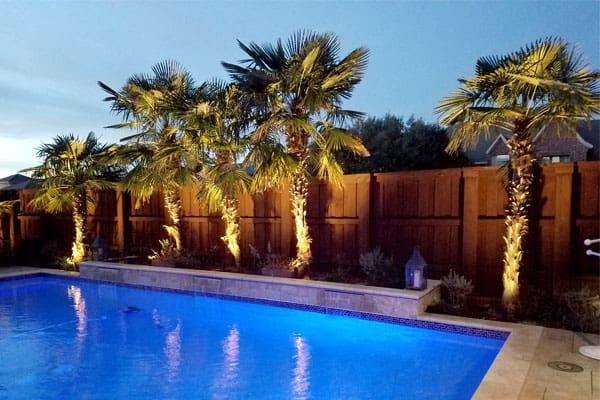 LED lighting is a great way to make your yard really stand out. Low voltage lighting doesn't use a lot of electricity but easily lights up even the biggest yards when placed correctly. There are excellent options for eco-friendly lighting, so you can get everything you want in your outdoor lighting without harming your plants or the rest of the surrounding environment.
Living in Prosper, Texas
The median household income in Prosper, Texas is $111,641, more than double the median household income of Texas as a whole. It's a wealthy area of Texas, with a low crime rate and an excellent school system. The weather is beautiful, with an average summer temperature of 81 degrees. The median home price is $343,100, more than 2 1/2 times the median home price in Texas. The population in Prosper is roughly 21,685, and the town is 35 miles from downtown Dallas. It's a suburb of the Dallas/Fort Worth area and it's within 25 minutes of two major airports. 82% of the population of Prosper is younger than 35 years old.
Why Residents Love Living In Prosper, Texas
Prosper, Texas is an affluent area, and residents appreciate the safety of the town and the close proximity to Dallas and Fort Worth. While the cost of living is a bit high, so are the incomes of those that live in Prosper. For local food, check out Chefs on Scene, great barbeque with a Cajun twist.
Prosper is considered a town that is growing, and it's the perfect place to raise a family. With plenty of safe places for children to play, Prosper is an area where neighbors know each other. It's a great community and one that residents love to be a part of. To get more involved in the community of Prosper, the Parks and Recreation Department offers programs for youth and adults to keep people active. There's plenty to do here, and you'll find plenty of volunteer opportunities as well.
Proximity of Prosper, Texas to Dallas and Fort Worth
Prosper, Texas is approximately 35 miles North of Dallas, which takes about an hour when traveling the Dallas North Tollway. It's a bit further from Fort Worth, but still, a reasonable drive if you want to go out on the town for the night.
Visiting Prosper, Texas
Prosper is a residential town, but that doesn't mean there isn't plenty to do within close proximity of the area. A quick trip north and visitors can take in all the sights and scenery of downtown Dallas. The town of Prosper has a busy recreational department and offers family-friendly events throughout the year. If you like nature and spending time outside, it's time to take a trip to Prosper to see what there is to offer.
We install outdoor lighting in these other nearby cities:
Local Reviews
for Prosper, TX
Rated
5.0
out of 5 stars based on
1
customer reviews
Powered by Link Right Local
---
Great Service
David

-

Prosper

,

TX



Overall experience was excellent. George was very helpful and communicated great. Service was excellent and professional.
---
Jerry H.
Installed Kichler LED outdoor landscape lighting at home in Tanners Mill. Placed up lights to accent facade of home, peaks, columns, and trees. Mounted down lights in eaves to illuminate yard below. Set path lights to illuminate walkway and steps to front entry.
Near
Kingsbury Lane,

Prosper

,

TX

75078
Jerry H.
Installed low-voltage, Kichler LED landscape lighting at home in Willow Ridge. Mounted hardscape lights in steps to front entry to illuminate the path. Place up lights in landscape beds to accent facade of home, columns, and peaks.
Near
Moss Glen Dr,

Prosper

,

TX

75078
George W.
Installed Kichler LED landscape lighting at home in Whitley Place. Placed up lights accenting facade of home, garage, grand entry, trees in front yard, and magnolia trees behind pool. Mounted hardscapes and down lights to highlight barbecue area, pool deck walkway, and landscape around pool.
Near
Redpine Dr,

Prosper

,

TX

75078
George W.
Installed Kichler LED landscape lighting at home in Whitley Place. Front: up lights accenting canopies of various trees, and path lights highlighting the walkway to entry. Back: down lights mounted in eaves highlighting pool deck, path lights highlighting walkways, up lights accenting trees.
Near
Longwood Dr,

Prosper

,

TX

75078
George W.
Installed new and upgraded LED lighting at home in Willow Ridge. Used up lights to accent the front columns and facade. Down lights to add moonlighting to the walkway and steps. Spots and path lights in the backyard.
Near
Willowmist Dr,

Prosper

,

TX

75078