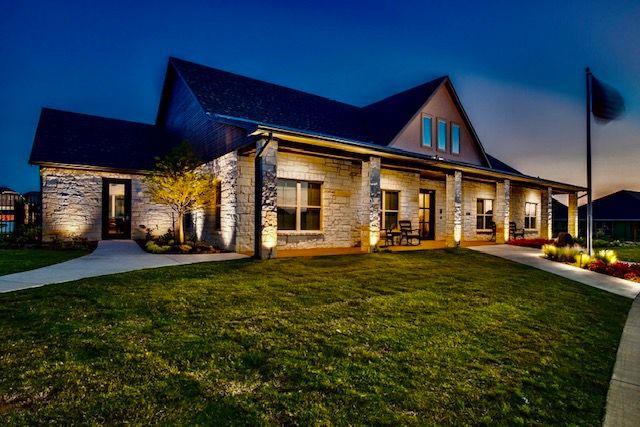 If you are thinking about adding outdoor lighting to your home or updating your existing setup, there are some things you need to consider. Some of these considerations should include what size fixtures you need, what you want to accent, and what style looks best for your home. Here are some things to keep in mind as you choose your outdoor lighting:
Choosing the Right Size of Fixtures for Your Home
If your yard is a large space, it will be very tempting to choose large, flashy light fixtures to post around your property to bring in as much light as possible. However, doing so can ruin the look of your house and destroy the gorgeous balance between light and dark. To choose light fixtures that will work well together and won't overpower the natural beauty of your property, here are a few tips:
Don't choose light fixtures that block the doorway. An open doorway is welcoming and looks nice.
Choose just enough lighting to get your particular job done, not more. For example, if you are looking to brighten up your front lawn to chase off the shadows, some floodlights will do the trick. If you are just looking to light a pathway in your garden, a floodlight might be too much but some path lights will look a lot better.
Choosing the Color of Your Fixtures
The light itself is important during the night, but remember, your light fixtures will also be visible during the day. Choosing the right colored fixtures to match your home or to blend in with the style you are looking for goes a long way. For example, if you have lighter colored material for your home, such as white brick or siding, then darker colored fixtures will pop.
Durability of the Lights and Fixtures
When it comes to outdoor lighting, you want both your lights and the fixtures to last. For lights, LED lights do not consume as much energy as incandescent bulbs and provide a long-lasting, gorgeous light. This means you will spend less money and less time replacing them than you would with either fluorescent and incandescent bulbs.
To make sure your fixtures last, it is important to keep in mind what type of weather is in your area. This will help you pick the material that is best suited for your climate and will be able to withstand the elements.
Know the Areas You Want to Accent
Knowing what areas of your yard you are going to accent can help you choose the right type of lighting fixture. For example, spotlighting is great for fountains and statues while well-lighting is good for trees and bushes. Having this fundamental idea about your yard will help you choose the perfect lighting fixtures, allowing you to create a gorgeous night-time landscape.
The Incredible Design Team at Creative Nightscapes Can Help!
Our design team at Creative Nightscapes has a unique eye for detail and can help create an outdoor lighting design that wows your neighbors. Fight away the shadows and fall in love with your property all over again with immaculate outdoor lighting design from our team! Call us today to schedule a consultation.
Additional Resources: