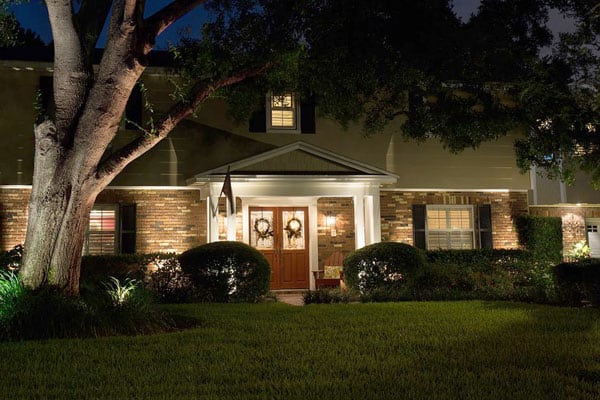 Best Landscape Lighting in Midlothian, Texas
Midlothian, Texas is a great place to call home, and if you own a house in Midlothian, you need to make the most of it. One simple way to make your home both more enjoyable for you and your family and more valuable as well is with outdoor lighting. Great outdoor lighting allows you to enjoy the cool Texas nights and keep your property secure. If you are interested in installing security lighting, landscape lighting, pool lighting, or other outdoor lighting in your home, trust the best outdoor lighting company in the area – Creative Nightscapes.
Landscape Lighting Installation and Design in Midlothian
When working with Creative Nightscapes, the landscape lighting design and installation process is made simple. After a free quote, we will work with you to develop a lighting design that is custom tailored to your home and your specific requirements. Once the design is complete, our installation experts will come and perfectly install your lighting, bringing the design you chose to life.
Living in Midlothian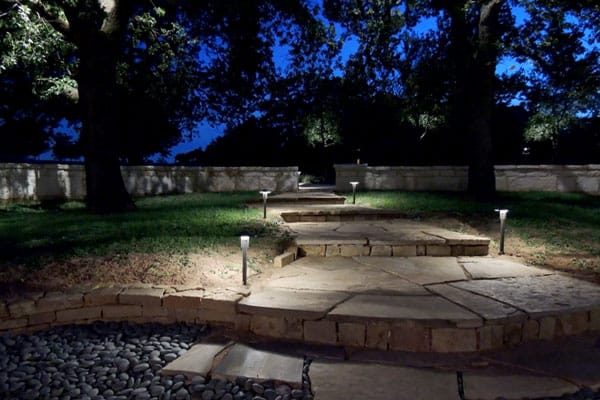 If you are considering making Midlothian your new home, here are some essential pieces of information for you to consider.
Midlothian, Texas has a population of 23,689.
The overall cost of living is 2% higher than the national average.
The median household income is $72,126.
The median price for homes that are currently for sale is $242,400.
Midlothian is a city that's small enough to feel cozy and easy-to-access while being large enough to offer plenty of attractions, resources, and more. For many people, this type of city is the perfect median between a small town and a large city. Midlothian is also known for providing access to great education and has a low crime rate. Lastly, at just 2% above the national average, the city is a relatively affordable place to live, especially considering its proximity to Dallas and Fort Worth.
There's a lot going on in Midlothian, and getting involved isn't hard. One great way to get involved with the community is to attend any event that you are given the option to and get to know people while you are there. This includes entertainment-oriented events such as festivals as well as more business-oriented events such as town meetings. To keep up with what's going on in Midlothian, be sure to check out the city's official website.
Midlothian is conveniently located near both Dallas and Fort Worth, making for a relatively easy drive to either city. From Midlothian, Dallas is a 30-minute drive (25 miles), and Fort Worth is a 38-minute drive (30 miles).
Visiting Midlothian
If you decide to visit Midlothian, you'll certainly find no shortage of things to do and see. In planning your trip, be sure to stop by these landmarks and attractions:
Midlothian is home to several notable landmarks. Start your journey by visiting the Newton Cabin – one of the only surviving buildings from Peter's Colony in 1848. From there, be sure to check out the Hi View Ranch, then stop by Downtown Midlothian for many more historic buildings, beautiful architecture, and local favorites.
If you would like to get in touch with nature during your visit, be sure to pay a visit to the Mockingbird Nature Park. This well-maintained park is a great place to go for a walk, take pictures, and spot some of the local flora and fauna. After that, you can top off your evening exploring all that Midlothian has to offer, from world-class restaurants to local dives with the type of atmosphere that only Texas can offer. It's hard to experience all that Midlothian has to show in a single trip, so be sure to come back and see it all!
Local Resources
Moving to a new home is sometimes a complicated process, and there's a lot involved with settling in. To make this process easier, be sure to enlist the help of the many great businesses that service Midlothian. For example, if you are in need of landscaping services you can count on Vista turf to do a great job, and if you find yourself in need of a plumber, give Benham Plumbing a call.
No matter what service you need to make your Midlothian experience complete, there are plenty of great businesses in the city to choose from.

Local Reviews
for Midlothian, TX
Creative Nightscapes
Rated
5.0
out of 5 stars based on
2
customer reviews
---
Customer
James

-

Midlothian

,

TX

76065



Review of
Creative Nightscapes
Creative Nightscapes did a fantastic job with my lighting project Jerry was extremely helpful in this process
---
Great customer service from sales to install
Steve

-

Midlothian

,

TX

76065



Review of
Creative Nightscapes
It was great working with Jerry and the install team. All very professional and helpful through the entire project. I would not hesitate to use them again in the future.
---
Jerry H.
Installed low voltage LED lighting accenting tree canopies & flag pole in the Mcalpin Manor community of Midlothian, TX.
Near

Fossil Creek Dr,

Midlothian

,

TX

76065
Jerry H.
Installed Kichler low voltage LED to accent front facade, tree canopies, highlighted pool & outdoor living area of backyard in the McAlpin Manor community of Midlothian, TX.
Near

Jasper Cir,

Midlothian

,

TX

76065
George W.
Installed Kichler LED outdoor landscape lighting at home in Midlothian. Placed up lights to accent facade and columns on front of home. Set path lights to highlight walkways. Mounted down lights and hardscapes to illuminate back yard, walkway, driveway, and garage doors.
Near

S 5th St,

Midlothian

,

TX

76065
Jerry H.
Beautiful moonlighting in back yard providing depth and balance and to be able to see the dogs running around.
Near

Springer Rd,

Midlothian

,

TX

76065
Jerry H.
Installed Kichler LED outdoor lighting in backyard on arbor and bar area to provide ambient lighting and illuminate walkway.
Near

Sheparkon Dr,

Midlothian

,

TX

76065