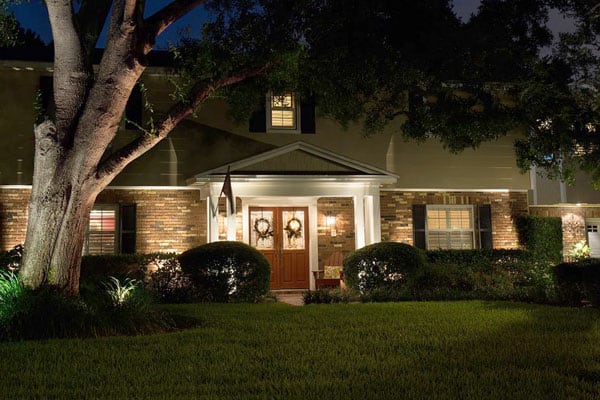 Landscape Lighting Company in Flower Mound, Texas
It's time to showcase your landscape in Flower Mound, Texas. We offer outdoor lighting solutions to make your home's exterior look great. When you want the best outdoor lighting options in the area, it's time to call Creative Nightscapes and discuss a plan.
If you want to light up an entryway, it's important to do the job right. Bring life to your home at night!
Exterior Lighting Installation and Design
Creative Nightscapes can design the perfect lighting for your yard. Lighting installation should always be done by a trained professional. If you're ready to improve the appearance and enjoyment of your yard at night, contact Creative Nightscapes for a free consultation and quote.
LED Lighting in Flower Mound, TX
LED low voltage lighting can make your yard and landscaping stand out. One of the best ways to do that is through the use of low voltage lighting, which doesn't use a lot of electricity but easily lights up even the biggest yards when placed correctly.
There are also excellent options for eco-friendly lighting, so you can get everything you want in your outdoor lighting without harming your plants or the rest of the surrounding environment.
Creative Nightscapes Outdoor Lighting Services in Flower Mound, Texas
Living in Flower Mound, Texas
The cost of living in Flower Mound, TX is higher than many areas in Texas. It is rated 35% higher than the state of Texas as a whole. Average incomes are also higher in Flower Mound than the average in Texas, with the median household income being 131% higher than the average in Texas. So while the cost of living is higher, so are the incomes of the residents who live here. The median household income in Flower Mound, Texas, is $121,549, while the median home price is $269,800.
The population density in Flower Mound is 1576% higher than Texas. 69% of the population in Flower Mound is married. Flower Mound is roughly 32 miles northeast of Fort Worth, while essentially the same distance from Dallas but northwest. Flower Mound, Dallas, and Fort Worth form essentially a triangle, with Flower Mound being on the top, Fort Worth on the bottom left, Dallas on the bottom right.
How to Get Involved in the Community
When you want to get involved in the community of Flower Mound, Texas, one of the best ways is to become a volunteer. Flower Mound has plenty of opportunities to get involved through volunteering. From spending some time in the local library to becoming a member of the citizen's patrol, you can find plenty to keep you busy as a volunteer in Flower Mound. It's an active town, with plenty to do, see and experience.
Things to Do in Flower Mound
As a visitor to Flower Mound, Texas, there are plenty of things to do and see, especially for families. Every Friday in May there are free concerts held at Heritage Park, while the Community Activity Center offers programming, speakers, and classes throughout the year to entertain residents and visitors alike. With Dallas and Forth Worth both being within an hour of Flower Mound, you can visit plenty of historical landmarks in the area. Whether you want to go to a museum for the day or you are interested in a great dining experience, you can find what you are looking for in Flower Mound.