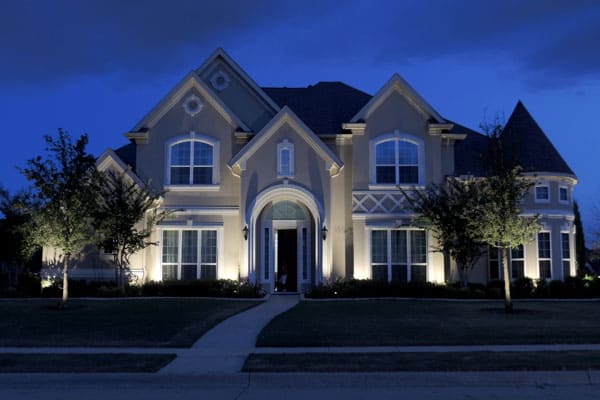 Best Landscape Lighting in Aubrey, Texas
If you love spending time outdoors, you shouldn't be restricted to using your yard only in the daytime. Because Aubrey is located an hour outside of Dallas, it tends to get pretty dark, even when the stars are on full display. Your lack of landscape lighting could be a real safety hazard. What's more, it doesn't allow your property to meet its full potential; imagine how much longer you could remain outside — and how much more impressive your home would look — with accent lighting.
If you're ready to install landscape lighting at your Aubrey home, your go-to resource should be Creative Nightscapes. A highly trusted lighting company serving the Dallas-Fort Worth Metroplex, Creative Nightscapes has a strong reputation for excellent work in and around Aubrey.
In four of the last six years, top outdoor lighting brand Kichler has recognized Creative Nightscapes as "Landscape Lighting Contractor of the Year for the United States and Canada." We provide a range of personalized lighting solutions designed to make your home's outside space beautiful, safe, and functional.
Landscape Lighting Installation and Design in Aubrey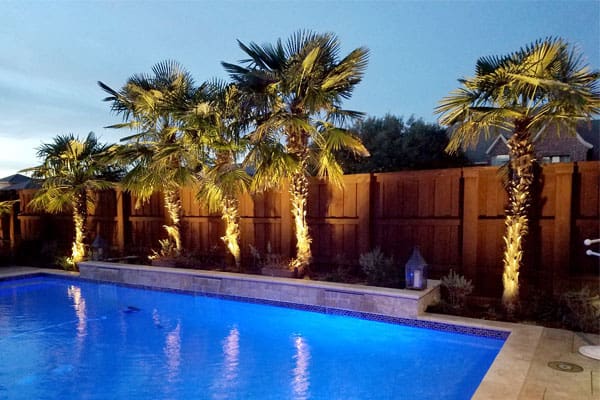 You take extensive measures to keep your lawn, garden, patio, and driveway looking as beautiful as possible. During the day, your efforts are apparent – but not so much at night. Let yourself, visitors, and passersby alike enjoy the beauty of your property at all times with outdoor lighting.
Not only is quality landscape lighting an essential element of outside ambiance, but it's also important for keeping your family and visitors safe. It's easy to trip over items on your lawn or driveway when it's too dark to see them.
At Creative Nightscapes, we improve your home's safety and beauty by installing customized landscape lighting systems. Lighting solutions can look dramatically different from one property to the next, but the following types of landscape lights are especially common:
Wall wash lights
Bullet lights
Floodlights
In-ground lights
Low-voltage lights
These and other types of lights are available in multiple tones, including white, warm white, and cool light. Each hue comes with its own unique advantages. Many homeowners we serve prefer warm white lights, as these cast a soft glow.
At Creative Nightscapes, we're all about LED lighting. We love that LED lights last longer and are better for the environment. We're also enthusiastic about their lower heat output, which makes them an excellent option for lighting near foliage.
Creative Nightscape's Commitment to Great Customer Service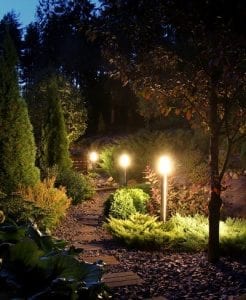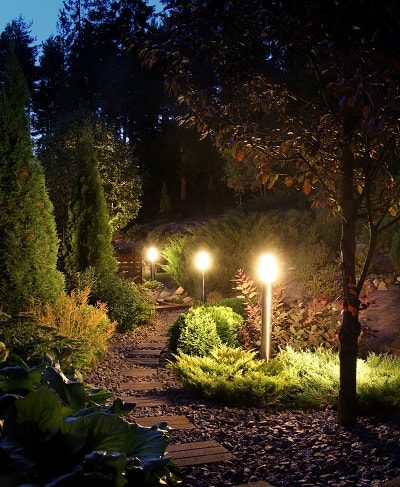 Customer service is an obvious priority at Creative Nightscapes. We are passionate about serving the Aubrey community — and it shows. Customers are impressed by our team's friendly attitude and helpful suggestions. We provide the guidance you need but recognize that ultimately, all lighting decisions are up to you. We personalize our service to ensure that the end product is perfect for your home and yard.
Our emphasis on customer service has not gone unnoticed. As mentioned earlier, we have won several awards with the top lighting company Kichler. We are incredibly proud of this accomplishment but even more proud of the many five-star reviews we've received on Google and Yelp. One reviewer even refers to us as "the absolute best landscaping lighting company in the DFW" area. Others mention our prompt service and attention to detail.
We love receiving positive reviews, but more importantly, we love doing our part to help the Aubrey community. We work hard to provide the beautiful lights that Aubrey residents deserve — and at a price they can afford.
Living in Aubrey
Just over an hour north of Dallas, Aubrey allows residents to enjoy a quieter and slower way of life while still enjoying easy access to the big city. In 2017, the United States Census Bureau reported an estimated population of 3,391 in Aubrey, which represents a significant increase over the city's 2,595 population in 2010.
In the fall, residents gather at Chaparral Stadium for exciting football games. Locals show great pride in their football team, and most make a point of setting aside evenings for big games.
When residents need peace and quiet, they head for the Aubrey Area Library, which fosters an inviting atmosphere. The library hosts various programs for patrons of all ages, including health and wellness classes for seniors, storytime for toddlers, and an adult book club that meets on the last Wednesday of every month.
Things to Do in Aubrey, TX
Because Aubrey is such a close-knit community, residents are eager to help out in any way they can. Local volunteer programs are largely organized through the Keep Aubrey Beautiful Committee, which encourages locals to enhance the city through litter reduction and other beautification efforts.
Don't let just any company handle your landscape lighting needs; Creative Nightscapes should be your go-to resource for all things lighting. Contact us at your earliest convenience to learn more about our services and our commitment to your satisfaction. We're happy to provide a free quote, so don't hesitate to get in touch. We proudly serve the people of Aubrey, Texas and the neighboring cities, including Pilot Point and Prosper.

Local Reviews
for Aubrey, TX
Creative Nightscapes
Rated
5.0
out of 5 stars based on
2
customer reviews
---
Repeat Customer Extremely Happy
Hugh

-

Aubrey

,

TX

76227



Review of
Creative Nightscapes
Outstanding response, highly qualified design and installation experts and extremely user friendly. We used Creative NightScapes to accent light our prior home in Flower Mound and used them again to light our latest home in Cross Roads.
---
Professional Team, Superb Installation
Mike

-

Aubrey

,

TX

76227



Review of
Creative Nightscapes
Despite the 20 degree weather, the installation team worked diligently and completed the installation in one day. The trenching of the wiring was done such that you can not detect the trenches with few exceptions in the dormant grass. Clean installation. Absolutely no trash or misplaced sod or mulch after completion. The resulting lighting effect is awesome!
---
George W.
Installed low voltage LED lighting accenting the entry, monument sign, activity house, and call box center for Forest Hill HOA in Aubrey TX.
Near

Forest Hills Drive,

Aubrey

,

TX

76227
George W.
Installed low voltage LED lighting accenting the front and back facade with front tree canopies for FOREST HILLS community in Aubrey TX.
Near

Timber Ridge Trail,

Aubrey

,

TX

76227
Jerry H.
Installed Kichler LED lighting at home in Forest Hills subdivision. Placed up lights accenting exterior walls, dormers, peaks, address, and trees. Mounted down lights in eaves to illuminate driveway area. Set driveway markers to softly illuminate the side of the driveway and culvert.
Near

Sunset Pointe,

Aubrey

,

TX

76227