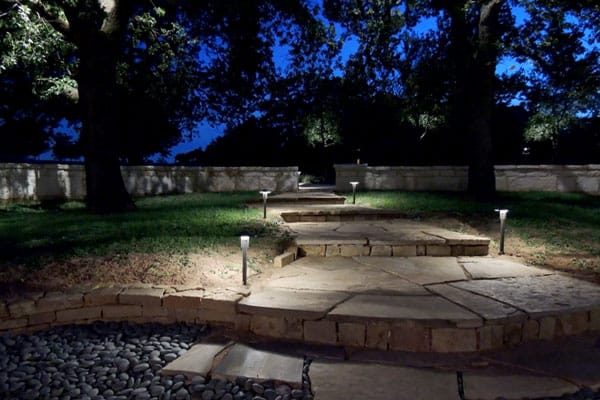 It's hard work to design and develop the perfect look to the outside of your home. You're understandably proud of what you've done, and want people to be able to see it, both day and night. That perfect stonework design to your home and landscaping deserve the ideal lighting plans. You'll add beautiful accents to your outdoor environment as well as creating a safer area for visitors and family wanting to spend time outside.
Benefits of Lighting Your Stonework
When adding anything to your landscape, the first benefit you should always consider is curb appeal. Even if you plan to stay in your home for decades, the way you present your house to the world can instill a sense of pride. The right type of lighting can create an outdoor environment that's welcoming to guests, and can even allow you to use your outside space as another entertainment environment. Warm summer nights make for the ideal atmosphere with friends, especially with the right lighting installed in your stonework.
In addition, lighting is always a safety factor, even if the primary purpose is to beautify your home. It's simply safer to have lights around your home than to leave it surrounded by a pool of darkness, as burglars will rarely seek out a well-lighted property to rob if faced with a darker alternative.
The Right Lights for the Right Environment
There are two types of lights for a home's exterior, especially when you want to accent the stonework in your landscape or on your house. The first, outdoor lamps or lanterns, are decorative elements designed to fit in with your total home theme. They add light to the picture, sure, but they also add a touch of flair to accent your home's look. Think of them as the jewelry to your home's outfit. These lights are made to be seen, not hidden away. They can be made of wrought iron, polished brass, or even green patina coatings or painted colors. You might install these lights on columns or stonework posts, hang them from porch roofs, or install them near garage doors and other entry points.
The other type of lighting, landscape lighting, is designed to disappear from the environment, creating light to showcase your home without showing the source. They might be camouflaged in stone stacks, be installed as part of stonework walls, or even included as a part of a flagstone walking path. Together with outdoor lamps, landscape lighting will combine to create a complete look to accent the stonework on your home.
The Right Types of Bulbs for Lighting Your Stonework
The outdoor lighting around your home should be subtle, giving it an understated look. It's better to install a larger number of lower wattage bulbs, generally 15 watts each, than to put in brighter bulbs. Higher wattage bulbs give off a harsher light, which is never flattering to a relaxing home environment.
LED bulbs are the right choice when lighting the stonework around your house. Older incandescent bulbs don't have a good track record when it comes to working in inclement weather. They burn out frequently and, depending on your lighting configuration, can be very difficult to change. LED lights, on the other hand, can last for decades before you need to replace any bulbs. They only use about 10 percent of the energy incandescent bulbs do, making them much better for the environment as well as less expensive to use. If you've already got incandescent bulbs configured into your stonework illumination, it's very easy to replace them with more efficient LED lights. In addition, LED lights are much cooler, which can make a difference if you have pets or small children in the environment where they might touch the lights.
Deciding on the Type and Number of Lights Needed
Installing a lighting system to accent your home's stonework should be a part of the overall landscaping plan. The first step will be to decide what affects you want to create with each lighting set. Do you want to make a brighter area for gathering spots? What areas of stonework are you especially proud of? How many paths are on your property? You'll probably have a number of different moods you want to create in your yard, and each one will determine the number and type of lights you'll want to install. Think about how easy or difficult it will be to maintain each set when considering where to place the lights. For instance, embedded lights in stonework towers are often best lit with solar cells, since they require little to no maintenance.
Plan each area as its own contained system for the simplest maintenance throughout the year. It's much easier to work on one small system than a larger, more complicated one that controls all your outdoor lighting. Once you've decided on all the separate areas to feature, you'll be able to find the total number of lights needed to show off your stonework to the best advantage.