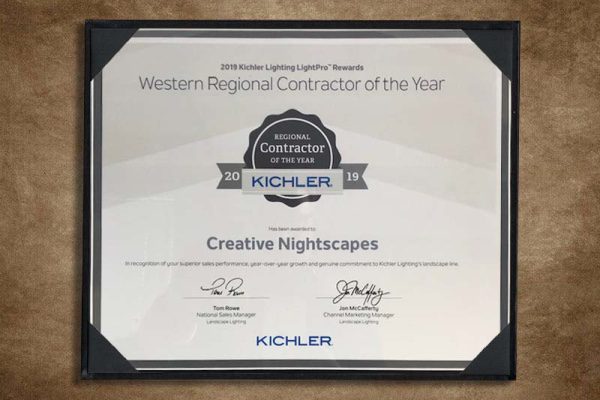 Creative Nightscapes has done it again! For five out of the past seven years, Creative Nightscapes has been awarded the Kichler award for Lighting Contractor of the Year! This award recognizes excellence in professional landscaping lighting, installation, and service. This is the third time, the first time being in 2013, that Creative Nightscapes has received the top honors from Kichler, the leading lighting manufacturing company in the nation for over 75 years.
Continuing Dedication to Customer Service and Unparalleled Design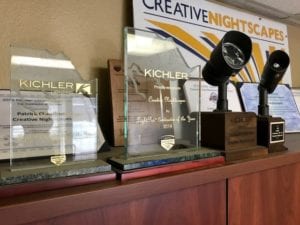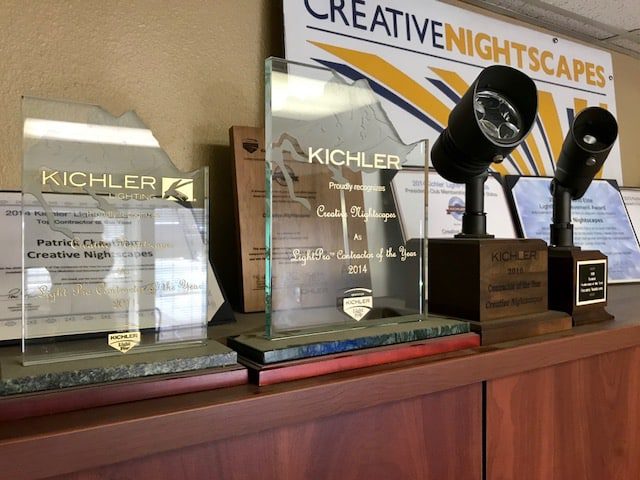 Along with receiving the top award, Creative Nightscapes has been inducted into the Kichler Light Pro Presidents Club. This prestigious honor is only given to lighting companies who exemplify superior performance in landscape lighting. Creative Nightscapes was founded on the idea that every family should be able to afford and have gorgeous landscape lighting that puts their yard and home in the best light possible. We work with homeowners to create exquisite designs, cater to their needs, and use only the best practices and materials to ensure the safety of our clients. We don't cut corners nor do we make promises we can't keep. Honesty, excellence, dedication, and open and honest communication is what sets our team apart.
The True Award for Creative Nightscapes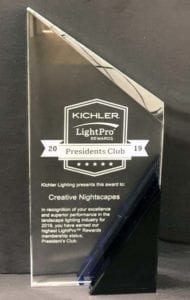 While our team at Creative Nightscapes are proud of these awards, this isn't what drives our passion. The positive feedback and satisfaction of our clients is the true award and their happiness is the best reward in the world. We want our clients to be proud of their home, enjoy their time spent outdoors in their garden, outdoor kitchens, and living areas, and make memories that were built to last. We are proud to be able to light the way for our clients and their trust and continuing business is the greatest award we could ever receive!
If you are looking for landscape lighting in the DFW area, then there is no better company to call than the hardworking and knowledgeable team at Creative Nightscapes. We can help you create the perfect nighttime environment that is both beautiful and safe. For more information on our landscape lighting services, contact Creative Nightscapes today!
Additional Resources: