Residential Landscape Lighting
If you're like most of us, your home is one of the biggest investments you'll ever make. By installing landscape lighting you are able to enjoy your home both day and night.

Your home is your haven, and your yard is your space. But for a good part of the year, by the time you get home from work, your yard is invisible because it's night time. You can't see the landscape, and the house fades into the night. More and more homeowners value landscape lighting because it allows them to extend the enjoyment of their landscape investment into the evening hours. Adding landscape lighting improves curb appeal, expands living space and increases the safety and security of your home. The right lighting creates a warm and welcoming atmosphere for the exterior of your home and your yard. You'll even enjoy the lighting from inside. You can install landscape lighting yourself or hire a local landscape lighting Dallas TX professional to do it for you. Whichever option you choose, make sure you do your homework before starting the project.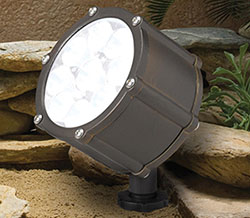 First, keep in mind that you should focus more on the desired effect of the landscape lighting, rather than the specific fixtures you use. Second, poor design or installation can make for disappointing lighting, but components are important, too. Component failure (transformers, fixtures and wiring) can be a real problem. While you don't want extremely cheap fixtures that will fail within two or three years, you don't necessarily need to buy the most expensive, either. The best components are not necessarily the most expensive. The most expensive fixtures you'll find are ones where you are paying for artistic, creative or exotic design, but not necessarily quality.
The key consideration when assessing quality is durability. How long will a component last, given the harsh conditions that exist outside the home throughout the course of the year? Wind, rain, sleet, snow, blistering heat or cold are just some of the hazards your components need to withstand.
The landscape lighting system should easily adapt to changes. New landscaping is typically dotted with young plants, bushes and trees. Does your lighting plan allow for adequate flexibility in the system for easy repositioning of lighting as your landscaping matures, grows or changes? Being able to move the fixture to the correct lighting position as bushes grow, or plants get repositioned, without needing to reinstall part of the system, is an important consideration.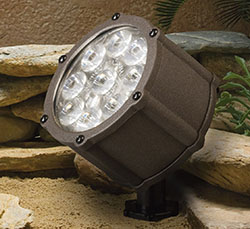 Consider maintenance issues as well. Professional landscape lighting companies offer maintenance contracts, meaning your outdoor lighting will look its best at all times. You don't need to worry about replacing burned out bulbs, cleaning lenses, trimming vegetation, adjusting fixture positioning or fixing minor electrical problems
If you decide to hire someone to install your lighting, you have a couple of options. Many local lawn services and lighting companies carry a limited selection of landscape lighting fixtures and supplies. They can assist you in simple design and installation techniques but don't offer sophisticated designs. Electricians will install lights for you, but with little or no design in mind.
Your best option is a professional landscape lighting design company with thousands of satisfied clients in the Dallas and Fort Worth area that can work with you to create the exact look you desire. If you do not know what you want, they can offer advice based on their experience in design, installation and maintenance. "Our experts will use special landscape lighting techniques to enhance, secure and accent your property," says Patrick. Plus, we use Kichler lighting products.
Let Creative Nightscapes add new dimension and drama to your outdoor walkways, trees, shrubs with Landscape Lighting. Whatever the weather, outdoor lighting by Creative Nightscapes will provide beauty, warmth and security to your grounds and property. Creative Nightscapes specializes in both up lighting and moonlighting for trees. We can create specific portraits of moonlight to graze down on walkways, decks, patios and driveways. Up lighting will accent canopies of trees to give a beautiful accent of branches, leaves and trunks. By lighting trees the homeowners will achieve a sense of depth and proportion to their landscape.

Call the experts at Creative Nightscapes at 817-581-6936 to design and install landscape lighting for your home in DFW area.
Our Services